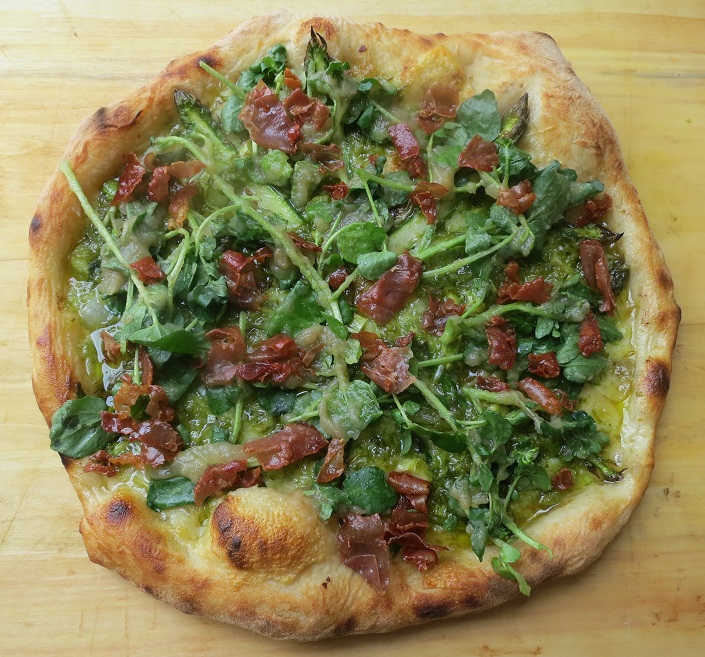 I love ramps sometimes more than people. Encounters with both can be pungent, stinging and fleetingly aggressive but unfortunately, its against the law to put humans on a pizza.
"What's a ramp?" The well dressed man asked as he pointed at the long pizza al metro I was selling at the Athens Farmers Market last Saturday.
 This monster had 40 diagnally placed ramps atop crumbled Parmigiano Reggiano and sharp Sicilian Caciocavallo. I had also placed some fat Amish asparagus at intervals along the pizza also topped with four large islands of ramp salsa, Stanislaus Valorosso tomatoes and local Shagbark popcorn coated with Gruyere cheese. It was huge,gorgeous, greeny green.
"It's a wild leek." I explained loudly to counter the irritatingly tappity, tap, tap of the cold rain against the roof of my tent.
"What's a leek."
"A large version of a green onion."
"So lemme get this straight, you gotta pile of large, wild onions on a pizza?"
"Yep." I shivered as the 47 degree breeze made my damp clothes harden.
"Hmmm, I don't know if I should take a chance on a slice of tha…whooaa now, is that popcorn?"
"Yea, it adds a wonderful textural counterpoint and its blanketed in Gruyere cheese…"
"Kinda freakish if you asked me. What's that green stuff under the counterpoint popcorn?"
"Ramp salsa."
"Pretty redundant, don't you think?" He said as he popped another free bread sample in his pie hole.
"Redundancy is a state of mind sir." I explained horribly. 
"Not when you're dealing with stinky onions, gotta sample of that pizza?"
"No, I'm sor…" I said as the side of his mouth went up and he shook his head from side to side just before he turned to leave.
"Onion pizzas usually suck." He mumbled as he walked away.
I looked at the pizza and smiled. It was my only friend around here.
Unlike that conversation, ramps are more predictable and much less annoying.  They sneak in quickly in the cold of spring, wave thier floppy flags under the shade of the forest and spread thier wonderous oniony stench into the wind, then they are gone.
Here's a great ramp pizza and thanks to Shews orchard, I have some great wild watercress that grows near thier spring and some of thier fab applesauce. I will pair these ingredients with just picked asparagus, gruyere, lemon and some Prosciutto di Parma cooked till nice and crispy. This pizza, while not the one described above was devoured by me and my Jake…hence the smiles.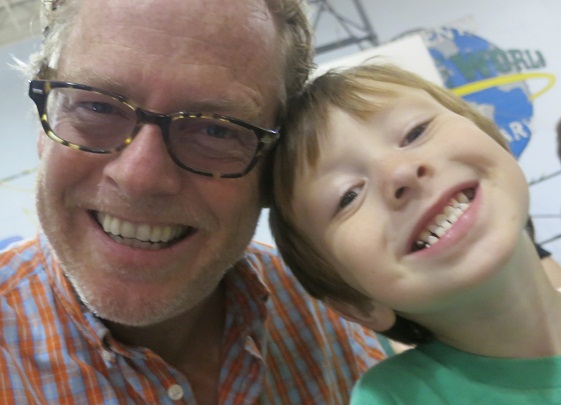 For the Pizza:
One seven ounce dough ball from the easy dough recipe on this blog.
Ramp salsa recipe (below)
Prosciutto di Parma crisps recipe (below)
3 ounces of Gruyere cheese
2 tablespoons of apple sauce
One small bunch of fresh watercress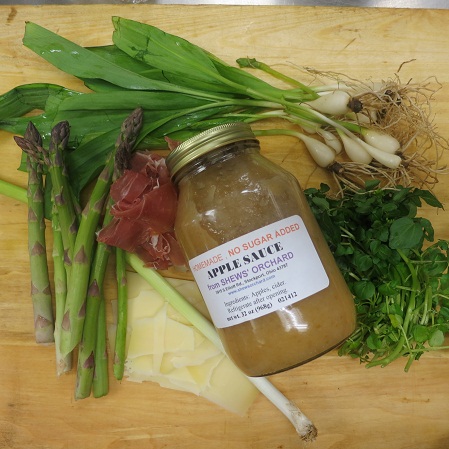 For the Ramp Salsa Preparation:
9 whole ramps, washed
4 tablespoons extra virgin olive oil
Juice from half a lemon
2 teaspoons salt or more to taste 
One stalk of spring garlic (please do not use bulb garlic if you cannot find, just use one tablespoon less oil.)
5 or 6 fresh asparagus spears
1.5 tablespoons honey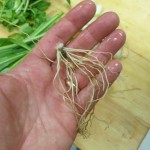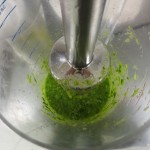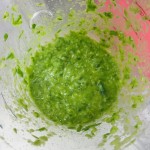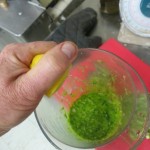 Cut the roots off of the ramps. Put all ramps and oil  in a blender or bucket with an immersion blender and blend on high until liquidy. Add the juice from the lemon half and salt.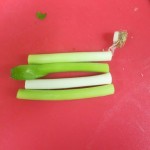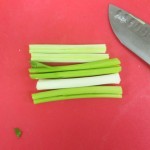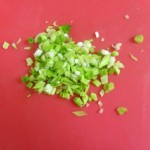 Cut the root off of the green garlic then in long matchsticks. Cut the length of each matchstick once then twice. Turn the long ribbons and cut crossways producing a small dice. Add garlic to the ramp pesto liquid.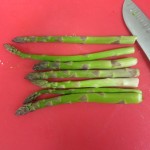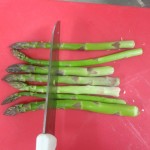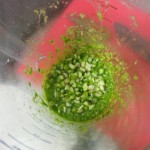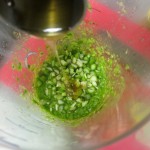 Cut asparagus three quarters up the stalk from bottom. Cut down the stalk without the bud in half then turn the cut stalk and cut across to produce a small dice. Add chopped asparagus and 1.5 tablespoons of honey. Taste and add extra salt or honey to taste. This should be a fairly chunky salsa so you can always add more asparagus if needed.
For the Prosciutto di Parma Crisps Preparation:
1.5 to 2 ounces Prociutto di Parma
1 tablespoon extra virgin olive oil
1 quarter cup white wine or Appalacian deglazer- (water)
reserved asparagus tips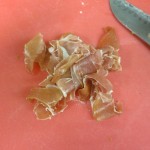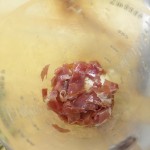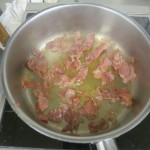 Cut the prosciutto in strips and in a bowl, add extra virgin olive oil (add more if you have very lean prosciutto.) Place in a pan under medium heat and saute' for 5 to 10 minutes. Turn heat down and toss frequently because the meat will stiffen and crisp up very fast. (Needless to say, do not walk away from this process.)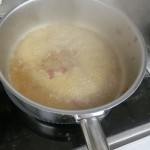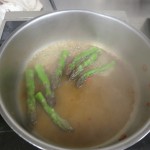 When the prociutto is crisp, pull from the pan on a paper towel. Keeping the medium-high heat on, add one quarter cup of white wine or water to deglaze the pan. As the liquid bubbles, scrape the pan unhinging all the gnarly bits. Add the asparagus tips to cook in this wonderful flavor bath for only three minutes. Cut each spear legnthwise and reserve with the prosciutto. Keep the liquid reducing until you have only 2-3 tablespoons. This will be brushed on the pizza crust as a
For the Pizza:
Pre-heat oven to 495. Using the easy dough recipe in this blog, take one dough ball and bang out into a round disc. Place on a pizza screen or some parchment.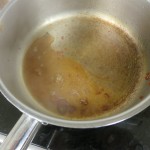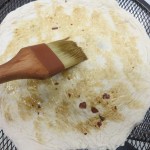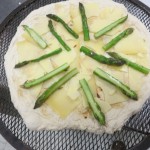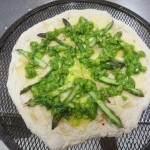 Brush the reduced Prosciutto di Parma sauce directly onto the dough and then the gruyere. Add the asparagus spears in a sunburst pattern then the ramp salsa. Place in oven for 12 minutes or until done. In a seperate bowl toss the watercress in the applesauce and place on the cooked pie. Sprinkle the crispy Prosciutto di Parma on top and enjoy like mad!