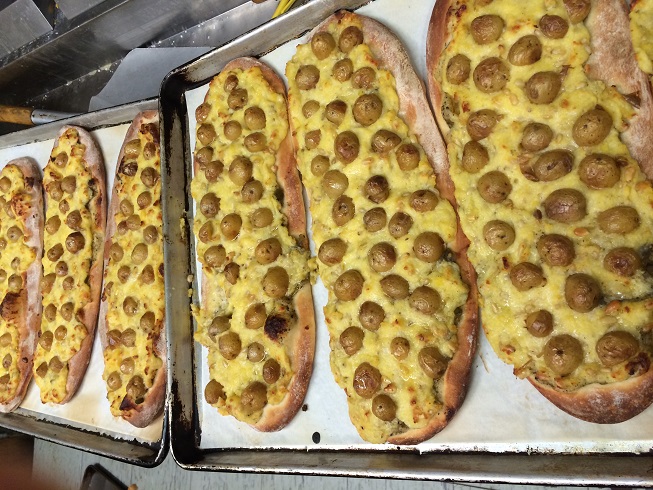 My definition of insanity is to make the same pizzas and breads with the same recipes and the same ingredients in the same oven for years and years and years!
Even the glory of a "authentic" wood-fired bake, the prospect of bakers asthma, and the accolades of being a true "Artisan" by smarmy award-winning bloggers and critics isn't much of a turn-on. That's why nine years ago, I decided to do a professional zig-zag by baking some amazing bread and pizza-bread variants. (I call them "varmints" because that's what some old guy thought I said whilst I was referring to my bread "variants"… and I like it better.)
The schiacciata above is made with a dough at 55 percent hydration, ramp pesto topped with La Grande Ruota, "Fioretto" fine polenta, roasted fingerling tips and finished with white truffle.) So, as I started the "Zig"….and just kept zigging along with breads stuffed with ribs, garlic pudding and even other breads that I have recorded in this fantastic pizza blog. Every once in a while, I do 'zag" and feature some northern Italian pizza recipes, southern Italian pizza recipes, fruit pizza recipes, pizza dough recipes and just plain every topping under the sun but now… I present to you my pizza and bread "Varmints" I've been making this summer.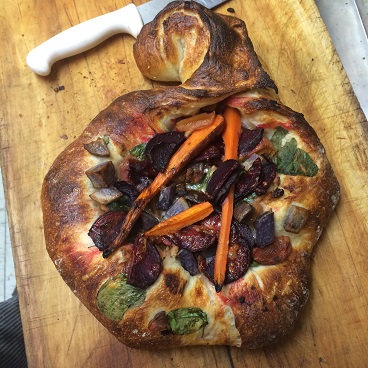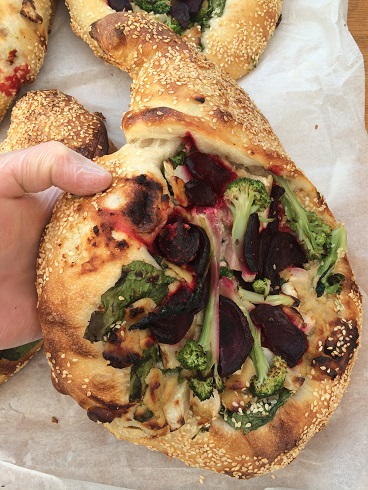 Above are two "Cornetti" which are over 80 percent hydrated and aged for three to four days under refrigeration. The left is a vegan variety stuffed with a cashew-tahini-sweet miso pudding, fresh spinach, Peruvian purple potato, roasted beetroot at carrot and baked at 700 degrees. On the right is a cornetti stuffed with gruyere, broccoli roasted beetroot, kohlrabi, and fresh spinach. It was cooked at 550 degrees and spinkled with sesame.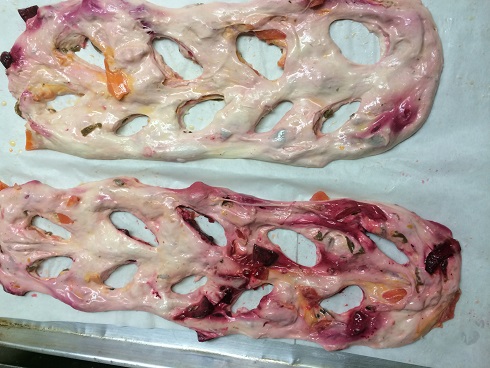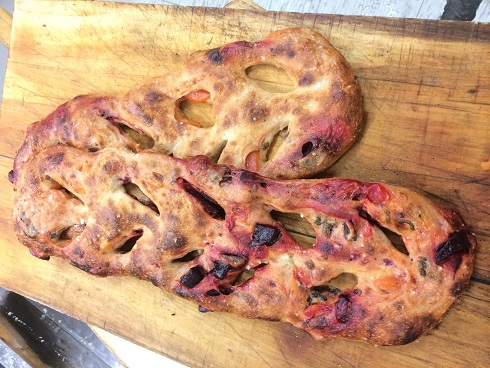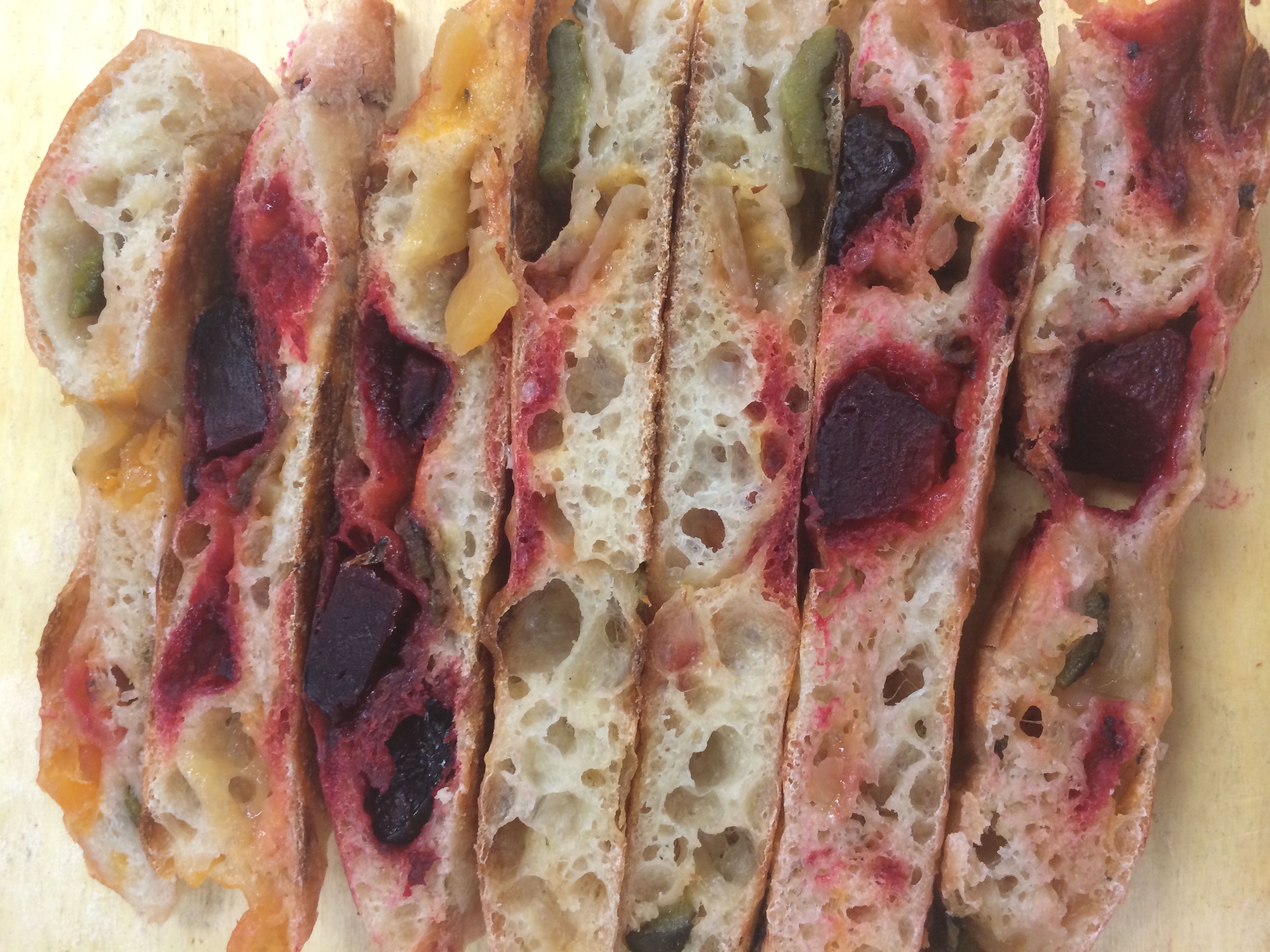 Here's a good look at a long tall sally of bread using beetroot again. This fougasse has a great sweet and spicy flavor profile of mango and some mid-summer ancho chilies that I roasted for a spicier, charred effect.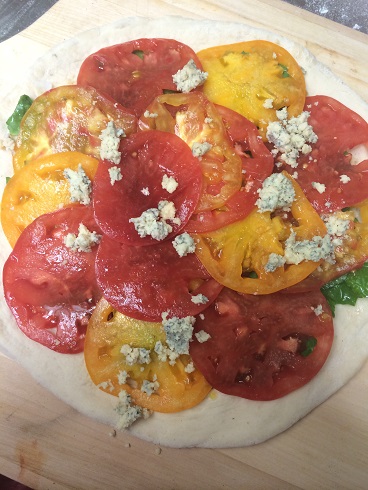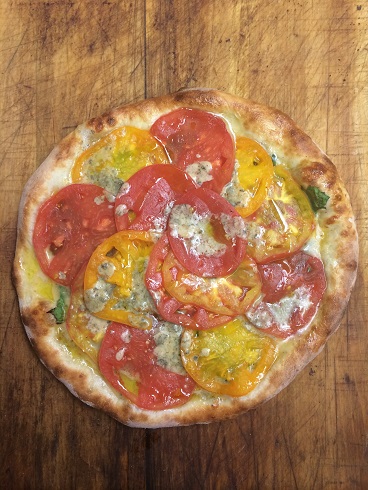 Because it is summer, the heirloom tomatoes keep coming. I try to bake them on pizza but because of their juiciness, I prefer a low-highdrated dough like this fifty percent hydration dough. These are German Pink, Carolina Gold and Mr. Stipey heirlooms with fresh spinach and authentic English Stilton. Massive food love!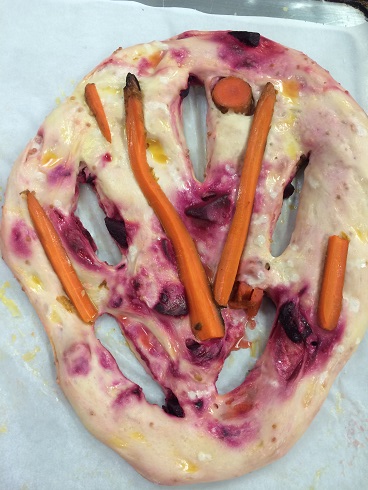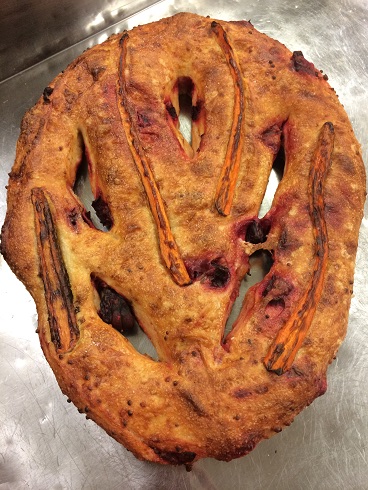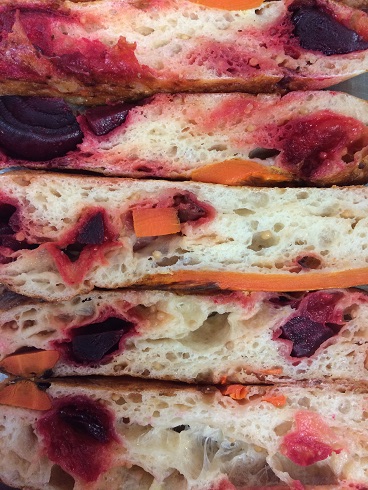 And while we are on the subject of beets in bread… here is a fougasse that I have paired with some great Amish carrot and my homemade mustard seed caviar.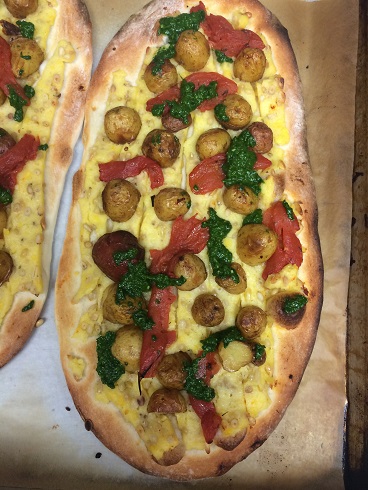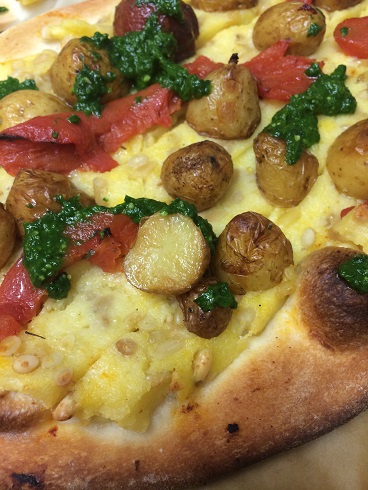 This balzy combination of Italian polenta and toasted pine nuts is on a vegan schiacciata with all my loves; toasted pignoli polenta, roasted fingerling potatoes, oven dried tomato, (tomato confit) and a nice slurry of ramp pesto from this spring. All the lusciousness of a princess with the intense sweet and tang of a WWF wrestler.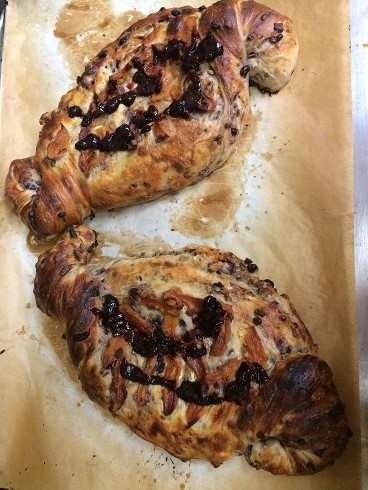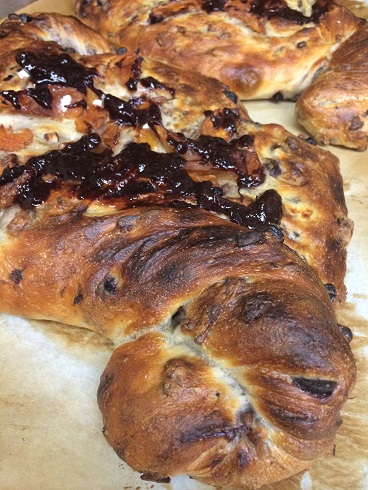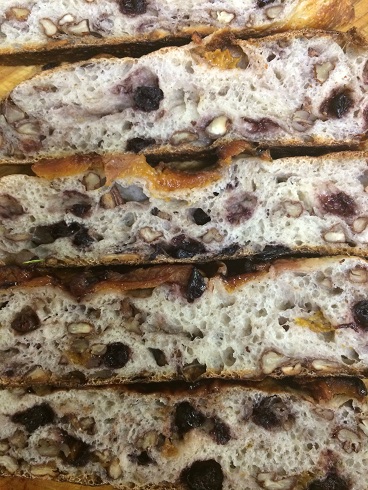 Here is fluer di lie in the style of a Turkish pide of dried pear, cinnamon, pecan and blueberry with a balsamic-blueberry glaze, all in a local spelt bread.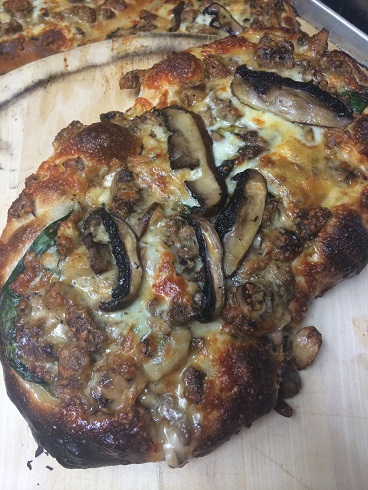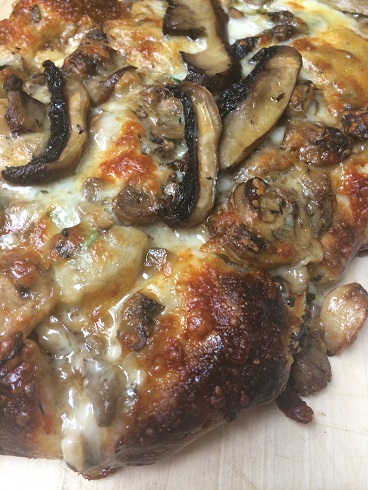 Here's what a 85 percent hydrated, naturally yeasted dough bakes up to after almost four days under cold fermentation. I baked these schiacciata at 630 degrees with a fabulous topping of fresh spinach, Shiitake, portobello, porcini, cremini and button mushrooms, Fontina, (DOP) and Teleggio, (DOP), there is Parmigiano Reggiano underneath and I topped this after the oven with white truffle oil and a killer balsamic glaze.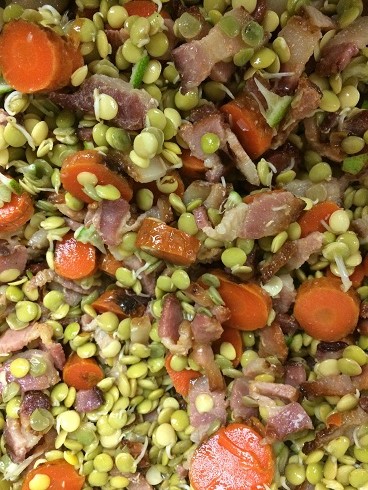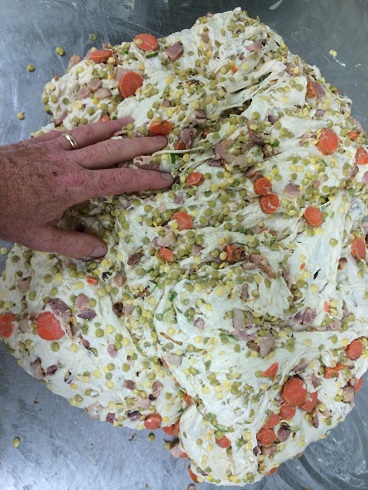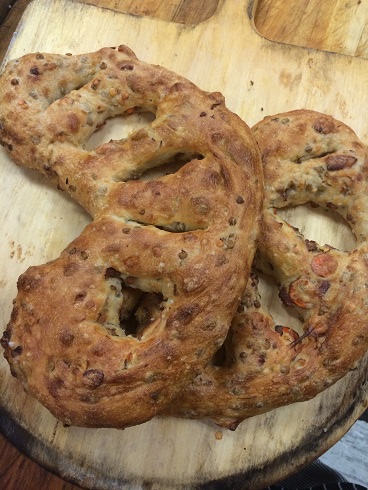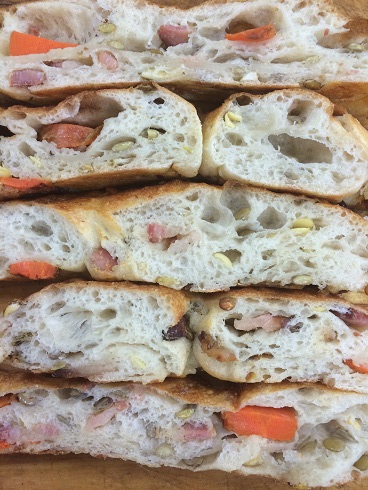 I've been using sprouted grains and legumes in my breads for years now but none is better than the Puy, or Green French Lentil because it sprouts fast and has a fantastic toasty, savory quality in breads. Here I did a crescent shaped fougasse filled with the sprouted lentils, local King Family Bacon, Amish carrots from Chesterhill, Ohio, what a great combo!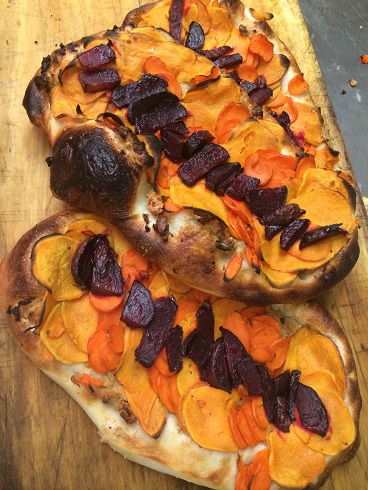 I love working with 80 percent hydration dough and even higher. Above left is a vegan schiacciata with a pudding made with raw cashews, tahini and sweet miso and on top of this is vanilla-cinnamon roasted butternut squash, beet and carrot. On the right is a crazy-delicious schiacciata of curry roasted sweet onion, fire roasted corn, re-hydrated raison and topped with Gruyere cheese.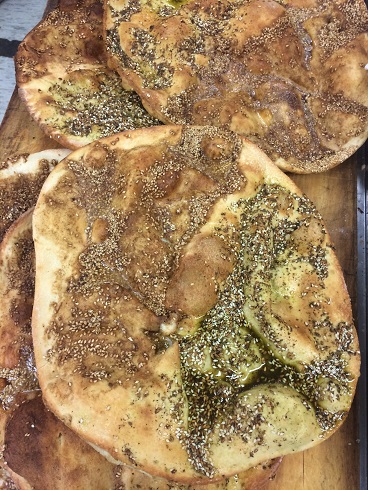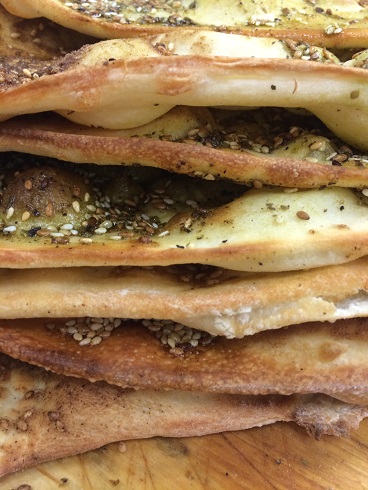 Now for some less hydrated Mediterranean breads. This is Man'oush bi Za'atar, a quick baking flatbread with the brownish Za'atar from Aleppo (left pic, left on bread) featuring a sweet cumin, anise taste and (right on the same bread) is a za'atar from a Palestinian woman's cooperative with that great thyme, sumac tingle of a green za'atar.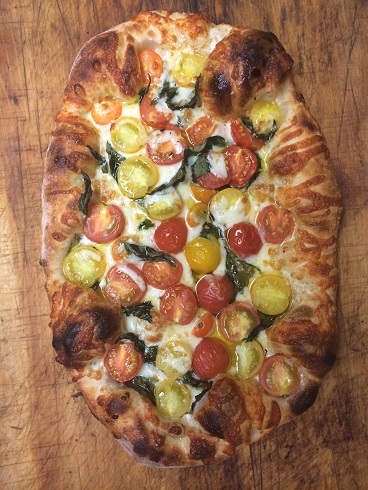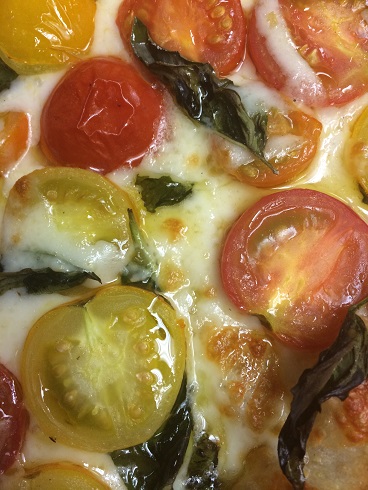 This simple schiacciata takes advantage of these candy-like cherry tomatoes that farmers are practically giving away now. I paired it with some aged mozzarella and provolone, fresh basil and extra virgin olive oil with coarse Trapani sea salt.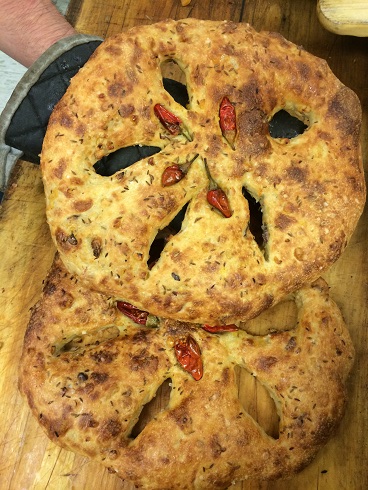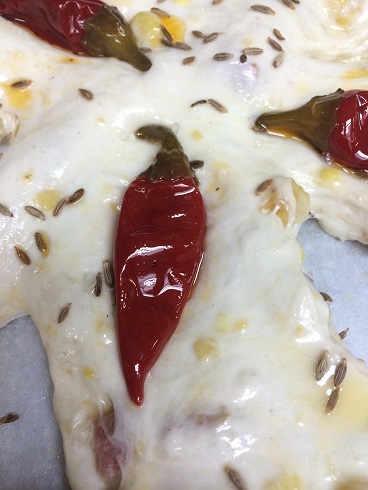 Above is a celery, leek and ham disc with calabrian chilies and whole roasted cumin seed.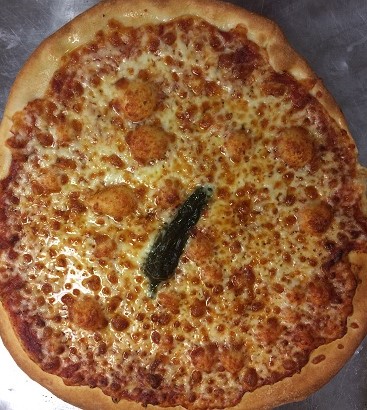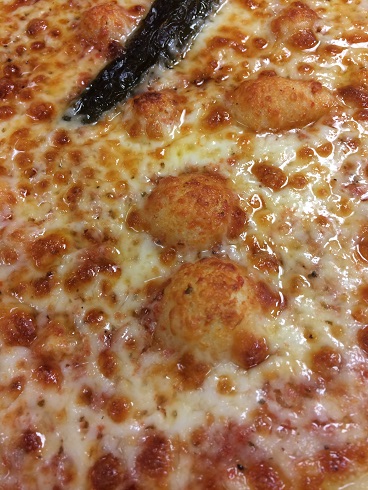 This pizza will blow your face off and send your intestines to the old folks home before puberty. I used some summer habenero's and Calabrian chilies and made a paste with San Marzano pizza sauce and some aged mozzarella and provolone and topped with a pickled jalepeno. My customers said this is hotter than my ghost chili pie. (go figure)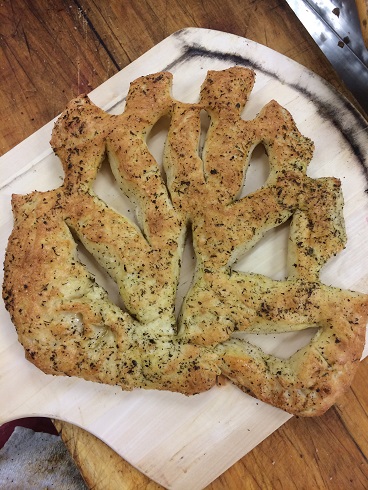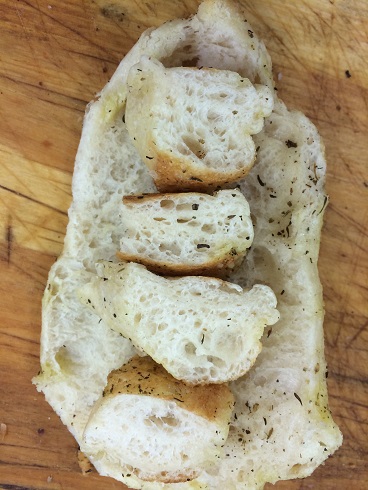 This is my sea salt and herb fougasse that Joel Fair and I make deep into the night. It is our customers most favorite; an airy and savory treat.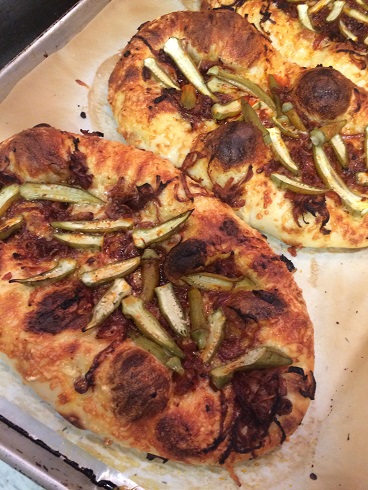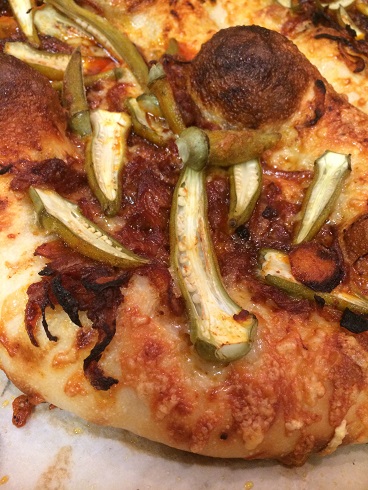 What to do with a boatload of local okra? This time I pickled it then paired it with balsamic caramelized onion and Gruyere on this schiacciata.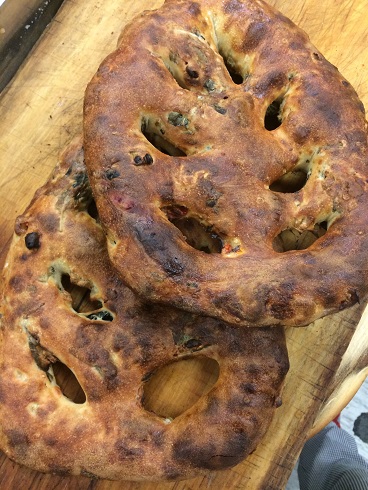 This fougasse I call the Purple People Eater. She is a sweet and spicy charmer with chipotle roasted onion and dried blueberry!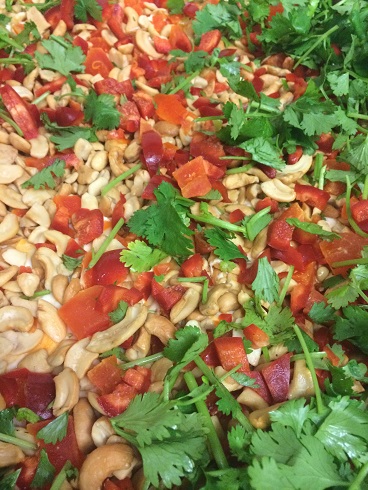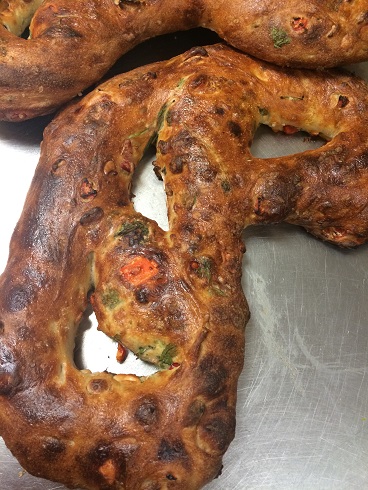 Above is a mix of cashew, Cowdery Farms 'Cherry Bomb' chilies, cilantro and dried papaya that made this spectacular bent fougasse, (right) very popular.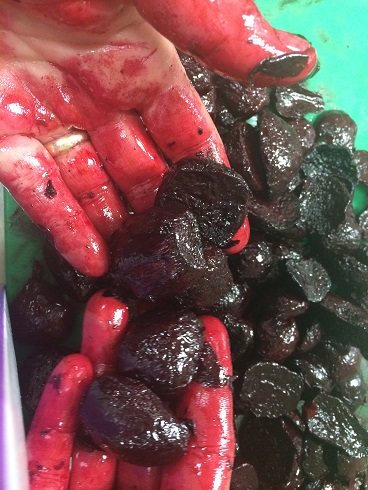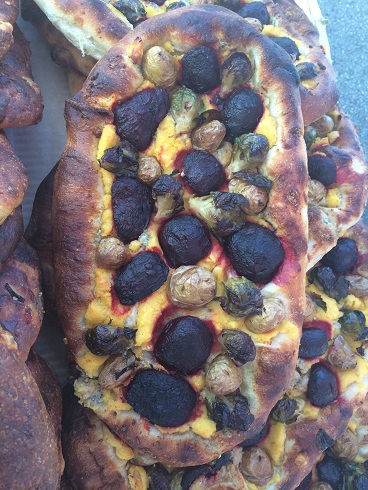 last week, I was back on the beet with 40 pounds of this purple gem so I killed it with a vegetarian schiacciata topped with fingerlings, roasted Amish Brussel sprouts and beetroot on top of Italian polenta and English Stilton.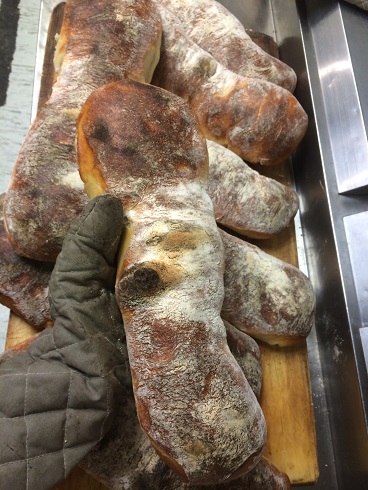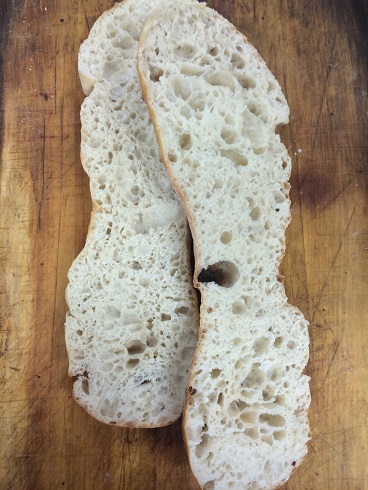 Here is a crunchy, airy ciabatta. I have been experimenting with this loaf for years and love those large, irregular cells produced from natural fermentation and a long proofing time followed by high heat.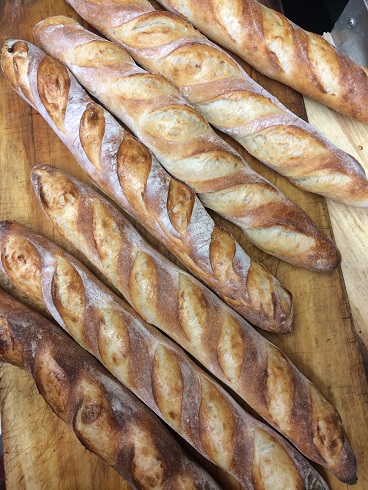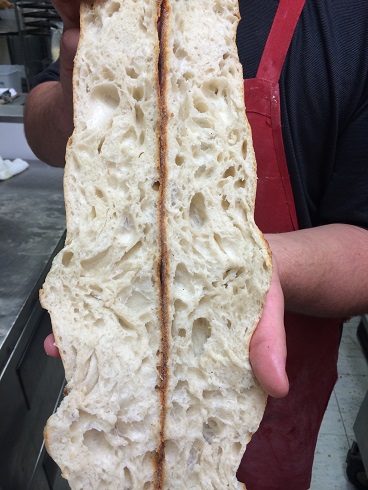 We can never forget to bake hundreds of baguettes each week. The crunch, the airy crumb and light digestibility make these a crowd pleaser. Torrey cooked these and has become a real master.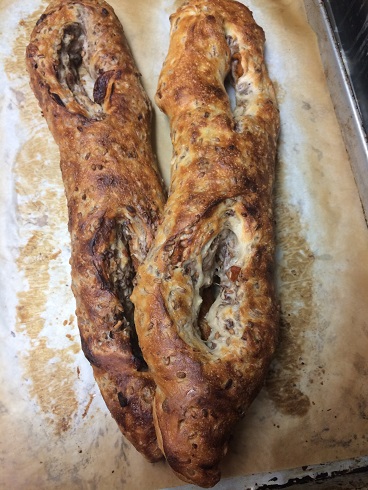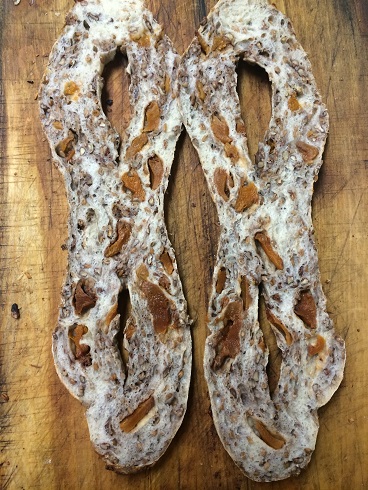 I made a cool split batard with this loaf of dried peaches, cinnamon, pecan all nestled in local spelt milled here in town by Shagbark milling.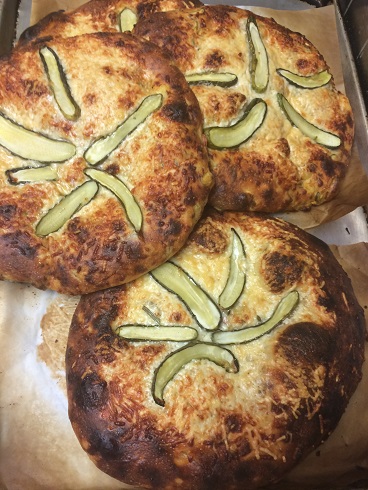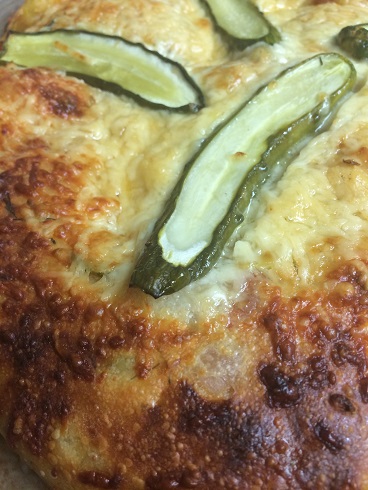 Above is a fingerling potato disc with some quick dill pickles I made from Cowdery farms cukes, sun-dried tomato, onion, dill, Asiago and local cheddar curd.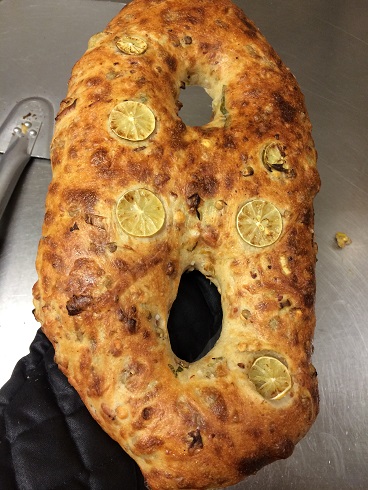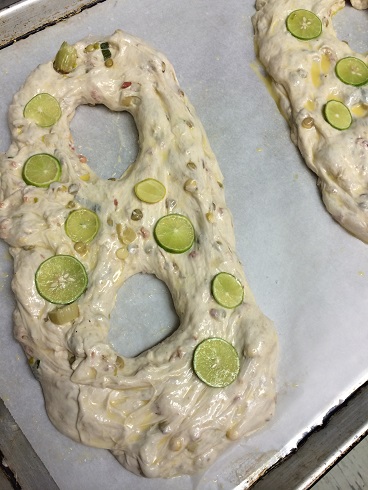 This dual-holed fougasse contains our old friend the sprouted Puy lentel, this time paired with roasted leek, bacon and roasted celery, key lime zest, cumin and key lime slices. Very Bright!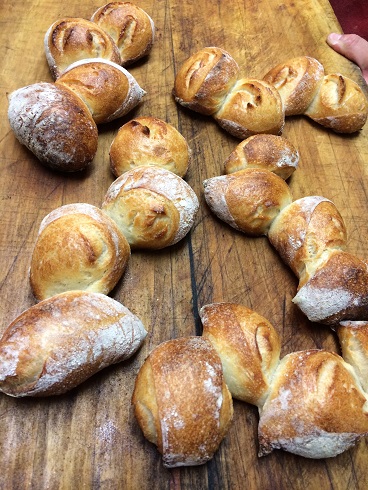 Joel Fair, Torrey and I did a special event this summer called Bounty on the Bricks which was a tremendous effort by the Athens Foundation to help local food pantries. Master Chef Alfonso Constriciani and all the Professors and Chefs at Hocking College put on a great dinner featuring our Epi rolls, (above left) and some airy Fontina bombes. The event was a success with thousands of dollars donated to the pantries.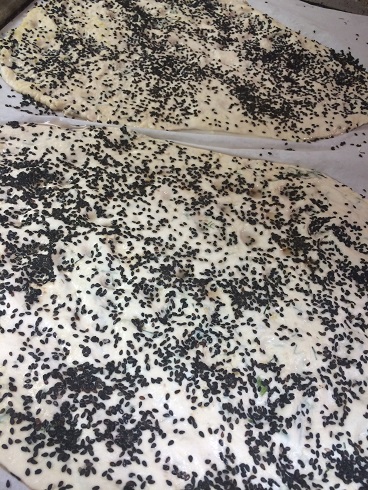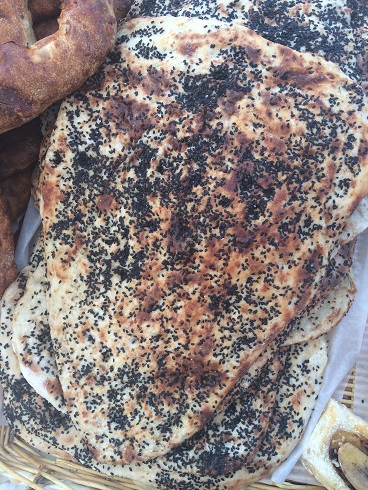 On top of lots of airy breads with high hydration, I back a lot of these Afghan Snowshoe Na'an that feature, horseradish Parmigiano Reggiano, fresh dill and lemon zest.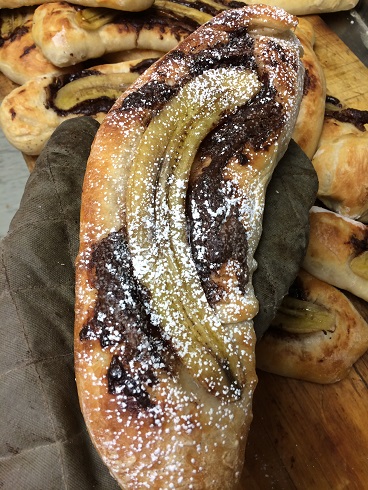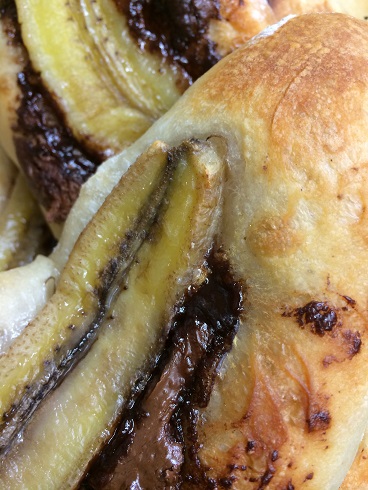 I just realized that this post is huge and I have so much other "Varmints" to highlight but I have to go…bake. I'll leave you with a delicious ciabatta topped with Nutella and banana and a pizza box made by a customer. Remember, don't eat that yellow snow!