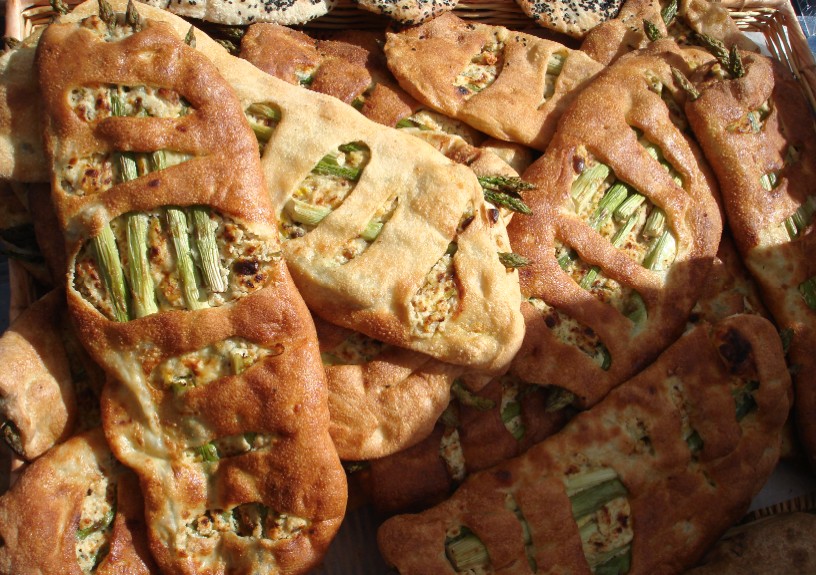 This year, I've eaten mountains and mountains of these freakish, skinny spikes. They pop up everywhere, like those annoyingly smart kids in class with their arms up after every question. This fabulous springtime gift keeps on giving here in mid-May, and can be manipulated in many ways. Just don't ask me how to manipulate the smell of asparagus urine. (I hear it's genetic.)
I cooked about 75 of these fougasse for the Athens Farmers Market last Saturday and they were a real crowd pleaser. It's called a "Stuffed Fougasse" (Foo-gaazzz) , mimicking an Italian calzone but French in origin. I, of course, have taken this idea on a peculiar path in my continuous effort to bastardize every recipe known to humans. This recipe is spectacularly Goonish in its richness and crunch. It can easily be put into your back pocket for ease of travel (depending on how large your ass is).
Stuffed fougasse in its vertically larval stage and after, in its beautifully transformed "butterfly-gasse" stage.
This asparagus fougasse is a folded package of 7-ounce dough stuffed with a pudding made of whole-milk ricotta cheese, sauteed leeks, blanched whole grain mustard seeds, Dijon mustard, chopped pistachios and grated Parmigiano-Reggiano. The key is to constantly taste the pudding mixture until it suits you. I then cover it with a little Gruyere. I do this because my convection oven turns the cheese pudding dark brown. The asparagus will cook beautifully for 7 to 10 minutes at 450 degrees on a parchment-covered upside-down cookie sheet that has been pre-heated.
(Note to buyers of commercially raised asparagus:  you may want to take a potato peeler and skin those corporate spears to make the asparagus less "bark-like" before cooking. See directions on this previous post.)
That is my insitefully meticulous recipe. For more, click on the video.