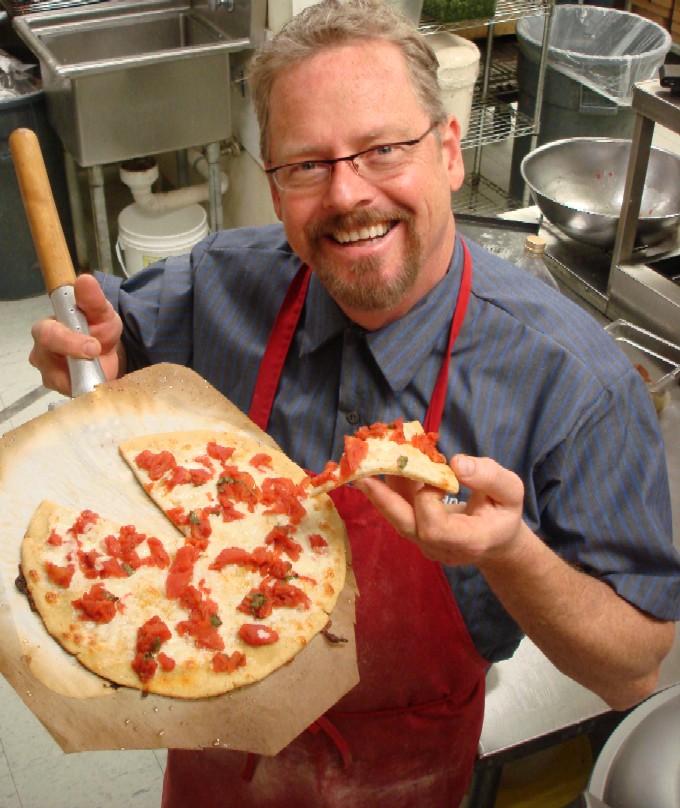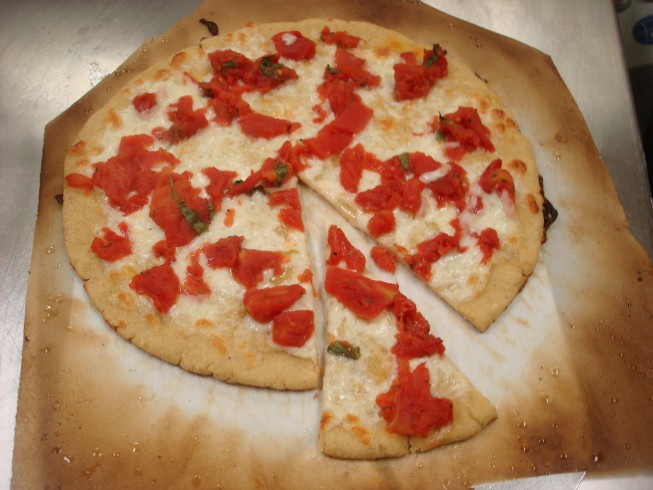 A tremendous amount of people have varying degrees of wheat and gluten allergies now. Some folks whisper that the genetic make-up of modern grains is the culprit and, for the most part, they are right. Some, like myself, just want to accomodate people and their aversion to wheat and gluten because they will become my customers for life so I can buy new cars, politicians, pectorial implants and a "posse" to follow me around saying, "John, you are absolutely right on all counts!" (can you tell I'm married?).
At my little place called Avalanche Pizza Bakers, I've used a partially-cooked non-gluten, non-wheat pizza crust from Still Riding Pizza because I have too much wheat flour flying around my shop. Still Riding is run by Elizabeth Silverman, who supplies pizza goons like me with excellent non-gluten crust made (with egg) in a dedicated non-gluten facility. It comes in a sealed bag, ready for careful topping by us. We put alot of disclaimers on our packaging because we bake it in a pizza oven with other wheat things. People with wheat or gluten discomfort have given the crust rave reviews because finally, they can have pizza with the rest of their family.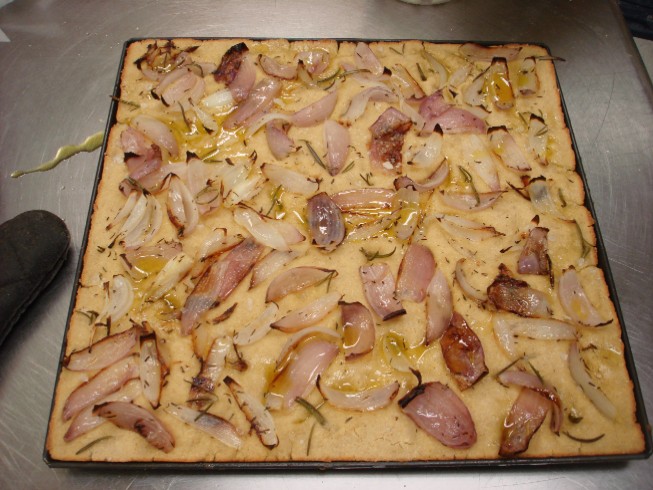 Now, however, I'm ready to delve deeper into the wheat/gluten arena and come up with my own crust for pizza and focaccia. In the 30 years I've been  in the food business, I've learned that people must know their enemy, just like Al Pacino in Scarface, who learned never to go into a bathroom with a guy who has a chainsaw. I refer to the basic makeup of wheat and the gluten produced when wheat flour is mixed with water. So here's a little story about  the elements that make lots of folks sick:
Once upon a time, two partial proteins named Glutenin and Gliadin fell in love. Both were brought up in a small town called Endosperm in the great State of Wheat Kernel.
Even though they were closely related (let's just say 2nd cousins for the censors), their love for each other was intense, so they decided to bond in a holy matrimony. The wedding was a beautiful one, overseen by Reverend Water. All was going great at the reception until a cretin named Mr. Yeast crashed the party. Mr. Yeast has stomach problems, and when he dipped into the hydration punchbowl and danced around, he released lots of  gas (real bad). Luckily the new couple, now calling themselves the Glutens, created a net to stop the gas from embarrassing the whole party. Mr. Salt and Mrs. Oil were also invaluble in strengthing the net holding that ungodly gas at bay.
As the party progressed, the heat rose and the gasses grew and grew and grew, until the whole reception decided to go into a warm (a very warm) room. There, even though things got a little crusty, they worked everything out, to a crunchy end.
Okay already, I know it's a goofy story, but as I push my hand into the finest corn flour I've ever seen, I realize I need to replicate the gluten net holding any gasses that yeast will release. This will be the only way for me to get some sort of rise out of my non-gluten experiment. I have promised many customers who are gluten or wheat intolerant that I will come up with something soon.
This is a daunting experiment, and I have not even cracked "book one" on the subject. I have competed in the non-gluten challenge at the World Pizza Championships, however, and know that Europeans have an affinity for certain flours such as chickpea and rice. I'm using some local corn flour and am excited because I saw this corn grown on the stalk last summer, harvested this fall, stripped off the cobs this winter and milled just recently by my friends Michelle Ajamian and Brandon Jaegar.
Luckily my first experiment turned out pretty good. Here goes, a pizza that is very good and a foccocia that has a  great mouth feel, taste and texture rivaling flour. This recipe makes 13 balls of dough.
Dough for pizza or focaccia:
4 cups finely ground corn flour
1 cup oat flour
1 cup quinoa flour
1 cup brown rice flour
1 cup millet flour
2 cups chickpea flour
1 cup tapioca flour
1/4 cup potato starch
1/2 tablespoon baking powder
1/2 tablespoon active dry yeast
1 tablespoon salt
2 tablespoons extra virgin olive oil
4 cups warm water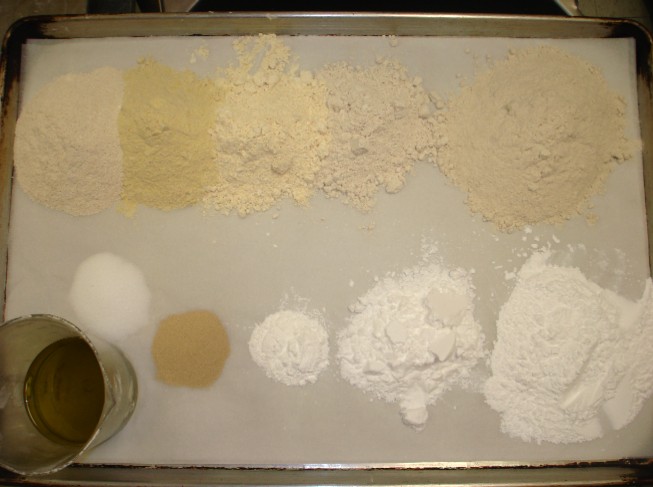 Grains on top row, left to right: millet, brown rice, quinoa, oat and corn. Bottom row: salt, yeast, baking powder, potato flour, tapioca flour, chickpea flour.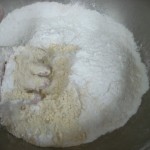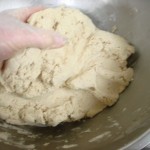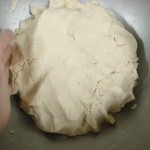 Place all the dry ingredients in a large bowl, and stir only until the flours are incorporated. Add the warm water and mix gently with your hands. Do not overmix. Form a large ball.
Cover the bowl with plastic wrap and let rest after setting the bowl in a warm place at 70-75 degrees for 30 minutes.
Now you are ready to divide this dough into 6 ounce dough balls (makes 13.) Use what you need and freeze the rest or make some foccacia. (BEFORE WE GO, REMEMBER THERE IS NO GLUTEN IN THIS DOUGH AND IT WILL NOT STRETCH, PULL OR RISE WITH ANY SIGNIFICANCE. KEEP IT ON THE PARCHMENT PAPER OR IN THE PAN.)
For the pizza topping:
Extra virgin olive oil as needed
One can of whole peeled tomatoes
3 fresh basil leaves
Pinch dried oregano
Pinch sea salt
2 ounces cheese, preferably whole milk mozzarella, grated (about 1 cup)
Preheat oven to 460 degrees and place an upturned cookie sheet on the middle rack to get hot.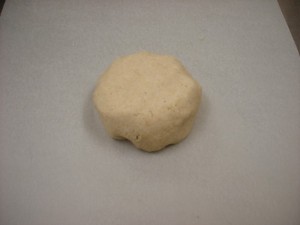 Take a small amount and form a ball (aproximately 6 ounces). You will be making a 10 inch pizza so if you do not have a scale, imagine the size being just smaller than the size of a tennis ball.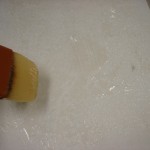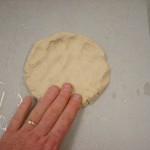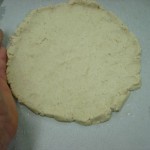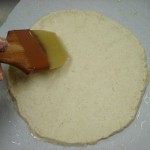 Place a piece of parchment on the table. It must be at least 11 inches square. Oil it lightly with extra virgin olive oil.Place the ball in the middle and press down in the middle. Keep pressing gently with your fingertips until you have pressed the dough out. (TAKE YOUR TIME!) The outside edges will start to crack so you must push them back together again. Remember, the same quality (no gluten) that makes it hard to form can also be on your side when repairing holes and cracks. Once you've got the round to a disc shape, brush the top with olive oil. This will help for the next step, pressing it further into shape.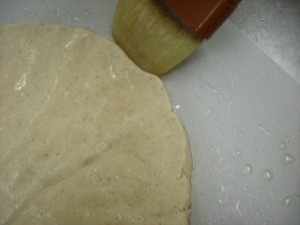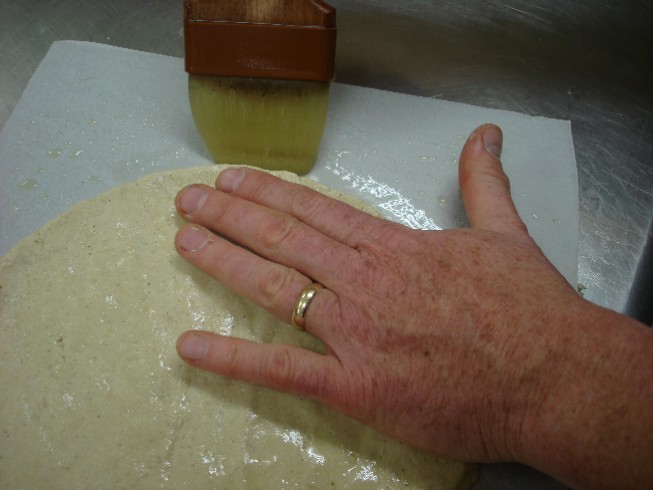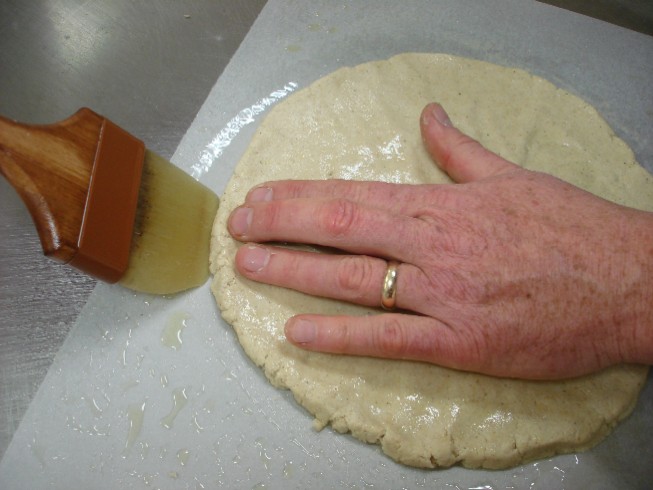 Being patient, keep pressing now with more of the flat of your fingers until the dough is 10 inches in diameter. Using your fingertips on both hands, form the outside edge. Use the brush to finish the edging.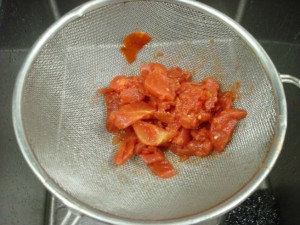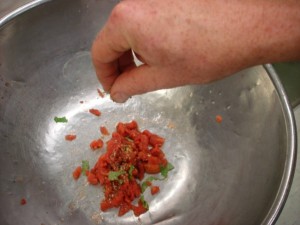 Drain the can of whole tomatoes in a colander. Tear the tomatoes into little pieces with your hands, and let drain for 5 minutes longer. Transfer to a bowl. Tear the  basil leaves and add them, along with the oregano and sea salt. Stir.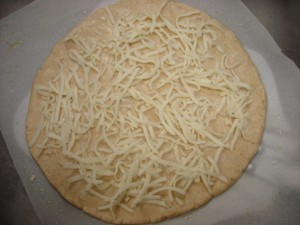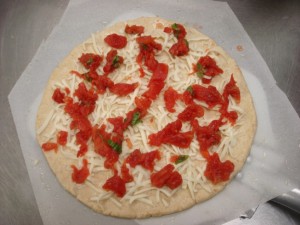 Top the crust with the grated cheese, followed by the tomatoes. (Are you wondering why the tomatoes are on top? I want the fullest cook possible on this dough and the possibility of a liquid coming in contact with these flours would exacerbate the already inherent flimsiness of the finished crust.)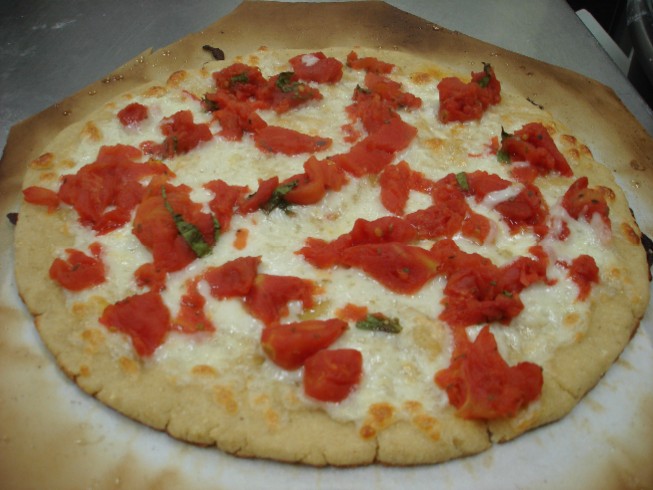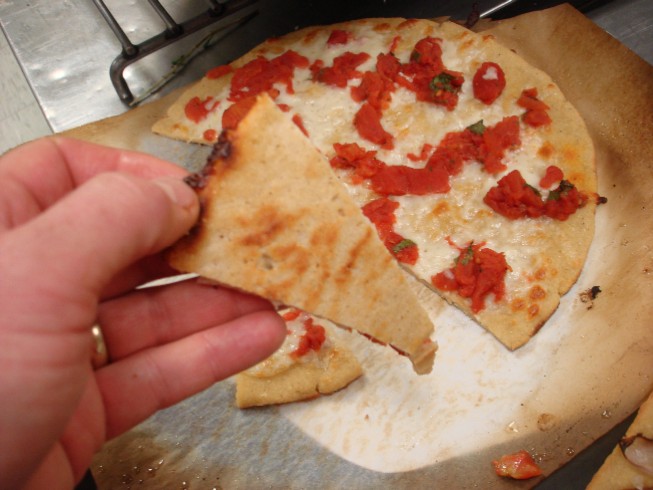 Place the parchment on the heated upturned cookie sheet and bake for 12 to 15 minutes, or until the crust starts to turn brown in spots. Check the bottom of the crust for golden browning. Pull from oven when the crust is starting to turn golden brown. (Note: some of the flours burn faster than others so look at the overall pizza before taking from the oven.)
Serve immediately.
Foccacia topping:
1 large or 2 small red onions
Pinch dried thyme
2 fresh rosemary sprigs
Extra virgin olive oil as needed.
Preheat oven to 450 degrees.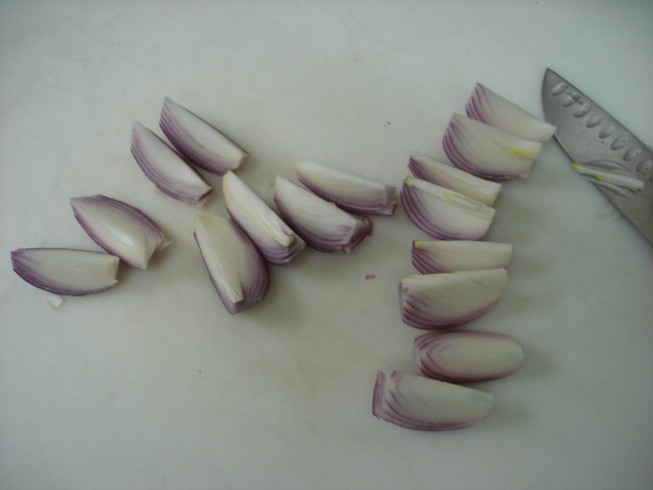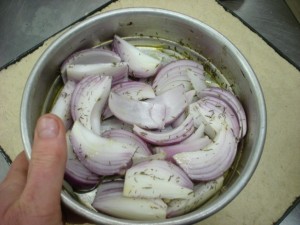 Cut 2 small or 1 large red onion in half lengthwise, then half again, then half again to make slivered petals. Dust with dried thyme and toss with 2 tablespoons of extra virgin olive oil. Roast in an oven at 450 degrees for 5 to 8 minutes, until the onions are just barely limp when tossed.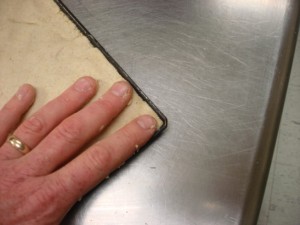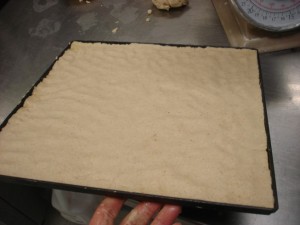 Oil a square or rectangular non-stick sheet pan or cookie sheet with extra virgin olive oil. Place 36 ounces of the non-gluten dough in the center and press gently into the pan to form a cohesive mass approximately 1/4 to 1/2  an inch thick.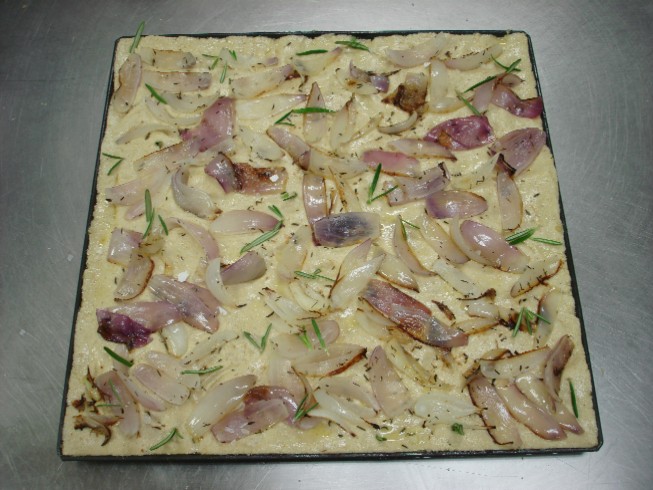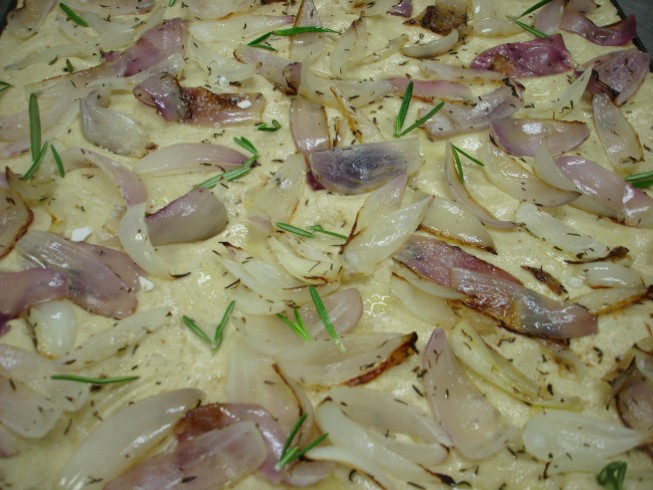 Place the onions on the dough and press down into the dough. Place petals from 2 rosemary sprigs into the dough and around the onions.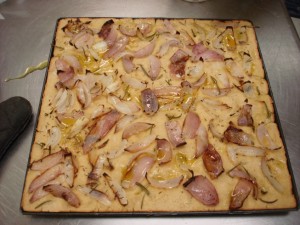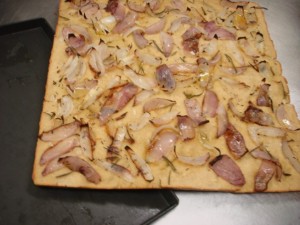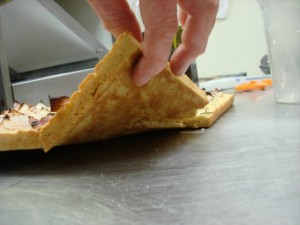 Bake for 15 to 20 minutes until you can place a spatula under the crust and see the browning in the bottom-middle of the pan.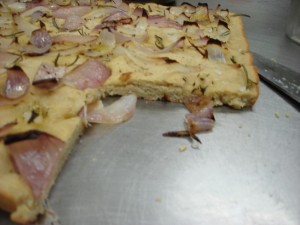 This recipe should produce a nice firm and flavorful bread free of gluten, wheat and egg. Please enjoy.