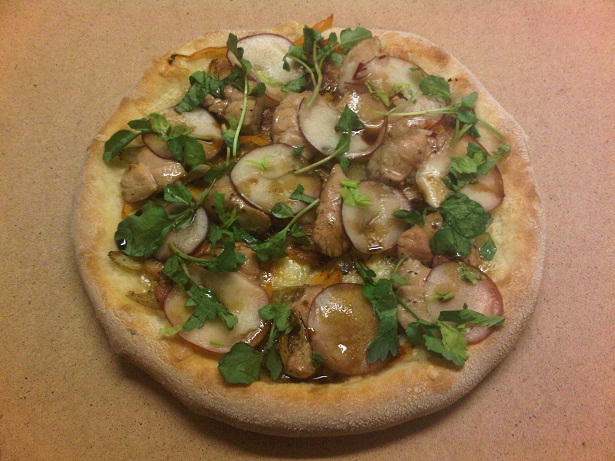 Man oh man, do I love sweetbreads.  "Holy cow" is what I thought last week I was peeking at the great meats at Sunny Mead Farms run by Richard and Tanya Jeffers. A pack of sweetbreads it was. I held it in hand and almost drooled on my shirt. Sweetbread pizza bounced around my cranium (not much to stop it) for days before I had the guts to do this.
Well, even if you are disgusted at the thought of eating a thymus gland from a small bovine, let me ask you this: How many cows anuses have you consumed in the past year? Ears? Lips? Snouts? I'll tell you now, (because Hormel won't) that it all depends on how many pepperoni's you've had on your pizzas.
Sweetbreads have been a wonderful treat for centuries. The Italians call them "animelle,"  and after the usual immersion in water or broth, are coated in flour, egg and breadcrumbs and fried. The Northern Italians liberal use of cream and truffles add to the sensuous crunch and mellow flavor of this offal.
 At Chez Maxim's in 1900's Paris, two stellar dishes of sweetbreads, the Ris De Veau A La Paoise included the old-style cooking of the whole sweetbread in a loaf presentation that accomodated six diners who enjoyed this offal paired with butter (go figure,) ham, eggs and lemon. Called a "Plat de resistance," by the Maitre d' Hotel, Mr. Cornuche', it was just as popular as the Ris De Veau Aux Petits Pois that was blanketed with a sauce of salt pork, onions, vinegar, carrots butter and boullion blanc then surrounded by fresh peas. To the south in Madrid Spain, the approach to the sweetbread is much simpler with the Mollejas Salteadas sauteeing a smaller diced version with breadcrumbs in olive oil, garlic parsley and onion.
My own affinity with sweetbreads came when I was a dining room Captain at the fabulous French Restauarant, Le Ciel Bleu in Chicago. I salavated watching guests nibble on sweatbreads with a lemon buerre blanc (butter sauce.) Our chef also had a little twist of gently placing a small salad of watercress, celery leaves and thinly sliced nectarine in the center for a crunchy-sweet juxtaposition as foil to the cream. 
So here is my sweetbread pizza. It has some great components compiled for maximum enjoyment. The Creamy Fontina is topped with the local peppery bacon from King Family Farm and crunchy celery. These flavors counterbalance the sweet pepper from Cowdery Farms and nectarine from Gillogly Farms. The little crisp-sourness of the watercress and celery leaf finishes this pie well, especially with the splash of Balsamico.
For the Sweetbread offal.
1 Veal or young cows thymus gland
Water to cover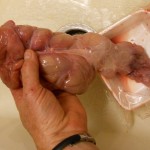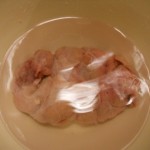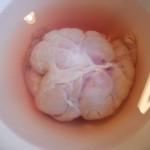 Take the whole gland and rinse very well. Place in a large bowl of cold water for one hour, drain and fill with cold water again waiting another hour. Drain the water and add new water and place in a refrigerator overnight.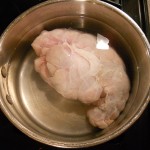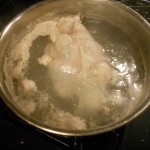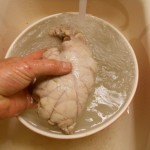 Remove from the water and place in a pot of water that just covers the sweetbread. Turn the heat on high and wait for it to boil. Leave in boiling water for two minutes. Drain the hot water off and place into a ice-cold water bath to cool. Drain them again.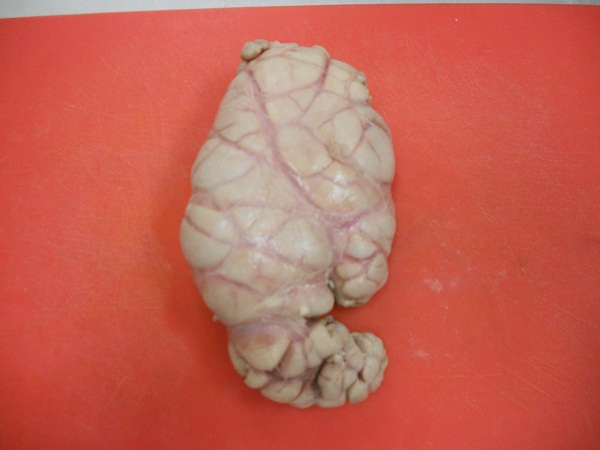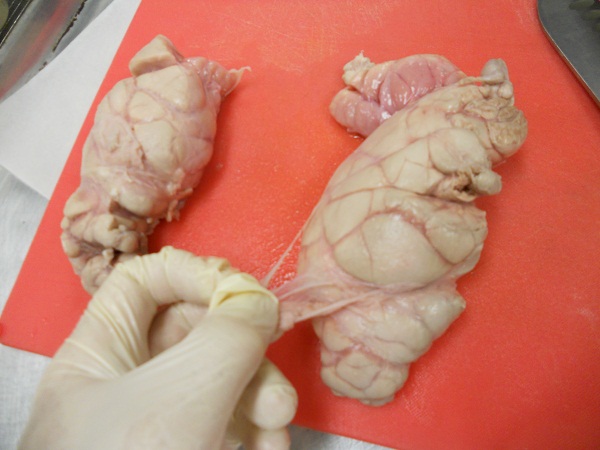 Using a sharp knife cut and pull off any excess membrane or fat from the sweetbreads.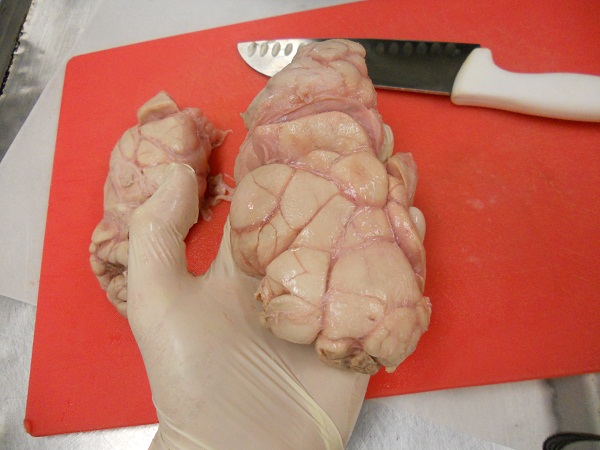 Cut the enlogated part of the thymus off and use the round portion. Cut this into smaller lobes.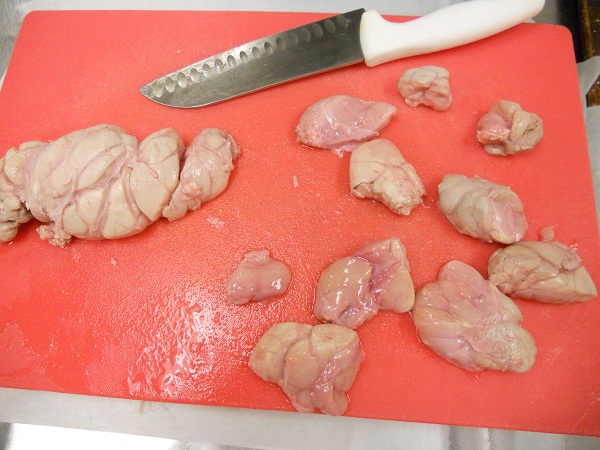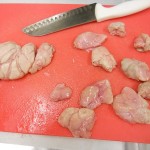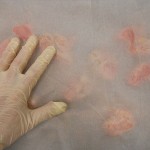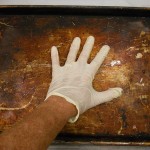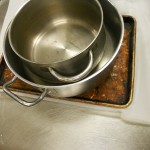 Place these small lobes onto parchment paper on a tray. Put parchment over them followed by another tray. Place a weight on the upper tray compressing the lobes to about 1/4 inch thickness. Cool and compress in refrigerater overnight.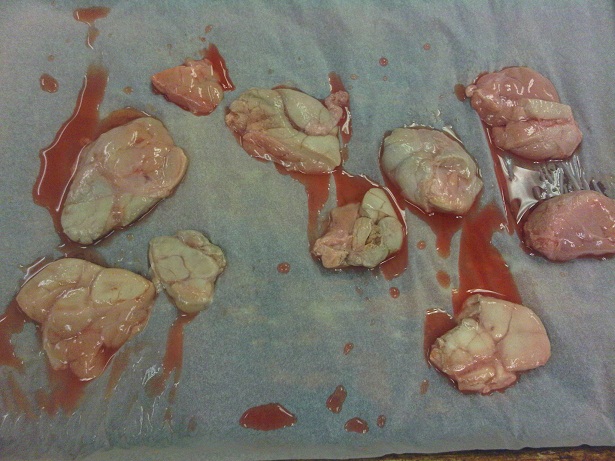 Pressed sweetbread chunks ready for cooking.
For the Pizza: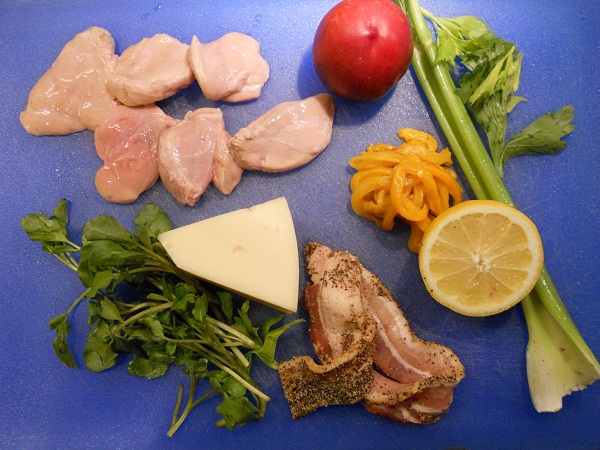 1 tablespoon olive oil
Seven small lobes from the round thymus gland prepared above.
Salt and Pepper sprinkled on the sweetbread
2 strips peppered bacon cut into small squares
1 stalk celery
1/2 lemon
3/4 cup Fontina Cheese
1/2 cup roasted yellow (Toro) peppers
One nectarine
A few sprigs of watercress and celery leaves
Preheat your oven to 485, using either a pizza stone or heavy bottomed cookie sheet upside down. Using the Easy dough recipe, make a seven ounce round dough and press it out.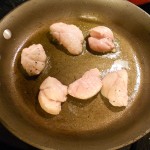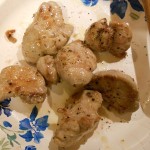 Turn heat on high and add olive oil. Season sweetbreads with salt and pepper. Just before oil smokes, place the sweetbreads in the pan until lightly browned (2 minutes) then turn and cook for an additional 2 minutes. Pull and reserve to cool.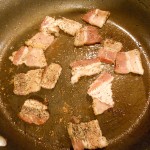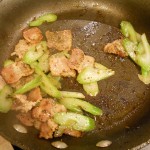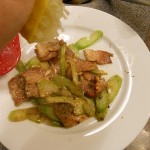 Saute bacon in pan on medium-high heat until just starting to crisp. Add celery and saute for 2 minutes. Place on plate and squeeze half the lemon on the celery bacon mix.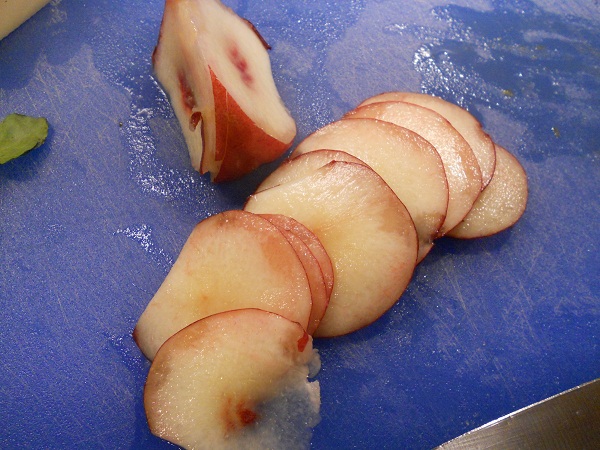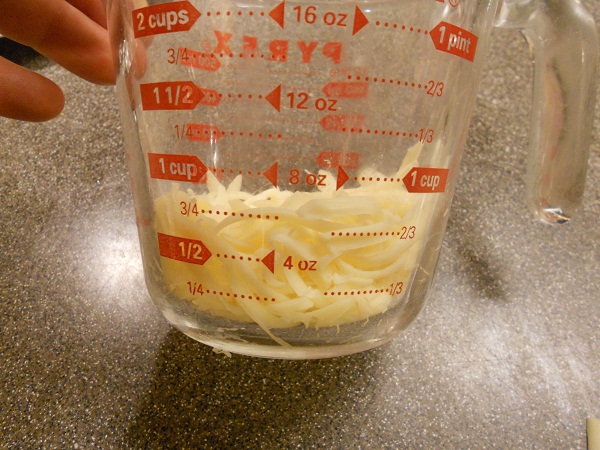 Slice nectarine and grate cheese.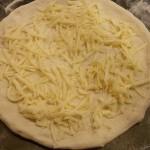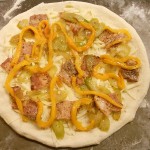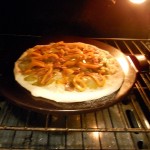 Place Fontina, bacon, celery, peppers on the pie skin. Load the pizza in the oven using the bottom of another cookie sheet dusted with semolina or cornmeal for easy transfer.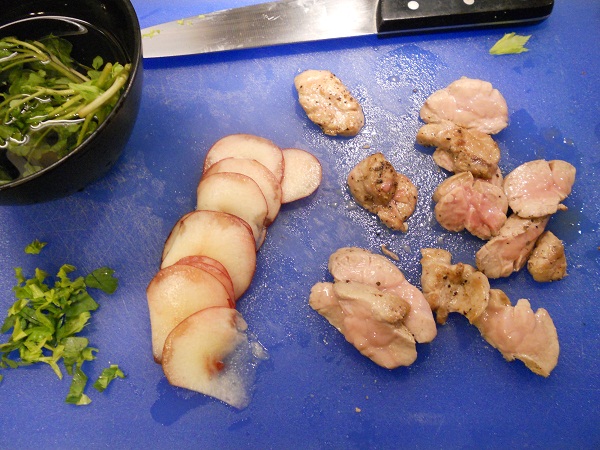 Slice the sweetbreads in half and ready all other ingredients for the oven. Wait ten minutes or until the pizza just starts to brown, then carefully place each piece of sweetbread around the pie. Cook for 3 to 4 minutes longer. The sweetbread will be crispy on the outside and luscious in the middle.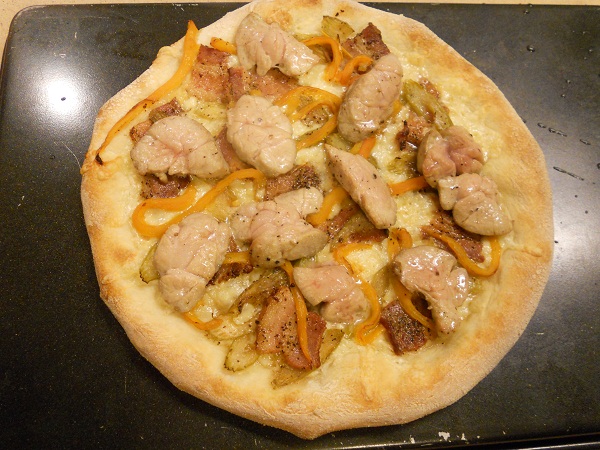 Place nectarines, celery leaves and watercress on pie and spritz with some Balsamic Vinegar. serve immediately.