Nothing says springtime pizza more profoundly than a morel mushroom. Its hollow body and musty cap with oblong, welcoming cells add a pungent and rich umami flavor to many dishes. Along with fiddlehead ferns, ramps and asparagus, morels are the awakening soul of the forest.
A rainy spring and hope in the future initiated the buzz about morels here in Southeast Ohio. When I visited the farmer's market I heard farmers speculate, "This is gonna be a massive year for morels. I'll be out there, when it warms up."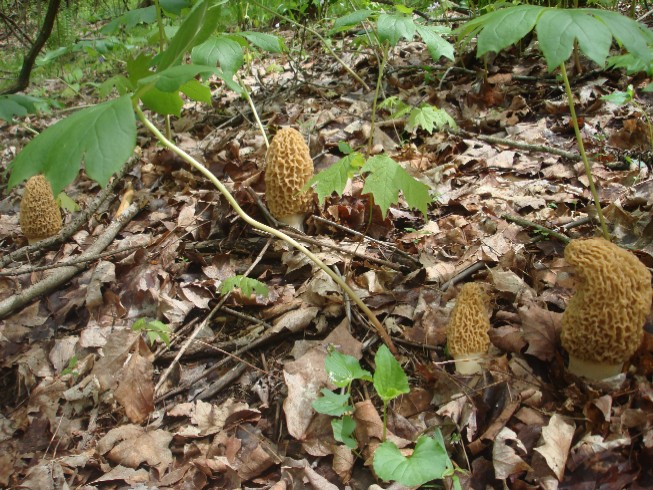 It had been a wet year so far. January and February were wrist-cutting months. The depressing bone-chill and bleak-brown hills created a foggy, far-away look in people's eyes. Just when it seemed that we couldn"t take any more fog, cold and winter, the weather warmed up. Then it was off to find the morels.
I had found the perfect muddy spot near a state park,  with a few fallen and rotting elm trees around it. My two sons, after numerous hopeful trips to this spot, were getting attuned to the mud. After every hunt they looked more like French infantryman at the battle of the Somme than kids looking for mushrooms.
This year I was determined to not suffer the dreaded "morel envy." That's when I break out in a cold sweat when  a neighbor or friend waves a 6-inch morel in my face, gloating. "Hey John, check this baby out," they say, and I think, "Damn, he got one before me."
But this day in the woods it turned warm, and it was the perfect month, the perfect day and the perfect temperature for finding morels. Suddenly my son Sam said, "Hey dad, I see one," like he's declared a thousand times already, announcing frogs, flowers and rocks.
"Now Sam, remember the boy who cried wolf?" I began. "That's just a… morel. A morel! Oh…there's others!"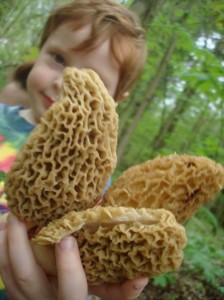 We all scrambled and scanned the muddy floor. Jake tripped on a stump and fell face first in the leaves.
"Mommy," he cried as I spotted more morels blanketing the forest floor. They were huge and blonde. I couldn't let a 2 year-old ruin the hunt. I had no choice but to psyche Jacob out.
"No Jake, it's not mommy, its morel," I said as I wiped off his face. "We have to find more of these. For mommy."
I waved a morel in front of him like a prison guard letting a blood hound sniff an escapee's clothes and set Jake down. He scampered like a magnet to Sam, who was busy grabbing the morels and shaking the spores off, the way I taught him. We felt like pirates who've just found their treasure after years of looking.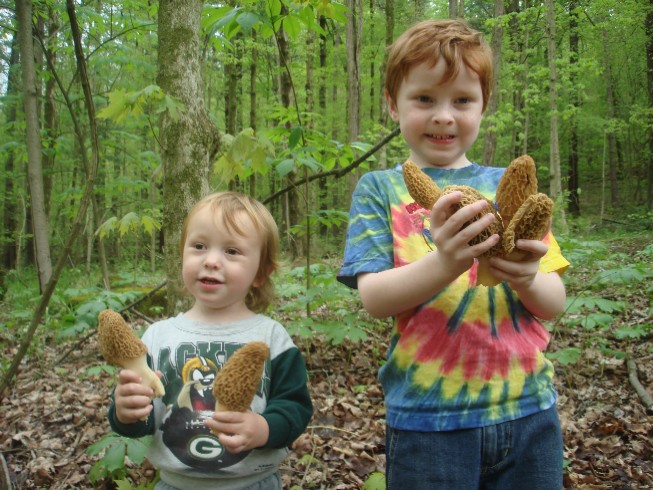 That day, we ended up with about 15 giant morels. I made a  morel pizza with Fontina di Aosta, Parmagiano Reggiano, fresh asparagus, roasted garlic oil, Prosciutto di Parma, arugula and the first grape tomatoes of the year. I called it "Super Sam's Springtime Pizza" in honor of the warmer weather and my son's great find.
Super Sam's Springtime Pizza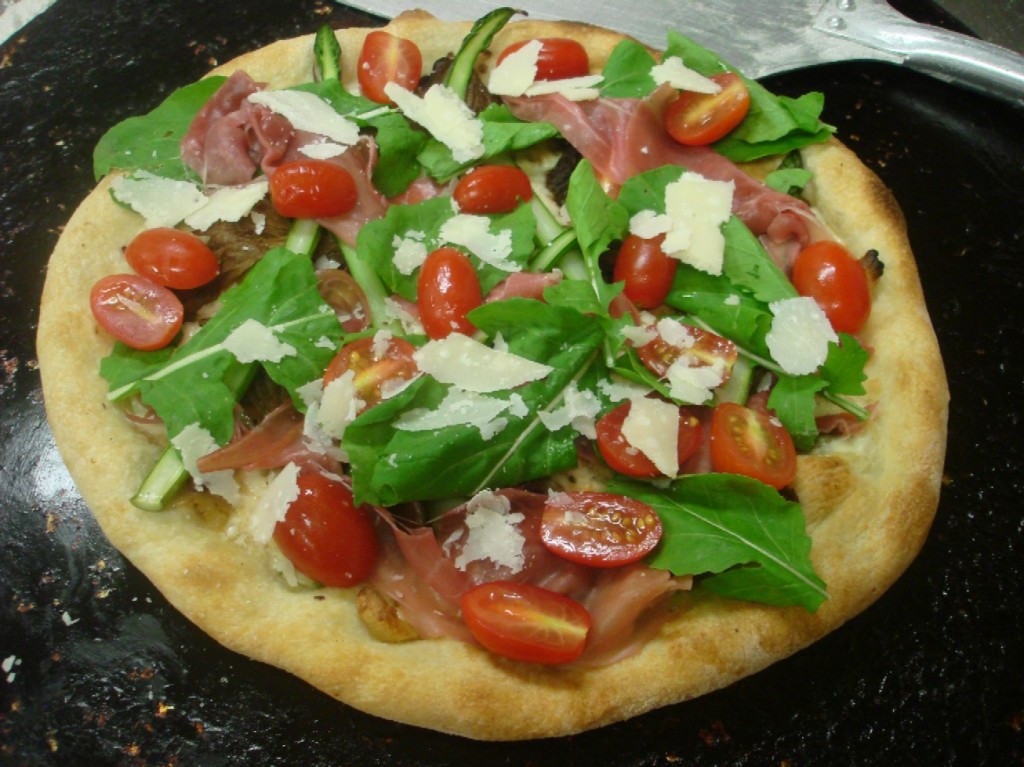 Serves 2 to 3
Easy Dough Recipe
When you strip down all the finesse and personality from a pizza dough recipe, you end up with flour, yeast, salt, and water. I add extra virgin olive oil too because I love the flavor it imparts.
Unbleached flour is best for flavor and vitamins
Just your normal small packets of dry yeast work best. Instant is not as good for longer fermented recipes like this one.
Nothing compliments bread and crust like salt. All-purpose flour requires help with the elasticity of the dough that retains the gasses that form the cells (bubbles for rise) called the "gluten net." Salt strengthens the process.
Olive oil adds a floral flavor to the dough and helps with manageability and emulsification during mixing. It eases the breakdown of the starches and strengthens the gluten net.
1  1/2 cups unbleached flour and more for kneading
3/4 cup warm/tepid water
1/2 teaspoon crushed sea salt
1/2 teaspoon active dry yeast
1 teaspoon extra virgin olive oil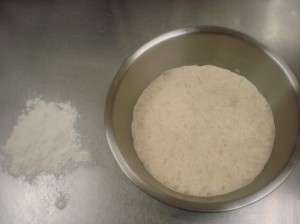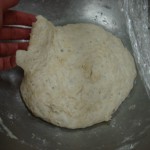 Mix the  flour, salt, and yeast together with dry fingers in a large bowl. Add the water and oil and combine until blended. Cover the bowl with plastic wrap set in a 70-80 degree environment for 4-12 hours. This is the primary mixing of the dough.  (Note) The less you let this sit, the more proofing (letting the dough sit and rise in a secondary fermentation) you will need in the next step. For example if you let this mix go for 4 hours, when you cut and make dough balls out of this, you should let them sit for at least 30 to 45 minutes in a 70 to 80 degree environment.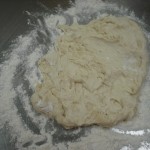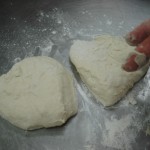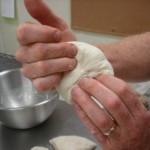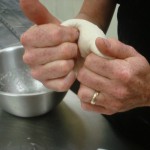 Sprinkle 1 tablespoon of flour on counter top. then remove the dough from the bowl with a scraper or spatula and on counter top, sprinkle flour over the dough. This will help with the stickiness. Divide into 2 parts. Cut the dough in two.
Take one piece of dough in both hands and gently knead the outer edges into the bottom to form a ball. Use your fingers to push dough up and into the center of the ball. You are folding the gluten strands into a cohesive round that will make it easier to form a round pizza. As you gently push more dough under, you will notice the top get firmer, this is a good time to stop. If the ball gets to sticky, roll the ball in flour. Do not over knead.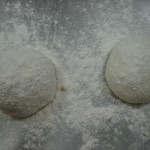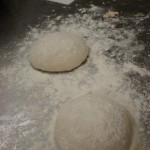 You should have two 7-ounce dough balls. Place them on an oiled tray and cover with a generous sprinkling of flour and a clean cotton towel for 15 to 45 minutes.
Pizza Topping
4 medium asparagus spears
¼ cup butter
4 ounces morels (or any wild mushrooms)
Cornmeal for sprinkling on pan
2 tablespoons extra virgin olive oil 
4 ounces of Fontina di Aosta
3 slices of Prosciutto di Parma
Handful of fresh arugula
6 sliced grape tomatoes, cut in half
Shavings of Parmesano Reggiano
Coarse sea salt
Preheat oven to 450 degrees. You will need either a pizza stone or the bottom side of a heavy duty cooking pan. Whichever you choose, place it in the oven when you preheat.

Bring 1 quart salted water to boil, add asparagus and cook for 1.5 minutes. Remove and plunge the spears into a bowl filled with ice and water. This method retains the color and stops the cooking. Slice the asparagus vertically, down the center.
Place a saute pan on medium heat and add the butter.  Once it melts, add the morels. Saute for 2-3 minutes, turning until they are just cooked and wilted. Remove from heat and transfer the morels onto a plate.
Sprinkle the counter with flour to prevent the dough from sticking.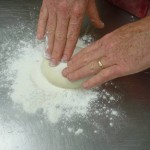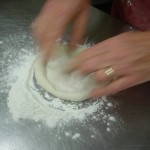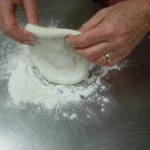 (1)Use your fingertips to push down in the center of the dough ball, making sure not to go near the outer edge, as this will be your crust. Turn the dough over and do the same on the  other side. These actions will make the dough flatten while leaving some air (or cells) to expand while cooking.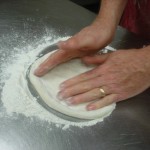 (2) Use your hand to form 1/4 to a 1/2-inch crust while pulling away with the other hand.
(3) Pick up the dough and place it vertically in one closed  hand (some dough may overhang) and slap it into the other hand. This is easier than it sounds. It helps to stretch the gluten strands and helps to flatten some of the larger cells for a uniform crust. This slap forms the round naturally. Do this 3 to 5 times, rotating for roundness.
(4) Using the back of both hands formed in loose fists, stretch the dough slowly. Feel the dough stretching, turn and continue 3 to 8 times, being careful to not be aggressive. Look at it in the light to see areas that are too thick or thin.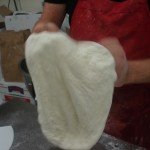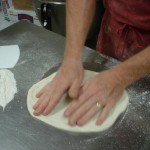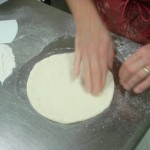 (5) Brush all flour away from your work area and lay the dough on the table to see your work. The dough will have some "bounceback." These are the gluten strands contracting from the stretch. Let it rest a few minutes and continue with (6) again until you get a 7 to 9-inch round. Do not worry if the dough is not round (if you make a hole, as we all do, pinch it shut).
6. Brush (or use paper towel to spread) a thin coating of extra virgin olive oil on the dough. Add the Fontina cheese. Place morels around the pizza and slide the pizza onto the preheated pizza stone or just place the pan in the oven. Bake until the crust is golden brown on the edges and the bottom is a little more medium-light brown.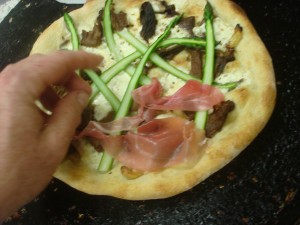 6. Place the asparagus spears on the pizza, cut side up. Rip each slice of prosciutto  into two to three slices and place on the asparagus. Scatter the arugula, tomatoes and shaved Parmesan on top. Sprinkle with sea salt. Serve immediately.