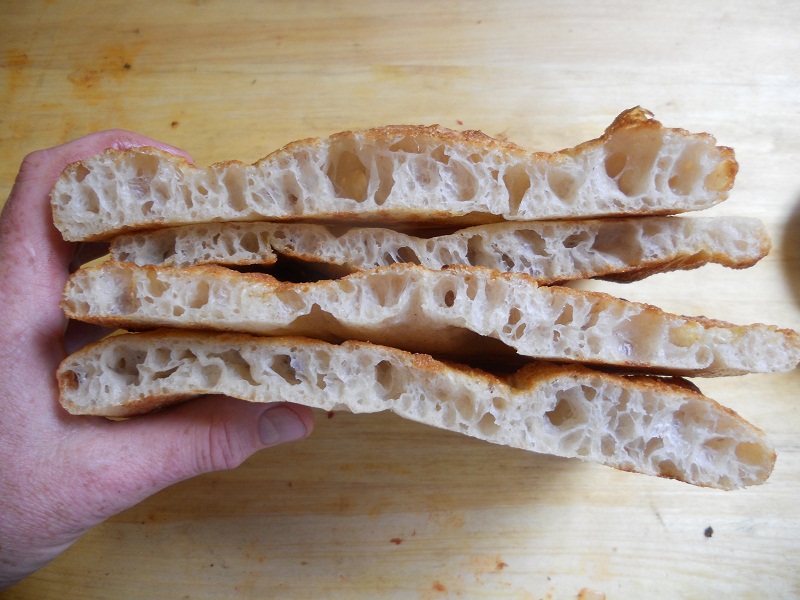 Well, it's that time of the year again. It's Halloween season and my business is in the throws pizza madness. The late season crops are booming and I am gearing up my strategy to win the International Pizza Expo's Pizza Challenge in Las Vegas in March. I've dusted off my pizza thinking cap and thought that I just might make a pizza bianca. (or not…think I'm stupid? I'll not give away my soon to be winning pizza to anyone!) Either way, everytime I make these pizzas, it takes me back to Rome.
The thing I miss most about Rome besides drinking espresso and puffing on a Cuban cigar in the sunshine at an outdoor cafe on Via Margutta, is sampling all the different types of Pizza Bianca. Just last year my good friend Bruno di Fabio and I found a little panificio near the Vatican which had the best zucchini, egg and parmesan pizza bianca as well as numerous other pizza bianca that just blew me away.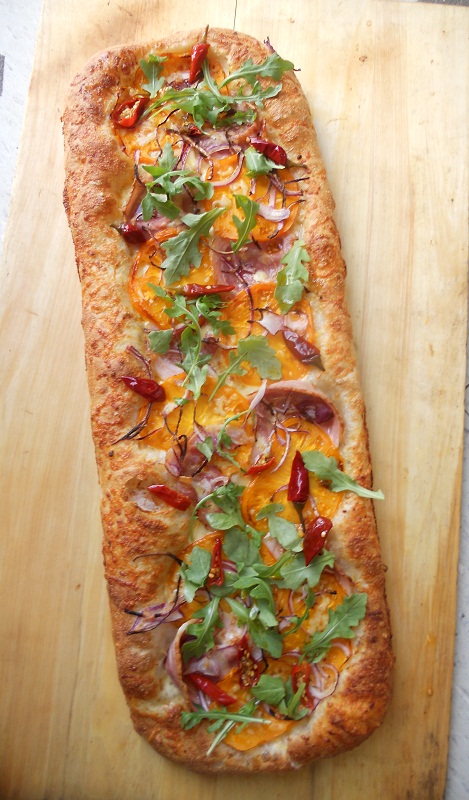 Last week I found the time to kick out some P.B's. I made these with a pre-ferment made with a 70/30 mix of high protein flour and local spelt flour. To this I added a biga, salt, yeast and organic malt syrup. I then mixed it with a hydration of 65 percent-(not "ciabatta sticky" but just this side of annoyingly sticky,) then retarded for four days under refrigeration. This gorgeous baby, (above) has all my favorites and I bake it here at Avalanche often. I started with Bellwether Farms Carmody cheese, late season heirloom tomato, panchetta, onion, Calabrian chili's and arugula.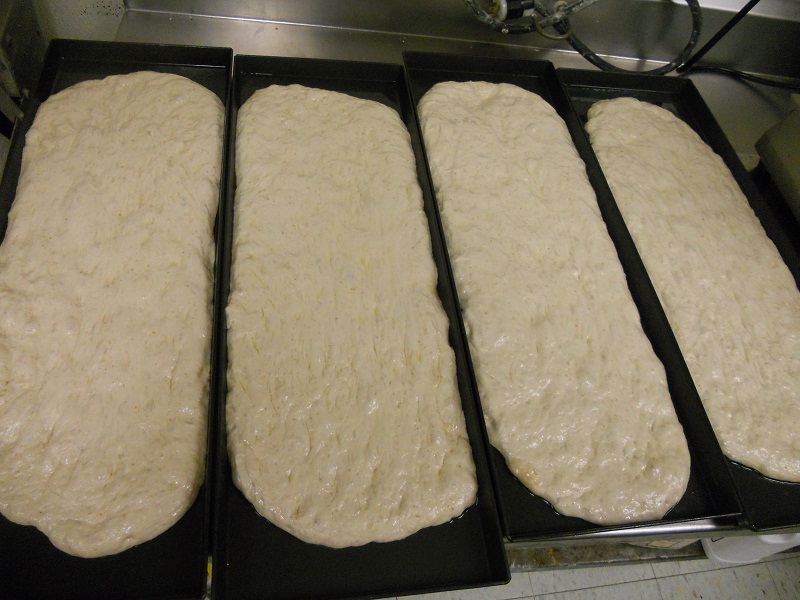 Normally, the Italians from Rome would mix a batch and let it proof for up to five or six hours depending upon the time of the year. Then they cut and formed into a football shaped loaf about two feet long and left to proof again for upwards of 20 minutes for the gluten to relax. The it is formed into a five to six foot loaf using the piano method of lightly jabbing fingertips into the soft dough after being brushed with olive oil. I proof my dough in specially made pans, (above.)
My formula for the dough is different (of course) and I will give you a peek at that later this week as well as the recipes for these pizzas.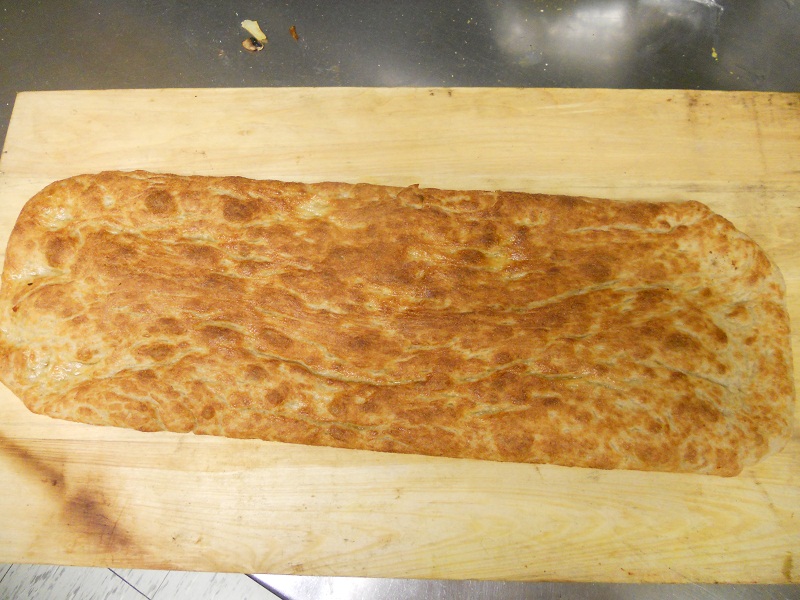 Most Romans find solace in eating the pizza bianca plain and hot out of the oven, (above) or stuffed with a miriad of items like a pita… (oops, I just made a few thousand Roman enemies.) I like a protein like prosciutto and arugula with pear and balsamic but shredded zucchini, mint, arugula and tomato is a big hit here in Athens, Ohio.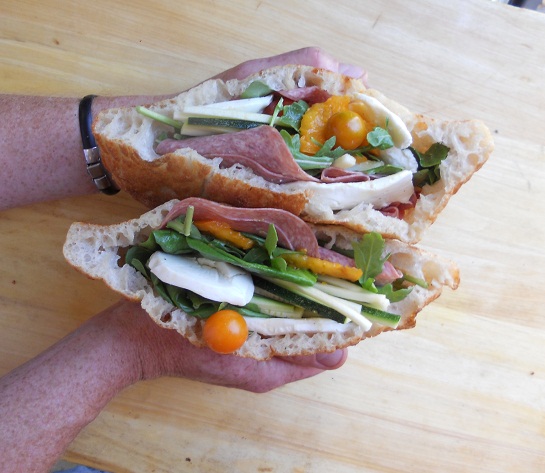 Here is my stuffed pizza bianca with Genoa salami, roasted zucchini, mint, tomato, arugula, spinach and some olive oil and salt.
I made four pizzas using the goons pizza bianca dough.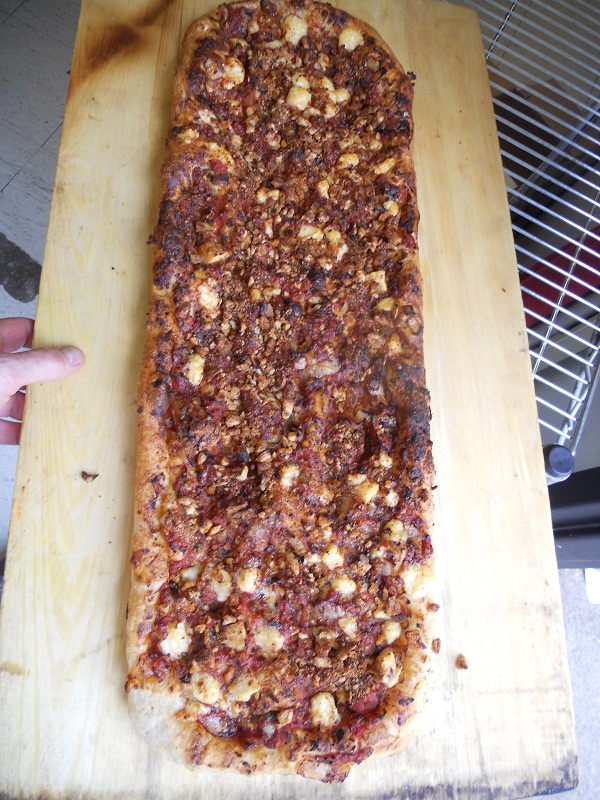 A Sicilian Sfincione with the incomprable Stanislaus Alta Cucina tomatoes, onions, anchovies, oregano, pecorino and bread crumbs. This fit perfectly atop the puffy rise of the bianca dough.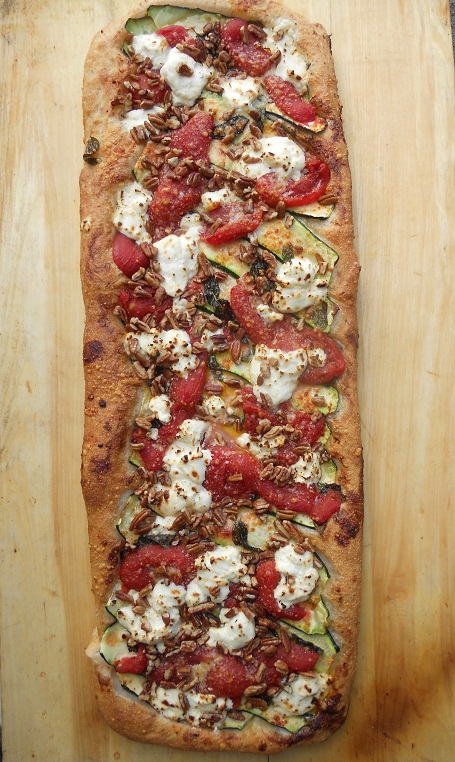 Then I baked an organic zucchini pizza bianca with mint, pecan, local goat cheese from Integration Acres, parmesan and those same stellar Stanislaus tomatoes. (In fact my modis opperandi is to open the can, then select the biggest, juciest tomato and gobble it down over the sink before any of my staff catches me in my secret guilty pleasure.)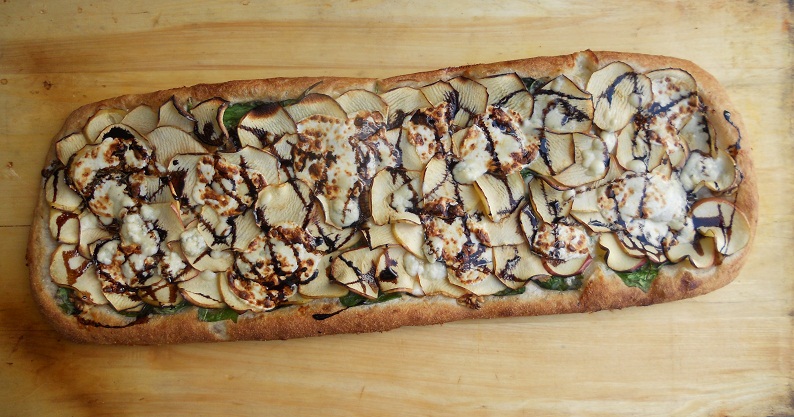 Next was a spinach, gorgonzola, pear and walnut pizza bianca which was particularly "Nad-Pumping" (a great gutteral term a chef once was fond of saying. Should I stop now? Heck no.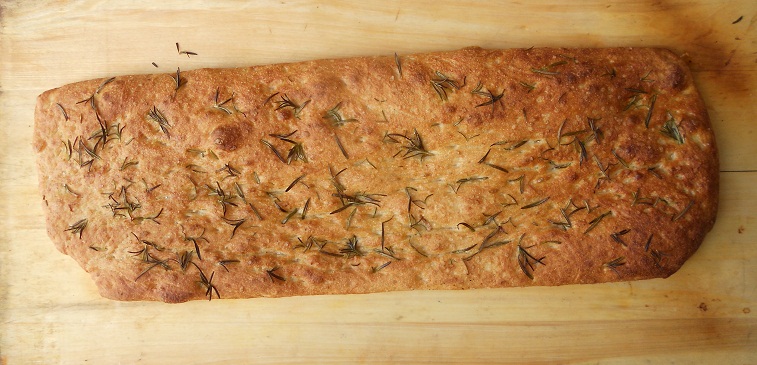 Last was a fabulous P.B. with sea salt and rosemary.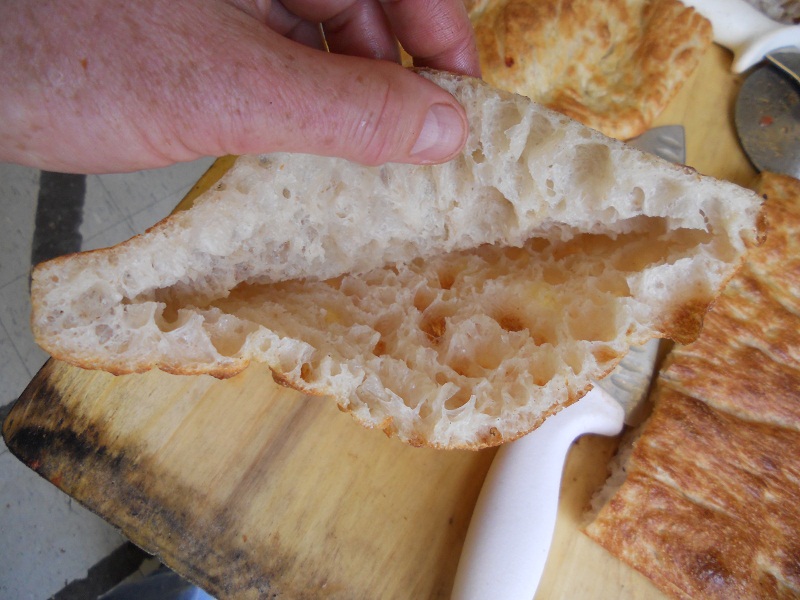 "Holy crumb Batman! any way you slice it, Pizza Bianca is a hit!" I'll try to find time to throw some of these recipes your way this next week, (as soon as I get done with this dang pizza making business of mine!)