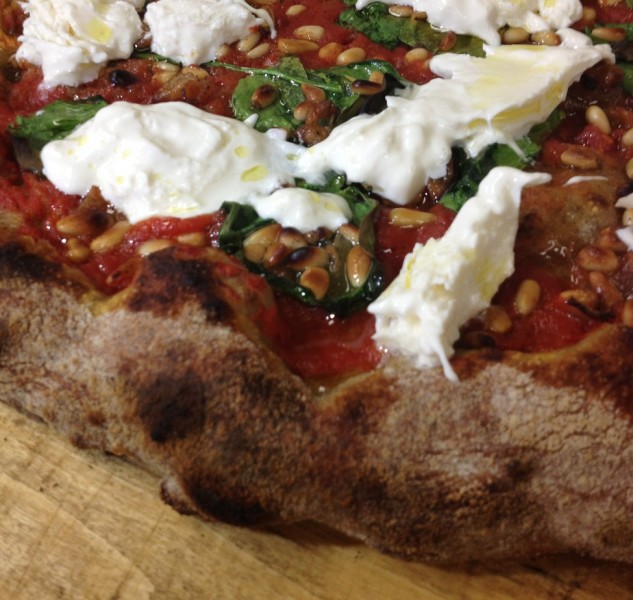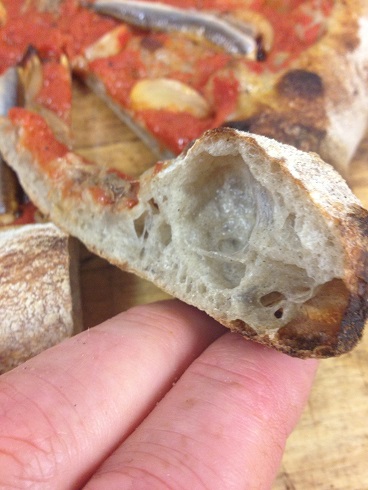 Puglian Arso Nero crust above, (left) with San Marzano sauce, fresh spinach, guanciale, pignoli and Puglian burrata. (Right), the greyish coricione with perfect irregular cell structure and that unmistakable smoky, umami taste…bad ass!
My introduction to Arso Nero, or Black Ash flour all started when I met Chef Antonio Esposito and Alberto Busi of Pivetti flour at the International Pizza Expo in Las Vegas four years ago. They were cutting up dough balls for a demonstration of Neapolitan pizza and I had just finished preparing for a bread demo.
"Hey Guys, need some help?" I said overly friendly-like.
"Ahhh, no." Antonio said smiling.
"Are you sure?"
"Yes, we are sure, but we can let you stand there and watch us for no extra charge." Alberto said. They both laughed sadistically and I instantly liked them. I stood there for the next 20 minutes (more to annoy than anything), asking question after question about their flour, dough, hydration, mixing etc and they were some of the most knowledgeable and friendly Pizza guys around.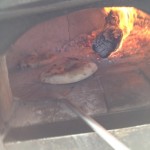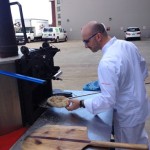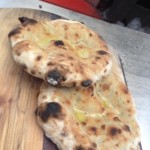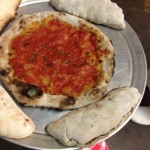 This year I was lucky enough to meet up with them again in Las Vegas and in Columbus Ohio at the awesome RDP Foodservice show. They showed me their new product called "Skura" (by Pivetti). They were cooking pizzas and breads in my all time favorite pizza makers mobile oven from GoreMade Pizza, owned and operated by fellow Ohioan and outstanding pizza maniac Nick Gore. It didn't take me long to fall in love with this dough. Nicks oven was just over 800 degrees because he had just set up but still this great dough stood out. It had the same oven spring as a typical "00" flour and charred nicely on the bottom leaving some killer leoparding, (spots) but the distinguishing characteristics were the juxtaposed qualities of  a nice light, airy cell structure and a deep, smoky, back-of-the-throat finish.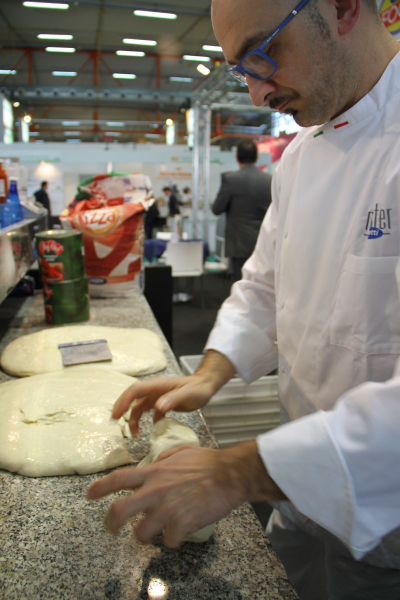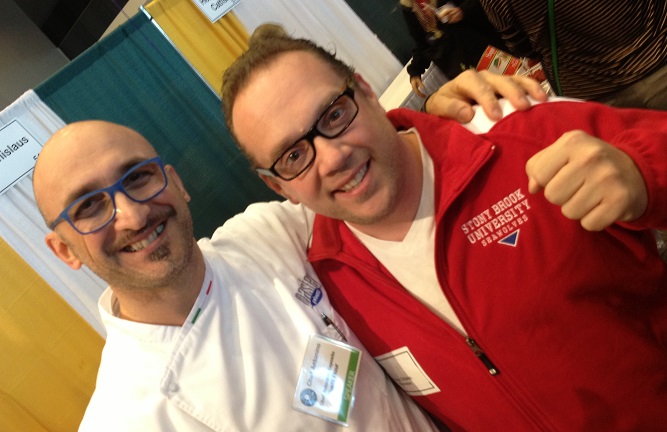 Chef Antonio Espisito at work and with Pizza Legend Bruno di Fabio at the exciting RDP Foodservice show in Columbus.
Out of the ashes: The low down on Arso Nero:
In 18th century Puglia, Italy, wheat was first harvested then the fields were burnt to the soil for next years fertilizer. After the burning, the peasants would scour the fields and pick up the arso, or charred wheat berries left behind. They ground them up with semolina to make grano arso or "ash flour" then baked them in bread that produced a toasted flavor. Pivetti has successfully replicated this famed flour by slow-roasting the wheat for the same grey-black appeal.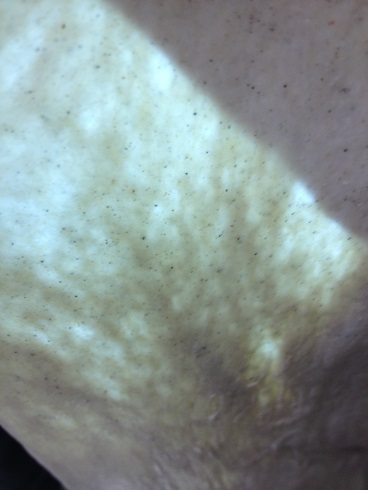 Check out the beautiful charred flecks of wheat floating all around the gluten net of my windowpane test, (above).
After repeated begging Chef Antonio sent me a bag of this glorious product and I went to work. I mixed it the way I would any of my high-heat, Naples-style pizzas; with just the dough, salt and water with a little pre-ferment from the Dolomite Mountains. I then aged it for 30 hours under refrigeration.  I just couldn't wait to stoke my oven up to ultra-high heat and blast some pizza!
Here are some pies I made with Arso Nero flour.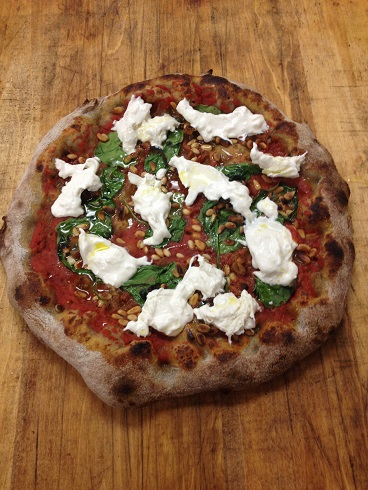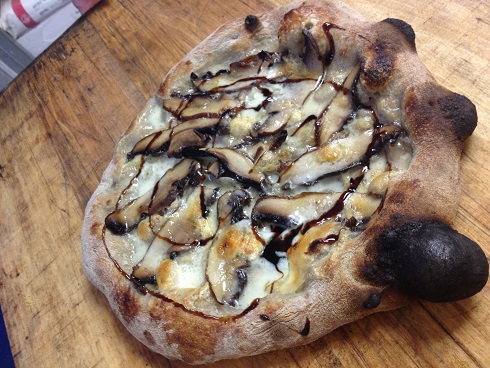 First pizza was a San Marzano sauce with fresh spinach, thin slices of my homemade Red Wattle guanciale, pignoli, and some glorious Puglian buratta. Then I made a Teleggio and Portobello pizza with white truffle oil and balsamic.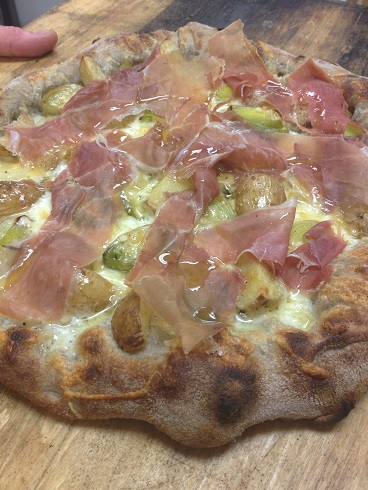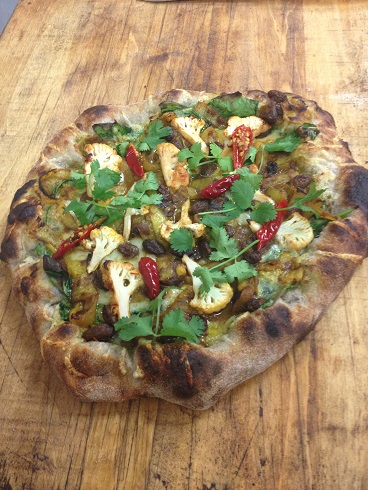 I used some aged Piave Vecchio I had and paired it with a ballistic three-year old Brugge Prestige, roasted fingerling and leek then topped with Prosciutto di Parma. For a really awesome worldly pizza, I topped the Arso Nero dough with aged provolone, curry roasted onion and cauliflower, raison, spinach and finished with fresh cilantro and Calabrian Chilies! Wow, not that's the BOMBE!
Here's the action packed video from my wrecked phone, (fell into some poolish a while back).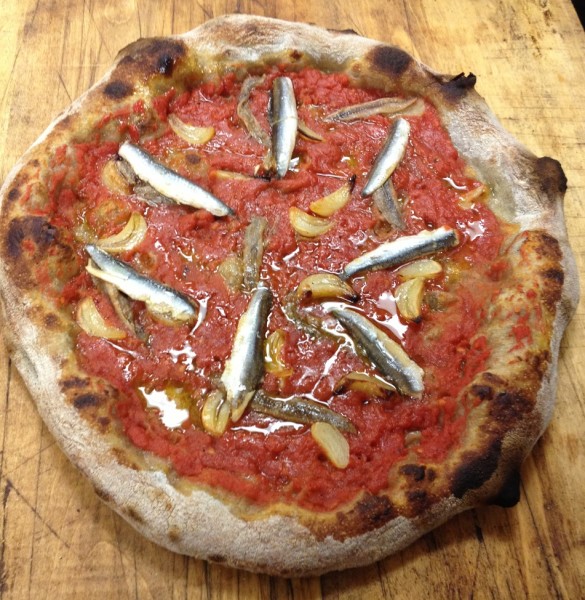 I finally wanted to bake an ash-flour pizza with a truly Roman flavor profile of anchovy, tomato and garlic. I used salt-cured Sicilian as well as white anchovies as well as some sliced garlic and San Marzano sauce.
All I can say now is that these pizza really rock! Thank  you Pivetti and Antonio and Alberto! Now I am going to try to replicate this dough with charred speltberries. (More on that later).