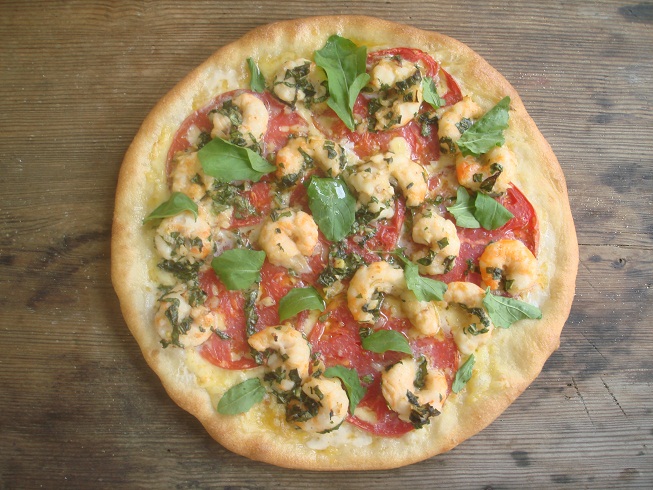 This great thin crust pizza can be made using all-purpose flour, cooked in your own kitchen oven.
Last weekend at the Athens Farmers Market, I experienced the fruits of the annual harvest that most of us around these parts look forward to. The annual Hocking College Malaysian River Prawn harvest was underway and I made sure to get enough to make pizza. Professor Lloyd Wright and Hatchery Technician Geoff Rouche from the Hocking College Aquaculture Center and Fish Hatchery made it possible for hundreds of people to get Ohio farmed shrimp.
Professor Wright (Left photo, on right) and his crew brought a boat load of shrimp that was gone within an hour.
I am going to do a different pizza than the elaborate shrimp pizza blog post of last year. This time, I'll incorporate the last sweet heirloom tomatoes of the season with local Farmer Jack cheese from Laurelville Creamery. I love the taste of basil with shrimp and have designed a Genovese Shrimp Pizza at my pizza place, Avalanche Pizza. It should taste spectacular, as the low key spice of the  Jack cheese has the same back-palate finish as these prawns. Not in an umami way but in a lobster way.
Grilling the shrimp with shells on gives them a nice charred flavor. Then I will marinate these par-cooked prawns in a garlic-shallot oil with fresh basil, and finish this pie with some spicy late-season arugula. But first a little background on the prawns.
Here are my scampi. The heads are really cool and would go well in any gladitorial fight. The long blue claws are amazing.
The giant Malaysian river prawn, or freshwater scampi or cherabin, starts its larval stage in brackish water but spends its adult life in fresh water. This species can get very large — over 12 inches long — and is  important as a source of food or protein.
Last year, Lloyd put it best, saying that aquaculture is the newest and best way to introduce protein into our society using less land, feed and other resources than cattle, pigs and chickens do. Aquaculture also pollutes less and introduces us to new and sustainable ways of eating and cooking. The added bonus of employing local people who produce a local product makes this a great business to start.
The spring fed ponds at Lake Snowden are home to the prawns who love the safe structure of last year's Christmas trees. When ready for harvesting, the guys drain the pond and the shrimp gravitate to the box, which is deeper than the draining pond. Genius.
I salute Lloyd and Geoff for teaching our young people new and better ways of making food available for the nation.
The recipe:
Using the Easy Dough Recipe on this blog, make two 7 ounce dough balls. Place one in the freezer for use later. If using a frozen dough ball, let it sit out to unfreeze.
Heat the oven to 475 degrees F. using a pizza stone like the Emile Henry Pizza Stone that I've used the past couple of recipes. It doesn't crack or smell weird when it gets hot. You can also cut on this stone. Otherwise use an upturned heavy cookie tray and parchment paper.
15 to 20 freshwater shrimp (saltwater shrimp may work but will have a saltier taste)
1 garlic clove, chopped fine
1 small shallot, chopped fine
6 leaves of basil
2 1/2 tablespoons extra virgin olive oil
Twist or pinch of sea salt
1 cup of Jack cheese (not Pepper Jack)
1 large fresh heirloom tomato
Several small leaves of arugula
Turn the grill on high. Skewer all the shrimp right behind the head, at the collar. Place on the grill and don't walk away. We are just par cooking these. Wait 3 to 4 minutes for each side to just turn color, to red or orange. Take off the grill. (Yes, I have alot more than 20 shrimp on these skewers. Whatta ya think I'm gonna eat while making this pie?)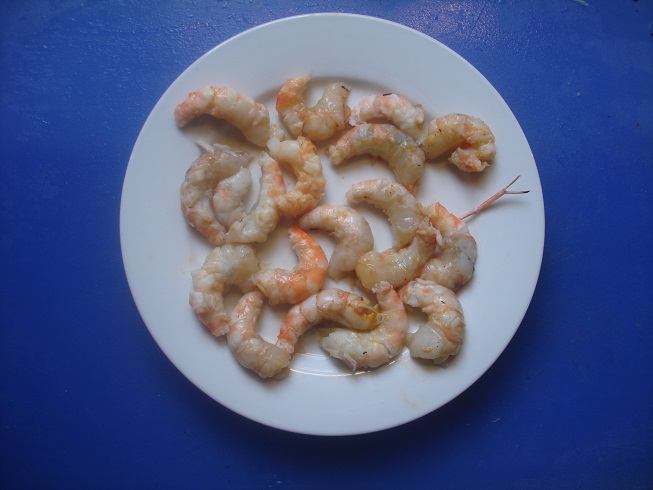 Shell the shrimp by twisting the head off, then take one set of legs and pull to the side of the shrimp. This should get the shell off. You will have to gently pry the shell off near the tail because it is harder to remove than nearer the head. In the end, this is what you have.
Place the minced garlic, shallot and chopped basil leaves in a bowl. Add the extra virgin olive oil and a twist of sea salt. Cover and refrigerate for 30 minutes.
Form the pizza disc and place on a pizza peel or the bottom of a large flat piece of cardboard (both of these should be dusted with semolina or cornmeal). Sprinkle on the cup of Jack cheese, then the sliced tomato, then the shrimp.
Place the pizza in the oven and cook for 10 to 14 minutes, depending upon your oven. I watch for a golden browning of the crust and a consistant brown color on the bottom.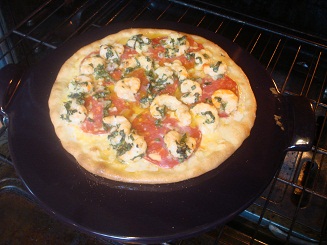 Man, this pizza was so freakin' good. Thanks, Lloyd!