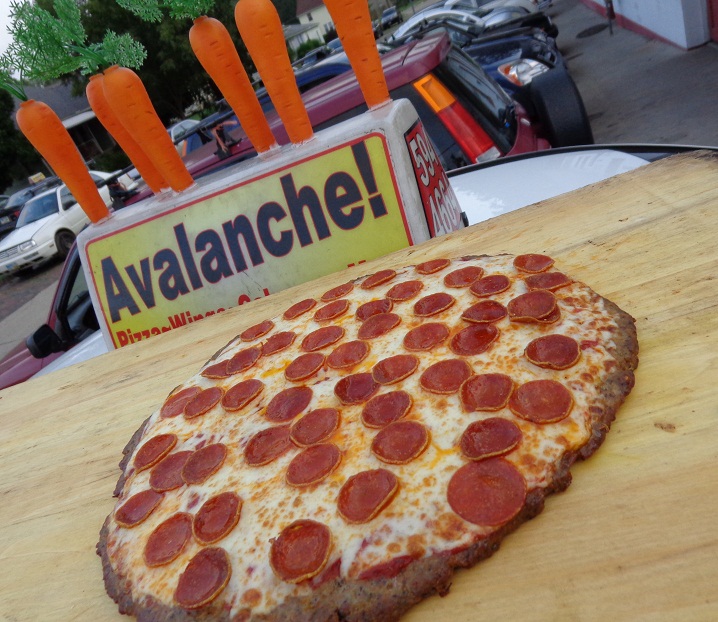 A month ago, I posed a question to my stellar employees at Avalanche Pizza; "What's the sickest, most annoying and absurd pizza we could make that would still taste great." I got alot of responses, but the one I loved the best was, "You mean, like freakish, like this election?"
That's when the idea hit! A giant pie made out of two pounds of delicious, King Family Farm pork as a crust slathered topped with our famous organic pizza sauce, mozzarella, provolone and natural casing pepperoni. J.B. and Charlene King raise thier pigs with comfort and care, never using GMO feed or with antibiotics. Happy pork just tastes better, is better for the animal and because we add no chemicals, it's better for you.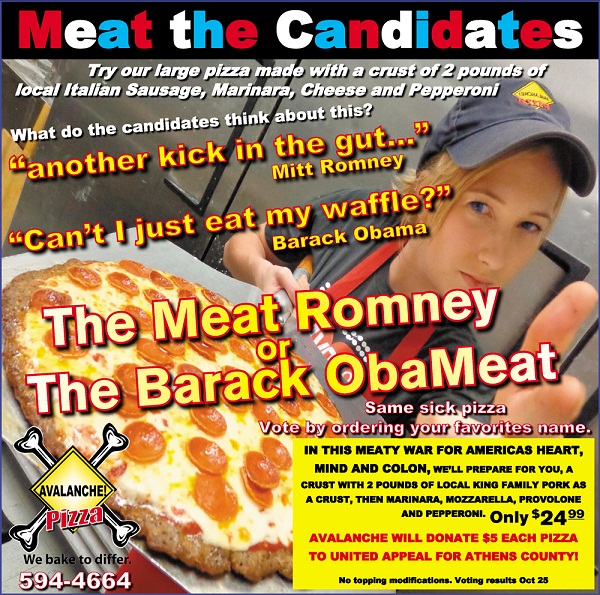 Yes folks, the MEAT ROMNEY or BARACK OBAMEAT was born. It truly is "disgustilicous," a term I've coined for a few of our over-the-top creations such as the "Bride of Wonderboy", (hot dog stuffed crust with mustard, mac and cheese stuffed crust, bacon, beef, onions, cheddar, mozzarella, provolone, tomato, dill pickles then topped with french fries and slathered in ketchup.)
So, when you call into Avalanche, you can vote for two different names and we will tally the winner or loser. Don't kid yourself, it's the same pizza. After eating this wonderul pie, (if you can manage a slice,) you are guaranteed to feel like you've just seen another bizarre debate or heard how much money is floating around the campaign coffers from scumbag millionaires.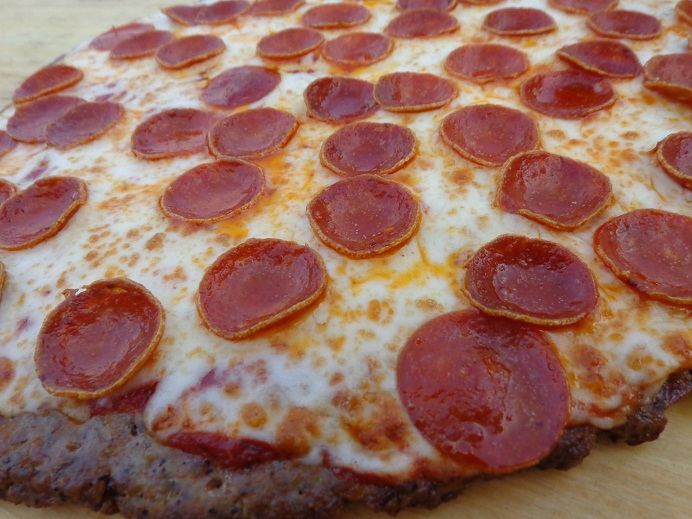 Not gourmet enough? Not consistant with the norms of our society and it's glorious culinary history that includes the Twinkie, Velveeta, deep fried pickles, Spam and Count Chocula? That so-called "food" may be awful, harmful, nasty and downright sickening, but we've all eaten and enjoyed it at some time or another.
 That's why our Meat Romney and Barack Obameat will bring us all back down to earth from the righteous culinary clouds we'd like to think we inhabit and will smash you upside the head with two pounds of absurdity. (Just like our electoral system!)  Besides, we are donating $5 bucks for each sausage crust pie we sell to United Appeal for Athens County.
Hey, calm down! At Avalanche, our moniker is "WE PUT THE 'A' IN GOURMET."                        Bon appetito!