As I blasted through last weekend baking like a madman from nine 'till nine on Friday night into Saturday morning, I made a spectacular stuffed ciabatta that tasted like heaven. Patty Nally, my stellar baking chef was first to come up with the combination of spent grains (from beermaking,) cocoa, blueberries, honey and almonds- stuffed with almond cream.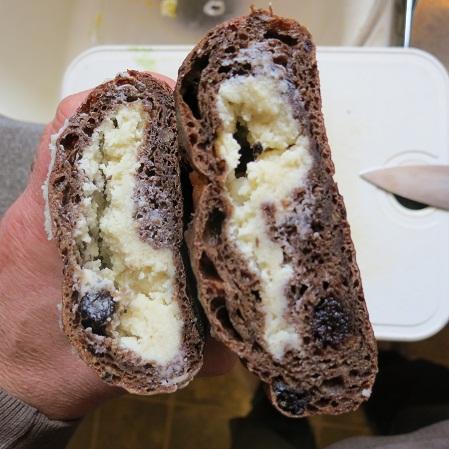 This stuffed bread is not gonna be on the agenda during my demonstration at the Las Vegas Pizza Expo– ((insert shameless plug here… Didn't you know that my demonstration "Calzone's Stromboli and Beyond" is on Tuesday, March 13th at 12:30 in the Demonstration area?  Please come on down and bring the hunger for some awesome stufed grains!))
Here is the video of me making a ciabatta (or is it a batard) and again; Please forgive the loopy appearance of the Goon, it's 4:30 in the a.m and I'm in my seventh hour of forming and burning the gluten. Oh, and I do not know where the "Ta Ta." came from.
O.k, that was the prep, then I proofed the dough and sent them into my oven at 474 degrees for 15 minutes then shut them off and waited for another 10 minutes.
O.K., after all this baking  at Avalanche, we headed out to a fierce bread sale at the Athens Farmers Market. Fierce is the only word that you can choke out when your face is frozen. Luckily we sold out in three hours.