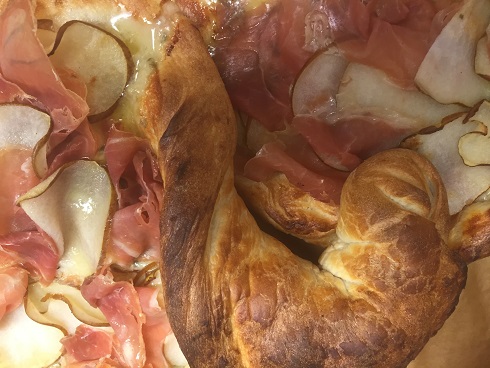 This  year brought a lot of new and different pizzas and breads to my neck of the woods. For some insane reason I've found a particular enjoyment in circumventing conventional baking wisdom and over the years have embraced what another traditional baker has called "the gluten dark side."  It's taken years to let nature and circumstance drive my baking and I now realize that the only people that give my efforts any relevance are my customers here in this small corner of Appalachia. I am not bound by inane recipes or tradition but by the seasons, my customers and what my farmer-friends grow. Most weeks I feel like "Loaf Vadar", taking the culinary path less trodden.  I like it near the edge where true local flavor lies.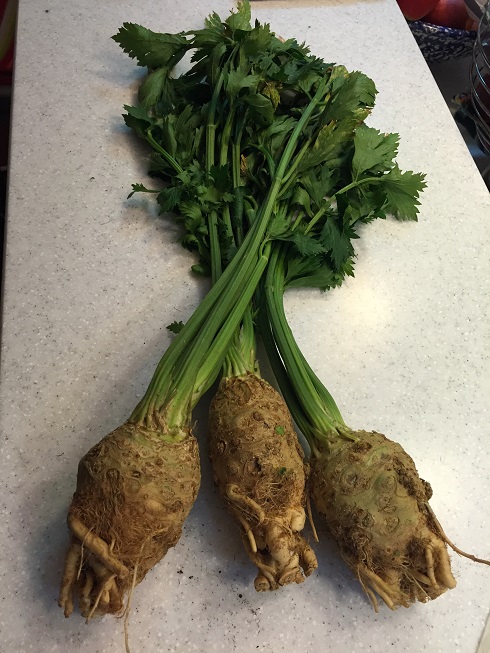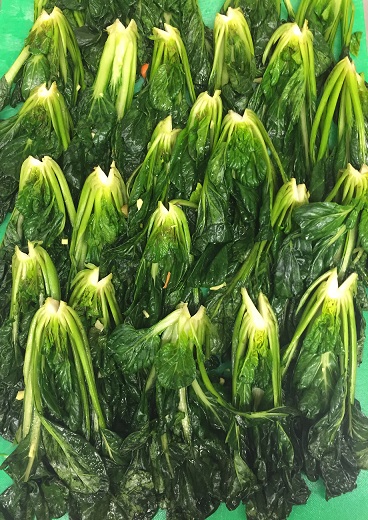 In Athens, Ohio, we have the greatest farmers, ranchers and cheese makers in the country. These great folks are all my friends and I love buying local produce, meats and cheeses from them. This weekly spastic exercise is like a giant chefs basket challenge where the seasonal produce dictates my decisions as to what flavor profiles I can manipulate into cohesive deliciousness. I like to see how funky I can get to turn my customers on to the best damn baked products around by incorporating the best local stuff with great traditional meats and cheeses. (above- fresh celeriac from Shade River Farms and Tat Soi from Barrel Ridge Farms.)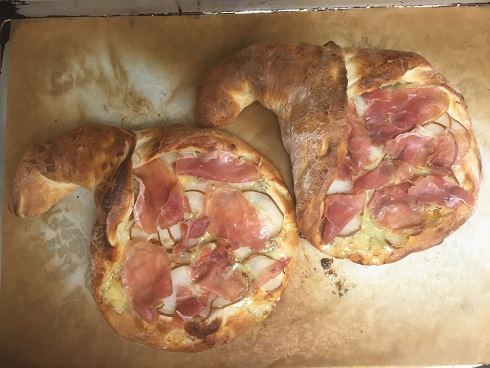 I  love to use wonderful "Agra dolce" or sweet and sour flavor profiles with old-world ingredients like the Stilton, Cherry Orchards pear and Serrano Ham "Cornetta" above and above top.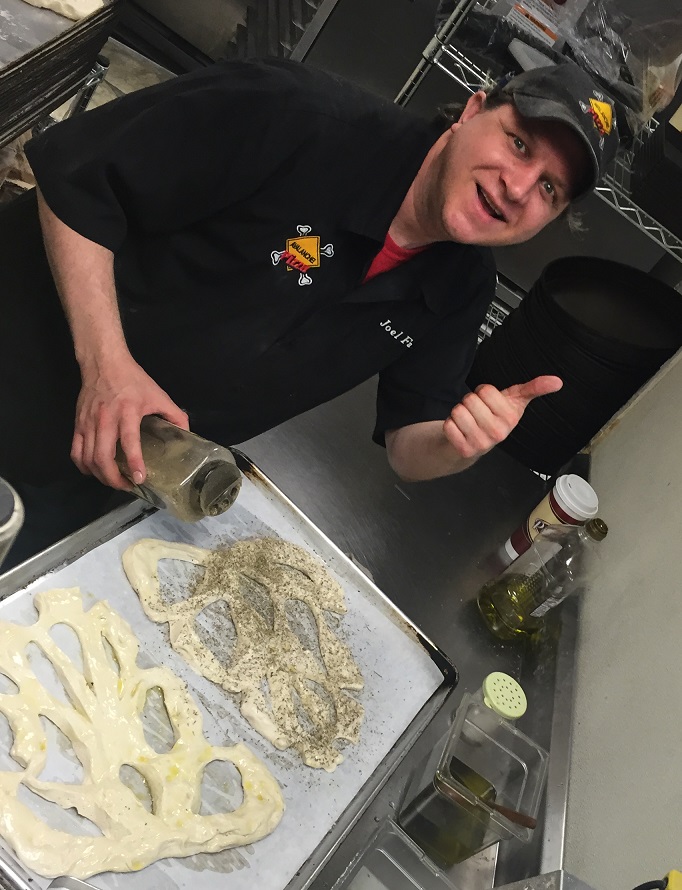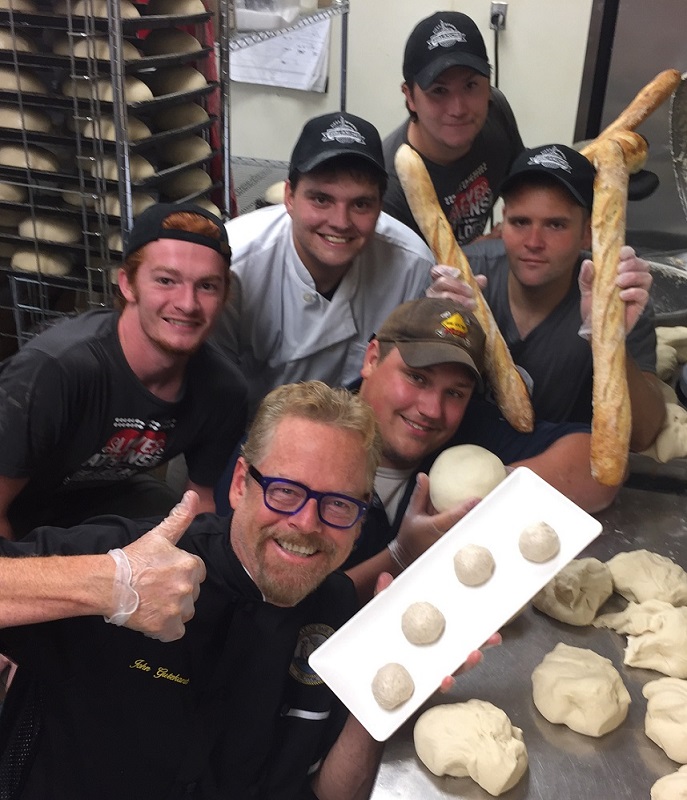 Even Mr. Vadar has to have partners and here at Avalanche because besides being a high-volume pizzeria in a college town, we bake massive amounts of breads every week.  I had lots of  help, mentorship and advice from Joel Fair, Torrey, Dane, Dave and so many other this late summer and into November who constantly brought new ideas and techniques to work on. Lets take a tour.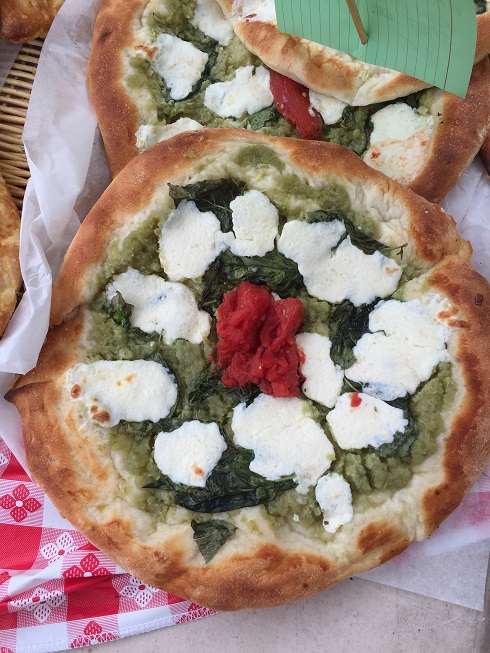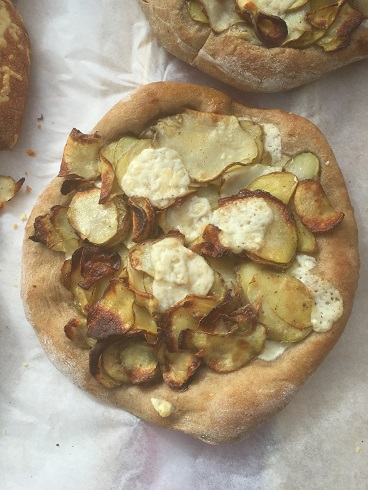 Whilst baking, I have plenty of time to bang out some righteous pies using different hydration, flours, temperature and fermentation times. Above left is a very nice "Green Tomato Margherita", the concept of which I totally ripped off from Jim Lahey of Sullivan Street Bakery and Co. It is made with Gibson Ridge Farms green tomato sauce, fresh fiore di latte mozzarella, fresh basil and a dollop of San Marzano's to stave off any traditionalists snarks. On the right is a straight shooter! Local Shagbark Seed and Mill spelt crust with freshly grated Parmigiano Reggiano and roasted Rich Gardens organic Corolla potatoes with a little sprinkle of white truffle oil after the oven.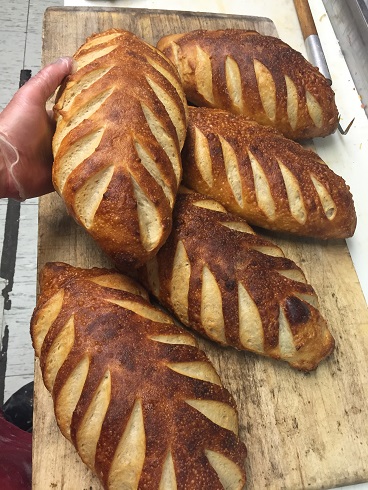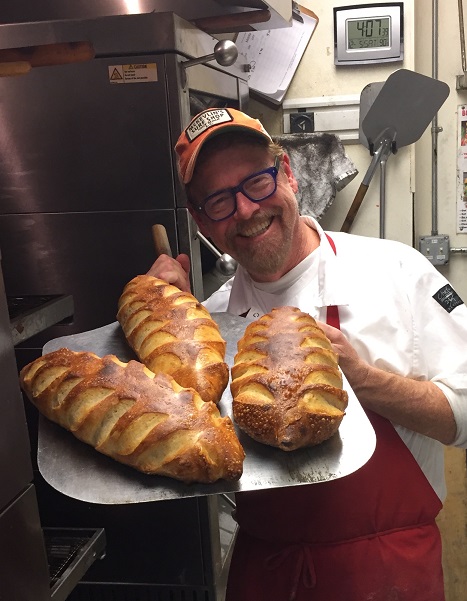 "Slash and Burn" sourdough batards above are very cool looking, fun to bake at 600 degrees and even better to eat.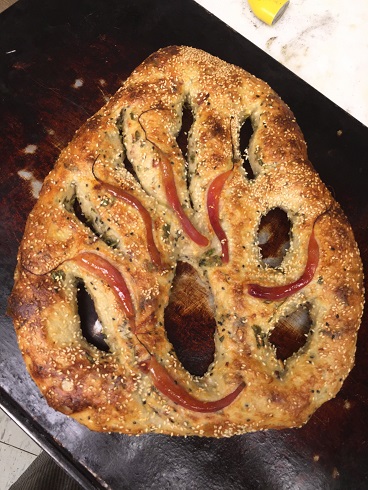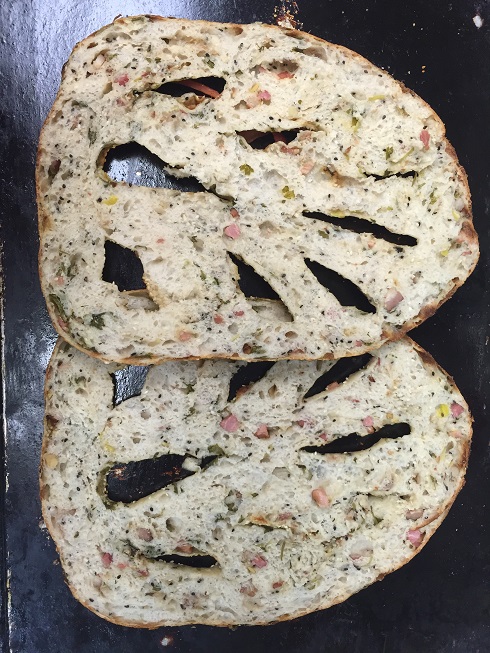 This fougasse above features some bodacious French Breakfast radishes and fresh ginger grown by my friends at Green Edge Gardens atop a flatbread stuffed with Harmony Hollow ham, Ed Perkins' fresh cilantro, and black and white sesame.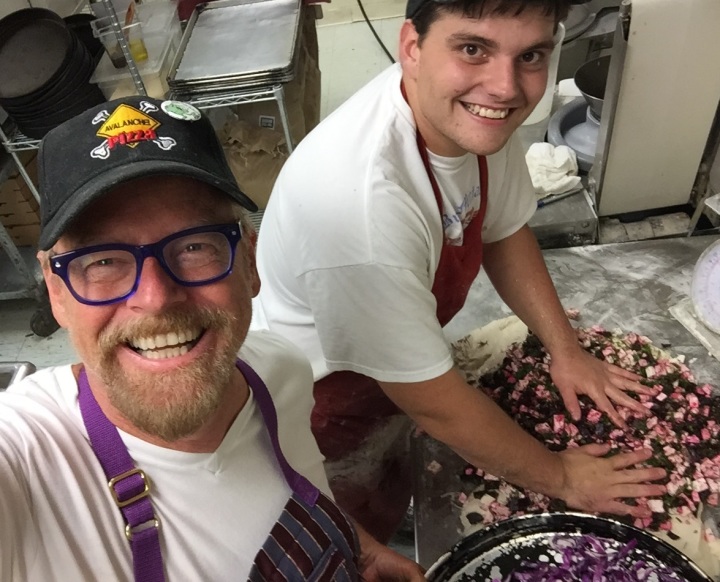 This was a very Violet day at Avalanche. We stuffed local Integration Acres Feta in dough with Vest Farms Beets, Sassafras Farms dill for a killer fougasse called "Beet me in St. Louis" or "Can't Beet This" or some other stupid name we come up with at 4 a.m. (Torrey, I miss you telling me how fucked-up the names sound- even though Dane does that now.)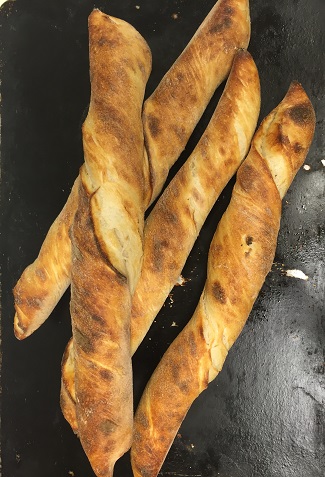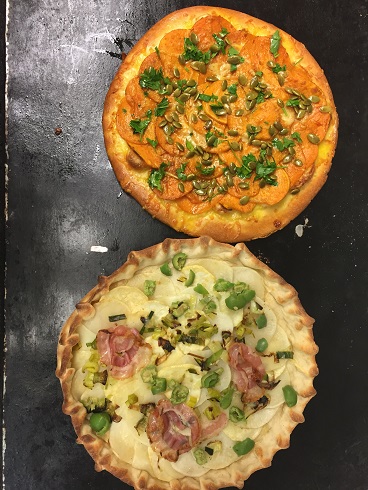 Pain Tordu, or twisted baguette on the left and some crimped and crispy pizzas on the right are also crowd faves.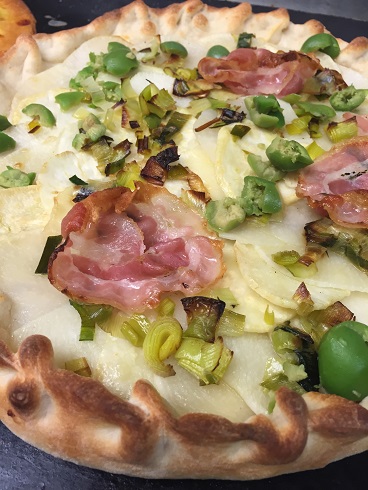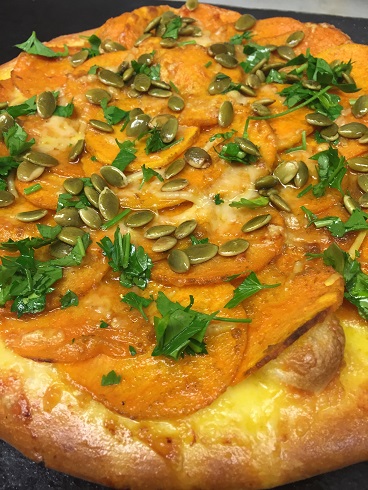 With the coming of the cooler weather, roots of all kinds are a smash hit. On the left are roasted and sliced Shade River organic celeriac and roasted white potatoes from the Chesterhill Produce Auction paired with Parmigiano Reggiano, toasted leek, house-cured Harmony Hallow Pancetta and crushed Castelvetrano olives. On the right is a wonderful combination of curried Vest Farms sweet potato, Gruyere, toasted pumkin seed and local parsley.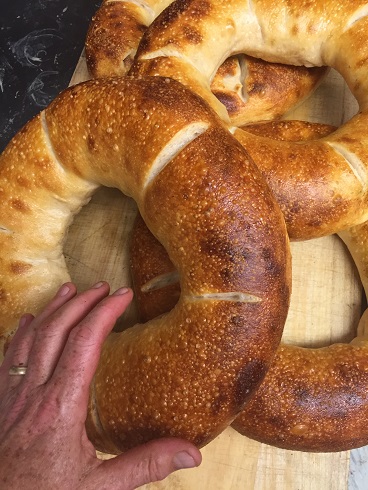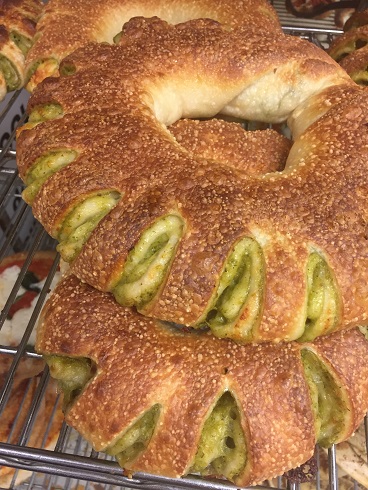 I love making couronne. The large forty-ounce loaf on the left is made with a sixty-hour, cold fermented dough and is called the 'Flintsone Wheel' and Dane Salabak rolled some really cool aged mozzarella and provolone with basil pesto into some slitted couronne on the right. Delicious.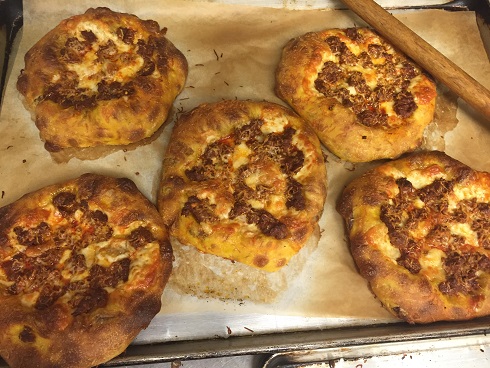 Spanish Saffron is a delight, especially cooked in a moist, wheaty profile like these pizzettes. I made these using saffron, extra virgin olive oil and onions and kneaded into the dough. I aged these for two days in cold fermentation then topped with Manchego Cheese from La Manchia, a bombastic house-made chorizo and roasted Rich Farms Corolla potato.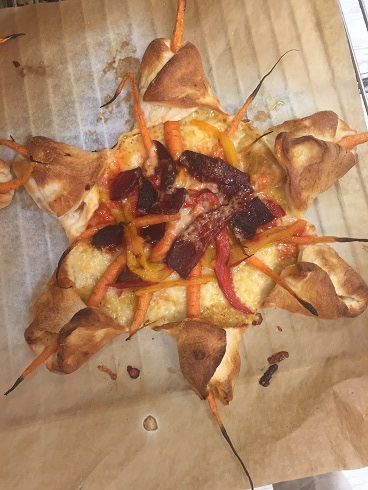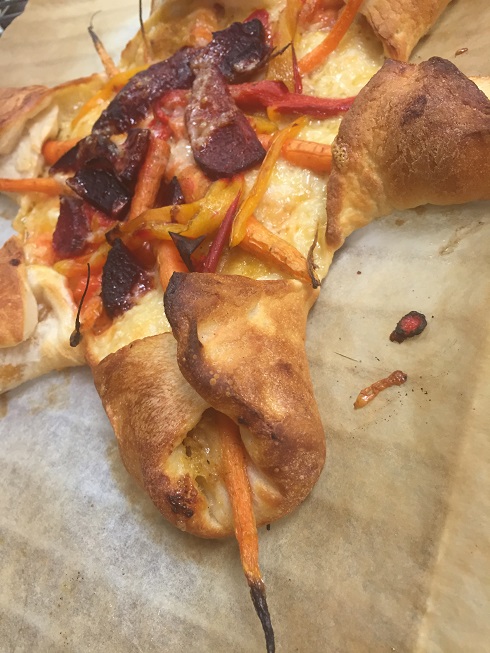 Not all pizza have to be round! This crunchy pizza (above) is my Vest Farms "Carrot Star" with Gruyere, Integration Acres chevre, roasted beet and sweet Toro peppers from Cowdery farms.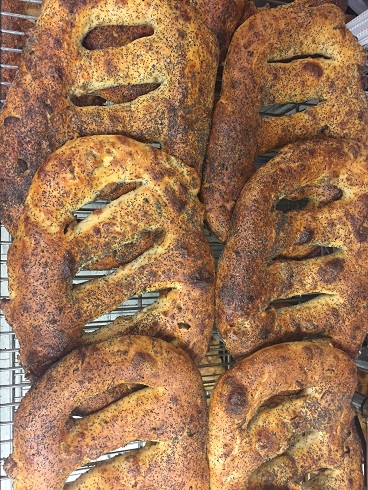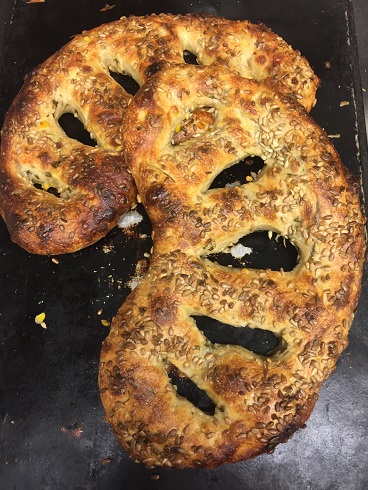 I sell a lot of filled ladder bread like the Italian sausage, above left with onion, green pepper and poppy seed. A real fun fougasse that I made was this pork belly sunburst fougasse; cured pork belly sliced and baked with plenty of fresh Green Edge Gardens cilantro, corn, onion and topped with sunflower seeds.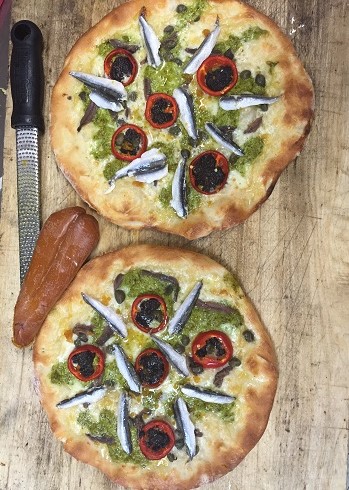 Above is my Pissalidiere New Style; Sicilian and Turkish white anchovies adorn this crisp olive oil crust with a scallion-basil-lemon pesto, Spanish Manchego Cheese, Cowdery Farms "Cherry Bomb" peppers roasted and filled with San Remo olive pesto, capers and finished with real Sardinian Bottarga!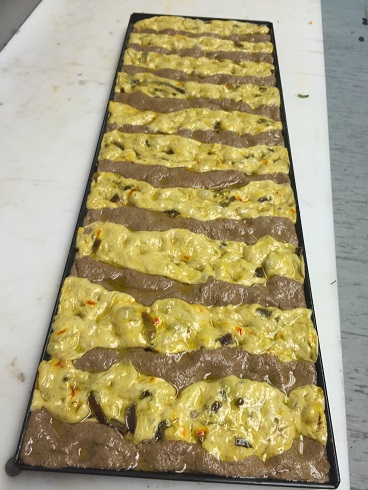 Using a technique to bring as much saffron flavor into dough, I've kneaded roasted onion into a very hydrated saffron dough and incorporated it into a Focaccia al Metro above. Kernza is a perennial wheat that is heralding the beginning of sustainable farming techniques that cut out tilling, (and thus erosion), chemical fertilizers, water and all the energy and oil involved with the stupid practice of re-planting seeds every year. It has a nice nuanced molasses flavor akin to pumpernickel.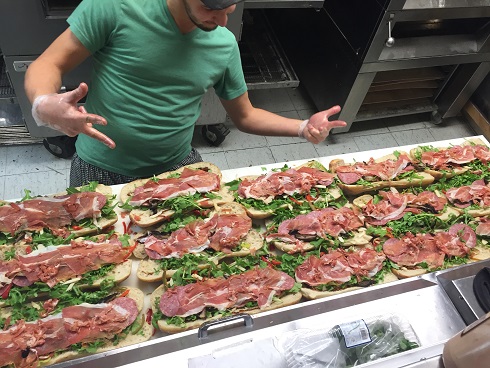 Dane really kicks ass with massive amounts of fresh ciabatta that he baked. This sandwich has Prosciutto di Parma, fresh arugula, roasted sweet peppers, roasted Portobello, brie and balsamic glaze with a little Parmigiano Reggiano.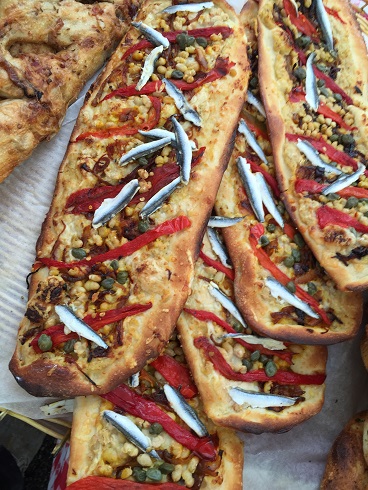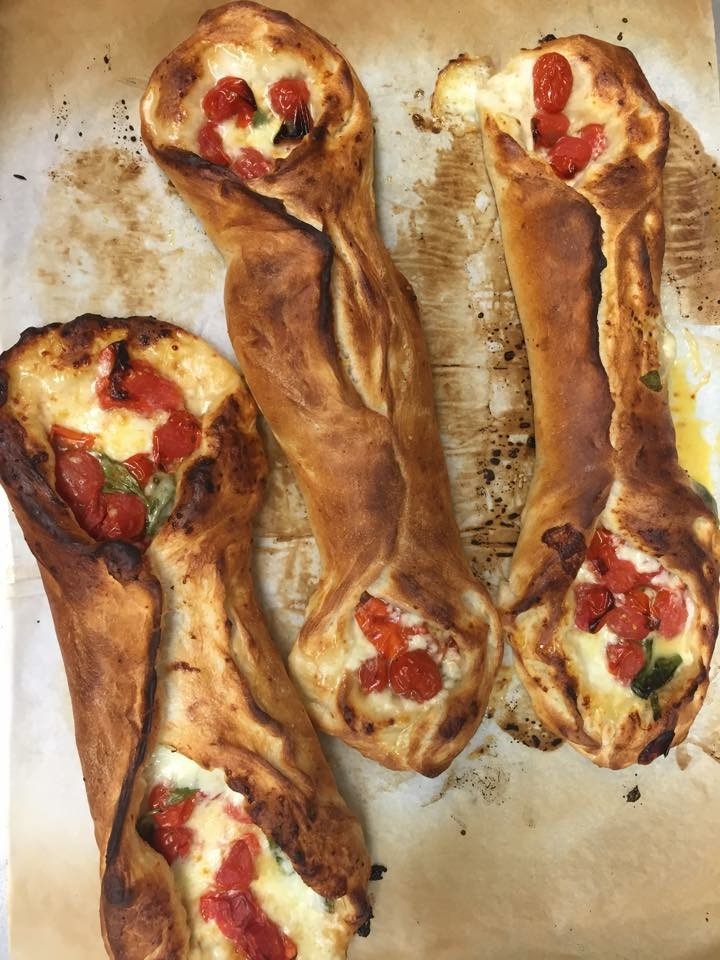 On the left, above is a fab Spanish style Coca with an organic potato-garlic puree, saffron onion, white beans and Manchego with roasted Cowdery Toro peppers and Spanish Boquerones or white anchovies and capers. On the right is our "Canoli-rita" with roasted Chesterhill roma tomato, fresh basil, Piave Vecchio and Parmigiano Reggiano. Wow!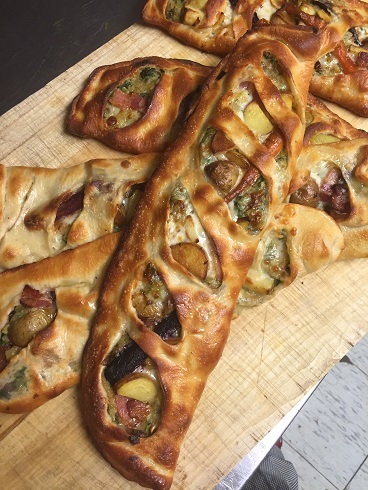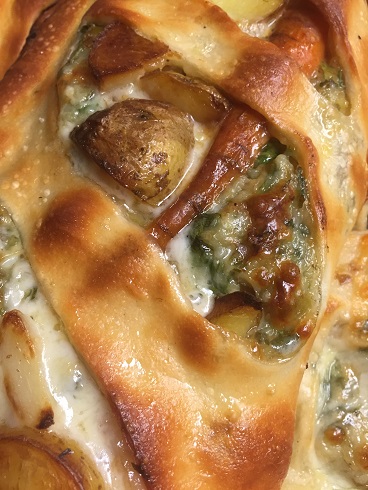 "Italian Stallion" stuffed fougasse above with sweet Soppressata, roasted garlic pudding, aged provolone, fresh spinach, roasted Vest Farms carrots and Yukon gold potatoes.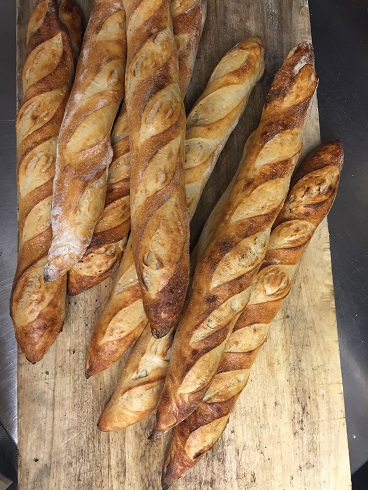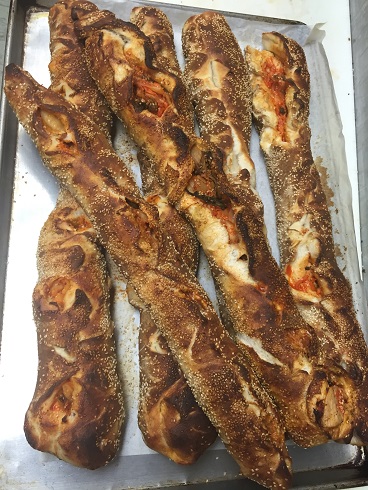 Baguettes are one of the first things we make each and every morning, above left. Sometimes, (meaning always), I get a "wild hair" and fold in some cool shit to bake. Example- the Chinese Five-spiced batons stuffed with aged provolone, kimchi and rolled in toasted sesame. Major yum!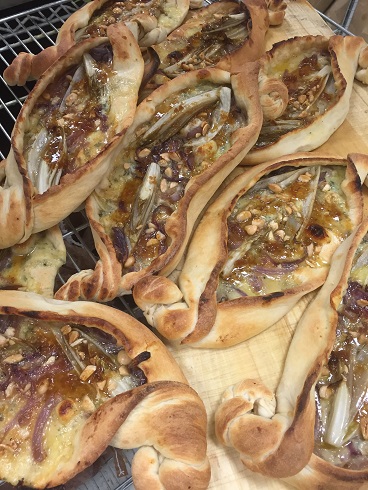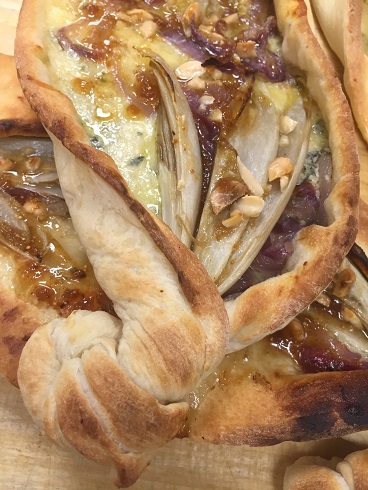 Left above is a stellar "Agra Dolce" profile in a Turkish Pide style dough. This has Stilton, braised Shade River Organic endive, Adriatic fig jam and Marcona almonds.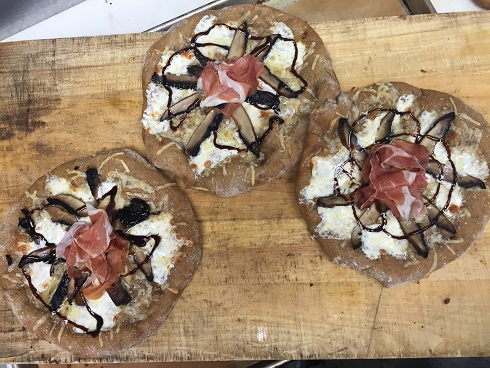 I am now experimenting with Kernza. This is a product made from the first harvested Kernza in Ohio with Parmigiano, fresh mozzarella, roasted Portobello's, Prosciutto di Parma, balsamic glaze and a blast of white truffle oil.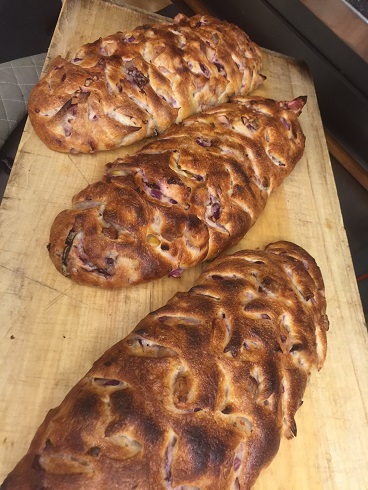 Above is my take on the traditional Slovakian Cabbage Bread. I took some radical Shade River Organic purple cabbage and Shews Orchard Granny Smith apples, roasted both with caraway and kneaded, baked and sold all 28 of them in under an hour. (I think it was the freaky scales that did it!)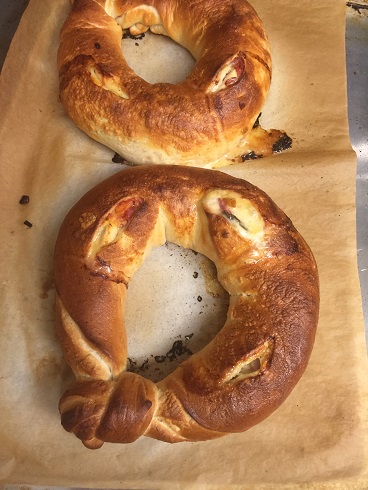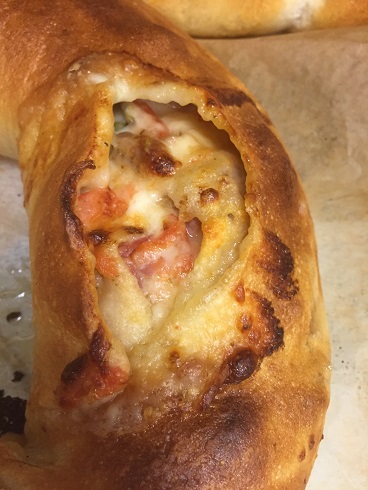 I love stuffed breads so I had to do my version of a traditional Casatiello di Napoletana. This is with Parmigiano Reggiano, roasted Cowdery Farms roma tomato, Prosciutto di Parma, Genoa salami, fresh basil and Fiore di Latte curd. What a killer bread- sure to show your "O" face while eating this baby!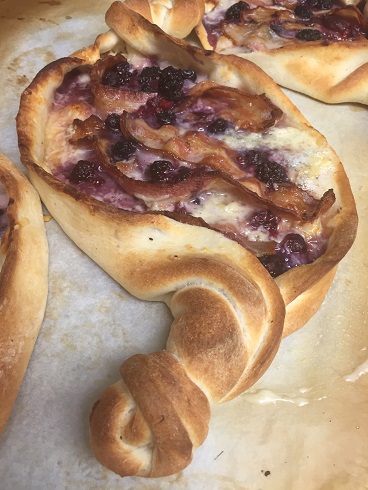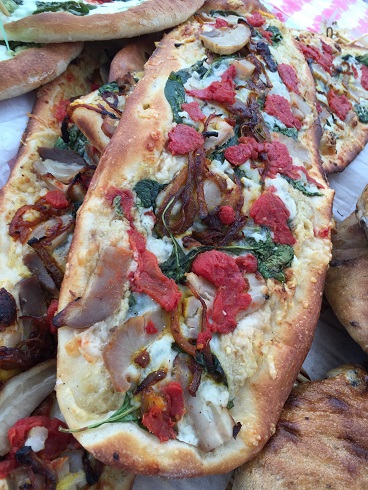 We tie a lot of gluten at Avalanche. many knots appear on our Turkish style Pide like the (above left) "Berry Me in Bacon" with King Family bacon, fresh blueberries, aged provolone and Coonskin Sugarbush Maple Syrup. On the right is another long, crisp Spanish style Coca with cured pork belly, Manchego cheese, saffron onions, Stanislaus Valorosso tomato, fresh spinach and basil.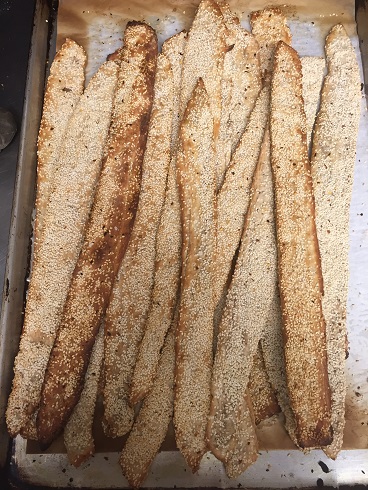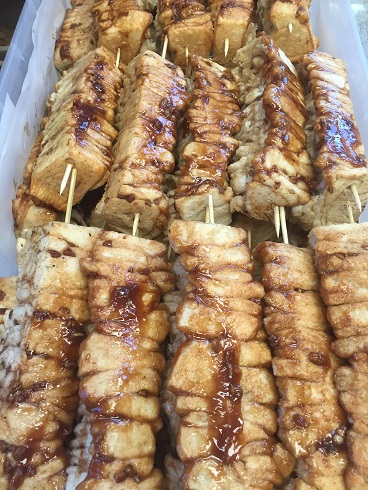 These Chinese style Shao Bing crackers we served with our vegan boxes. toasted sesame oil with seeds folded over and over. Speaking of folding, above right is our "Gorrilla Bread", cinnamon, vanilla, maple and a nice steamed, sweet pull of….sweet, sweet bread!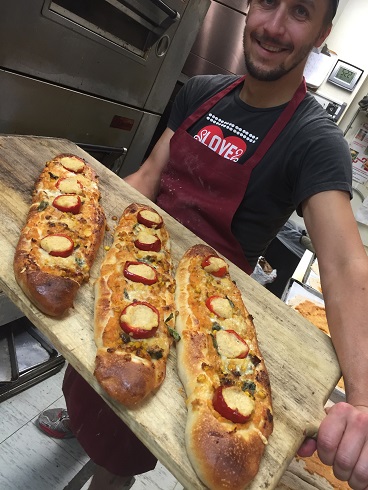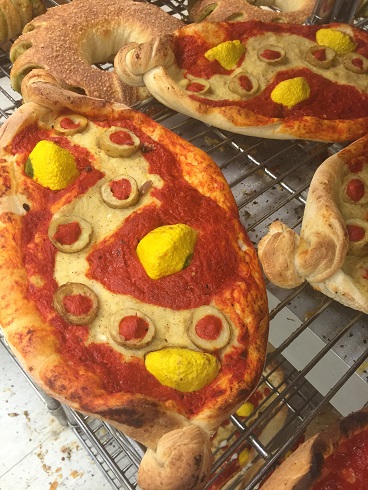 Above left we baked Tavola da Surf. These surfboards rock with local Shagbark Seed and Mill polenta, roasted Rich Gardens fingerling potato and Cowdery farms potato-garlic pudding-stuffed cherry bomb peppers along with corn. Above right is some knotted pide with the same garlic pudding, Chesterhill pattypan squash and a dandy sweet puree of Cowdery Farms finest sweet peppers!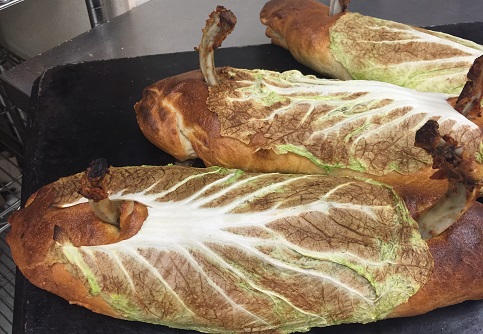 I took a real walk on the wild side with this "Ribread". Hey, don't knock it until you've tried this cabbage, Gruyere and baby back masterpiece!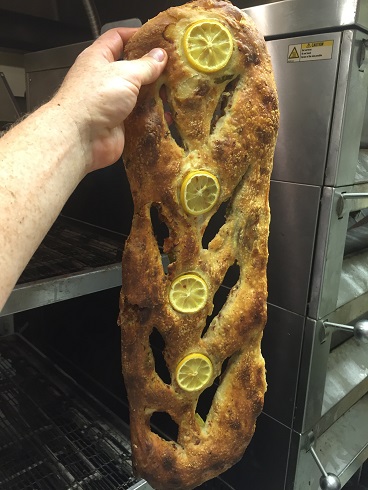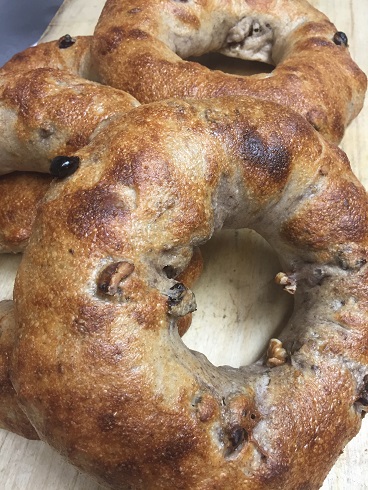 Asian flavors in bread are not commonplace but my customers love the flavor profile so I continue to make this long tall fougasse, (above left.) It is toasted sesame, local Green Edge Gardens ginger, fresh basil and lemon- the smell as these pop from the oven is alluringly heaven-like. On  the right is our Shagbark Seed and Mill spelt couronne using local spelt grown only 20 miles away by the Amish. It features dried Michigan cherries and walnuts.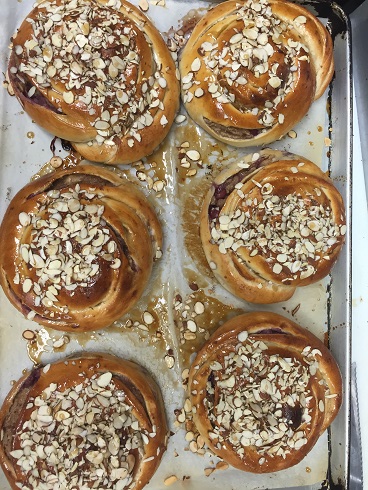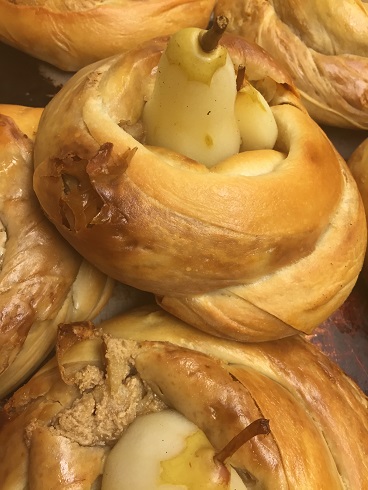 For a great filling dessert type bread, I also make a Lebanese Sukkar bi Tahin. Sweetened tahini rolled in high protein flour then coiled, baked and either topped with almond and maple syrup or a maple poached Cherry Orchard pear.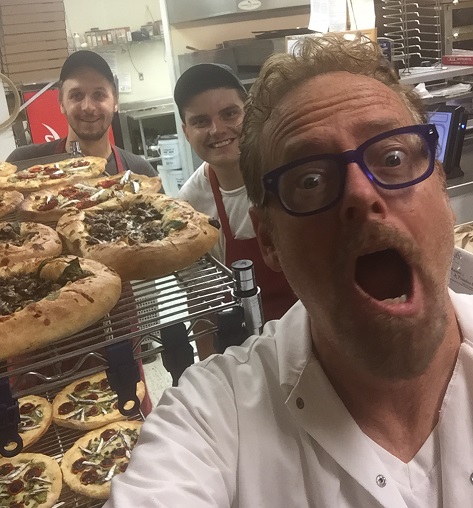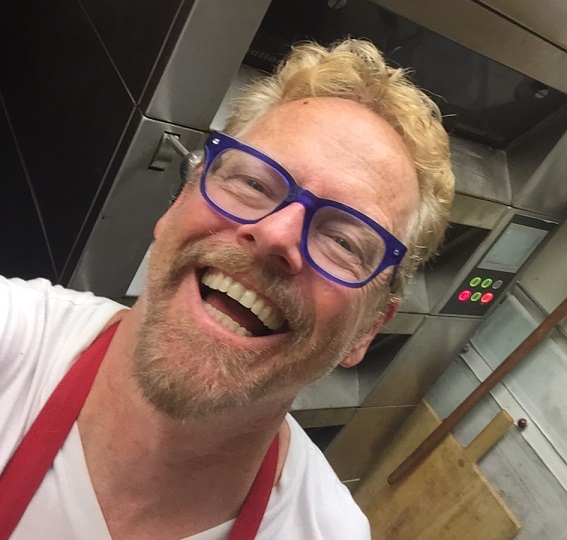 So that's it folks, I hope you can make a few of these delights for your customers or family and friends. I'll post a video we made last week with more baked goods.
And remember all you freaky traditionalists, if you're not having fun with food, get a life and join the dark side.