A few weeks ago, I visited my friend Steve Lieber in North Miami, Florida. Steve and I met while attending Scoula Italiana Pizzaioli in San Francisco. Steve graduated at the top of my class and I was 6th (Alright already! There were only 6 in the class.) I knew he was Operations Director for a Gary Rack Restaurant Managment Group, which had just opened another restaurant on the inland waterway called Rack's Italian Bistro.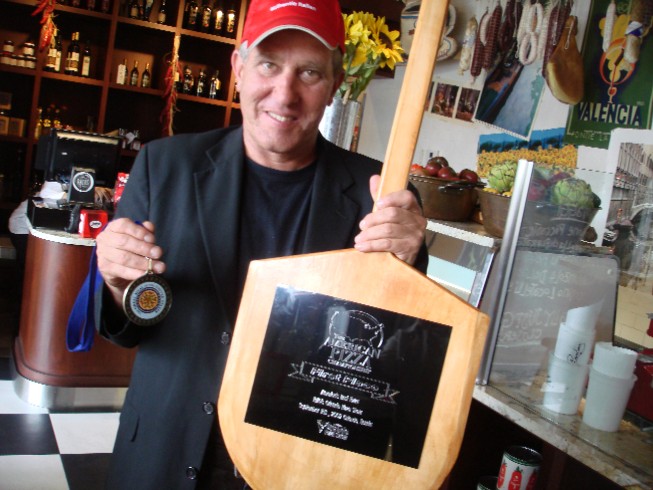 Steve Lieber with the honors bestowed upon him: "Best Pizza in America."
When I walked in I was floored by the unpretentious elegance of the place. Large banquettes spanned the walls. A crisp dining room with heavy dark woods beckoned me to the outdoor terrace, just above the mangroves and inland waterway.
It has been a long time since I've seen a more chic and warm restaurant. The menu is a mix of Italian favorites. I chose the Calamari "My Way," crunchy and meaty squid dressed in a spicy and lemony marinara, basil and little cherry peppers. This dish was so addictive because it filled the whole spectrum of flavor and texture with suprise that kept me coming back for more. Then came a meatball as big as my 2 year-old's head, with a side of whipped Impasata, the Massoratti of Ricotta cheeses, nestled on San Marzano gravy. The veal, pork and beef in this bundle of heaven were succulent, moist and studded with flavor. Okay, John, shut up and tell us about the pizza.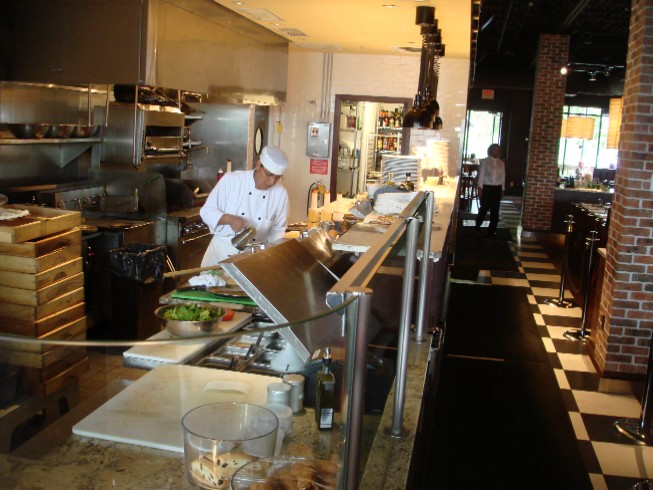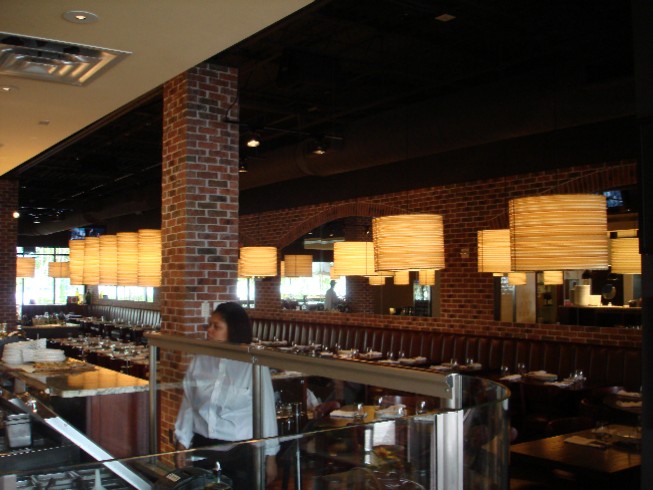 After waiting for Steve, nursing my two cokes and gorging on these dishes, he finally came by with this big guy. "I hope you didn't eat anything," he said. "I'm gonna make you some great stuff." ("No prob" said me to myself as I massaged my belly. "I can gorge with the best of them.") He introduced me to his friend, Don Kirshn….." and headed for the kitchen, saying over his shoulder "Gonna make you a great pie…"
So there I was, staring at this smiling, nice guy I didn't know, but I recognized the name as vaguely familiar. He asked if I was in the pizza business and I (as usual) unloaded way too much pizza information upon him. The he asked me what pizzas I sold and I mentioned the Ted Nugent Pizza.
"Oh, I had him on my show," he said.
Some hollow ping reverberated in my head as cloudy memories of the '70's cleared. It was the summer of 1978 at Soldier Field, Chicago in the hot sun. The Motor City Madman, standing on a 50- foot stack of speakers, wailed away while his hair caught the Lake Michigan breeze. Too cool. That memorable day was filled with 38 Special, Peter Tosh, Journey, Southside Johnny and the Asbury Jukes and the Stones. Memory is a weird thing when you've lived through the 70's.
"I also have the Hot Tuna Pizza on my menu" I said proudly, "…that's Jorm…"
"Yes, Jorma Kaukonen, I had him on my show, well with Jefferson Airplane… he was a nice young man."
Now, the gongs were going off in my head. "Damn it," I thought, "This guy, Don Kirs…ner. That's it, Don Kirshner's Rock Concert!" "Holy Moly, you're Don Kishner," I stammered.  "I watched every show. You brought rock and roll to the mainstream." I had to catch myself from acting like a kid, but that's what I was when Mr. Kirshner introduced me to  all those great bands (This was before cable, before MTV, even just right after FM for God's sake).
I flashed to Steely Dan, UFO, Mahogany Rush, Uriah Heep, The Outlaws, Pat Benatar, Foghat, New York Dolls, Lynard Skynard, The Village People and of course the Stones, ELO, BTO, Prince, Black Oak Arkansas and my favorite, Rory Gallagher. This guy introduced so many groups to the American public. Along with Creature Features, Don Kirshner's Rock Concert was the "Must See" show on TV. I had to ask myself why he isn't in the Rock and Roll Hall of Fame.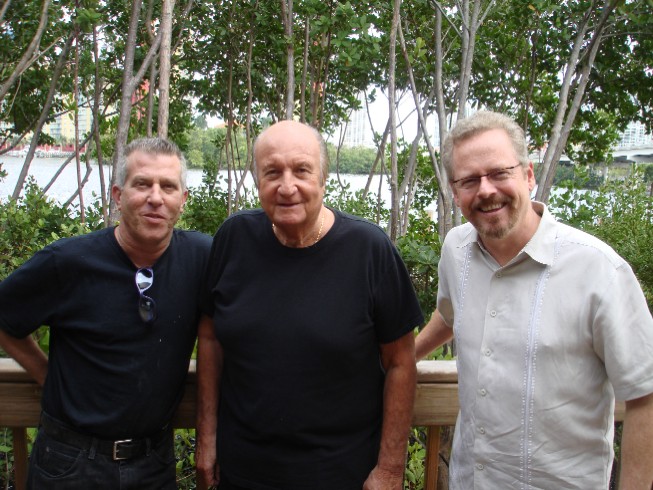 Steve Lieber, Don Kirshner and The Goon on the spectacular outdoor patio over the magroves and inland waterway.
Right on cue, Steve arrived with his award-winning pizza that had taken on all comers at the Orlando Pizza Show this year, and garnered Steve "Best Pizza in the Nation." The smell was spectacular. Don and I dug in to this beautifully thin but not floppy crust with a perfect crumb, no gumline (gummy dough just under the sauce), and fab cornicone (or end crust) with solid cell structure. This pizza was to die for: black truffles, Parmesan, Mozzarella, cracked black pepper and a little bit of scallion.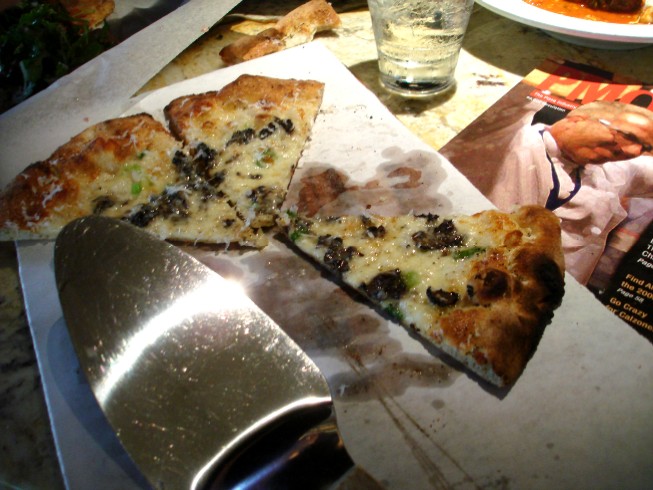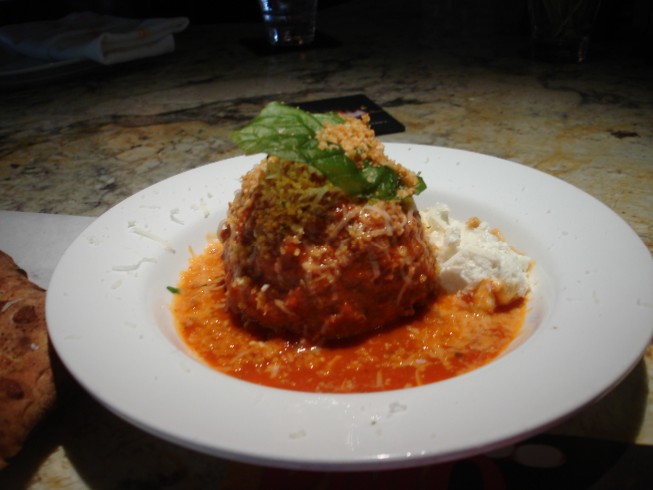 Once you start eating Steve Lieber's pizza, you cannot stop. This massive meatball was utterly awesome also.
Here is how he made it and fired it in his coal ovens. Steve is not only one of the most knowledgeable coal-fired pizza guys in this country, he's one of the premiere pizza guys out there. This is a great chance to see a pro make an award-winning pie and a truffle pizza recipe in a very hot oven. (Sorry about the multiple cuts but I was running out of batteries.)
Steve is a busy guy but I'm sure I'll see him again. I'll compete against this formidable opponent in some pizza competition one day soon, maybe Italy. In the meantime, I'm glad he's my friend. Gary Rack and Steve just opened another spectacular restaurant, Table 42, in Miami also. The menu is to die for and I'm sure if Rack's is a standard bearer, Table 42 will "rock" also.
Special thanks to Steve Lieber, Gary Rack and the staff of Rack's Italian Kitchen in Miami.