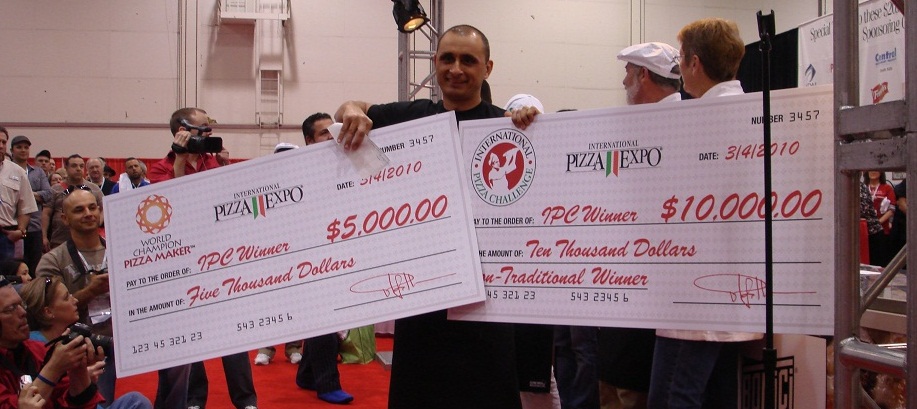 Theo Kalogerakos, from Austrailia. Pizza Maker of the Year 2010 (and an awesome bloke, indeed!)
I've been attending the International Pizza Expo in Las Vegas since 2004 and have so many photos and pictures that I've decided to share them. Every year, I am constantly amazed at how great this show is. It is put together by the folks at Pizza Today magazine.
In 2004, my California Pizza rocked (left) but Doug Ferriman, Owner of Crazy Dough's in Boston won with his monstrous pie (right) of oven dried tomato, basil, Gorgonzola, mozzarella and pine nuts. Doug also won Pizza Maker of the Year in 2007.
The people I meet every year are the best in the industry. Some have multiple stores, some have a single store, some have been in the biz for 30 years, some are just starting. The new products, new ideas and new equipment are everywhere. But I love the competition of the International Pizza Challenge the best.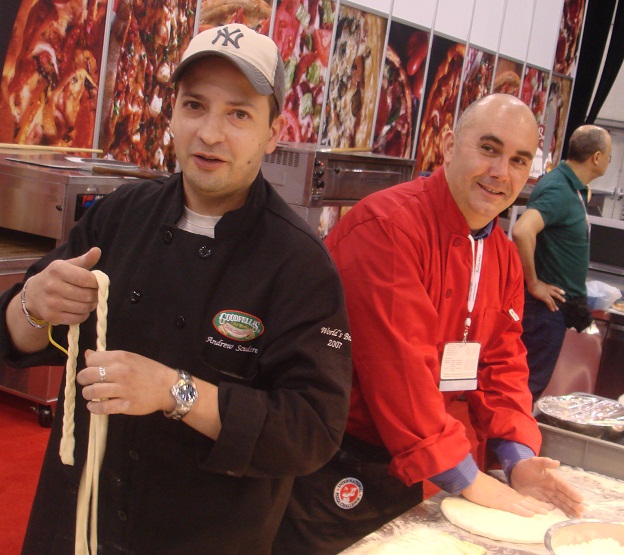 Andrew Scudera and Scot Cosentino (above) from Goodfella's Pizza in Staten Island have won in Vegas more times than I can count on my hands and feet.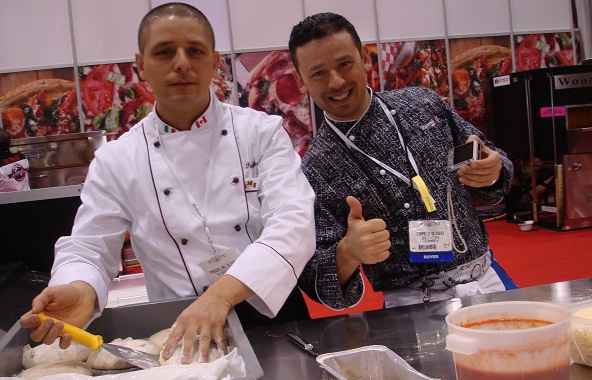 Pasqualino and Carmelo Oliveri from Canada…(The French part.)
The speakers like Big Dave Ostrander, Sean Brauser, Chef Glen Cybulski and Kamaron Karrington always have great ideas. They keep up with trends and are able to offer you all the information you need for success, and that one nugget of information that can transform your business (or attitude) into the fast lane of making better pizza and more money.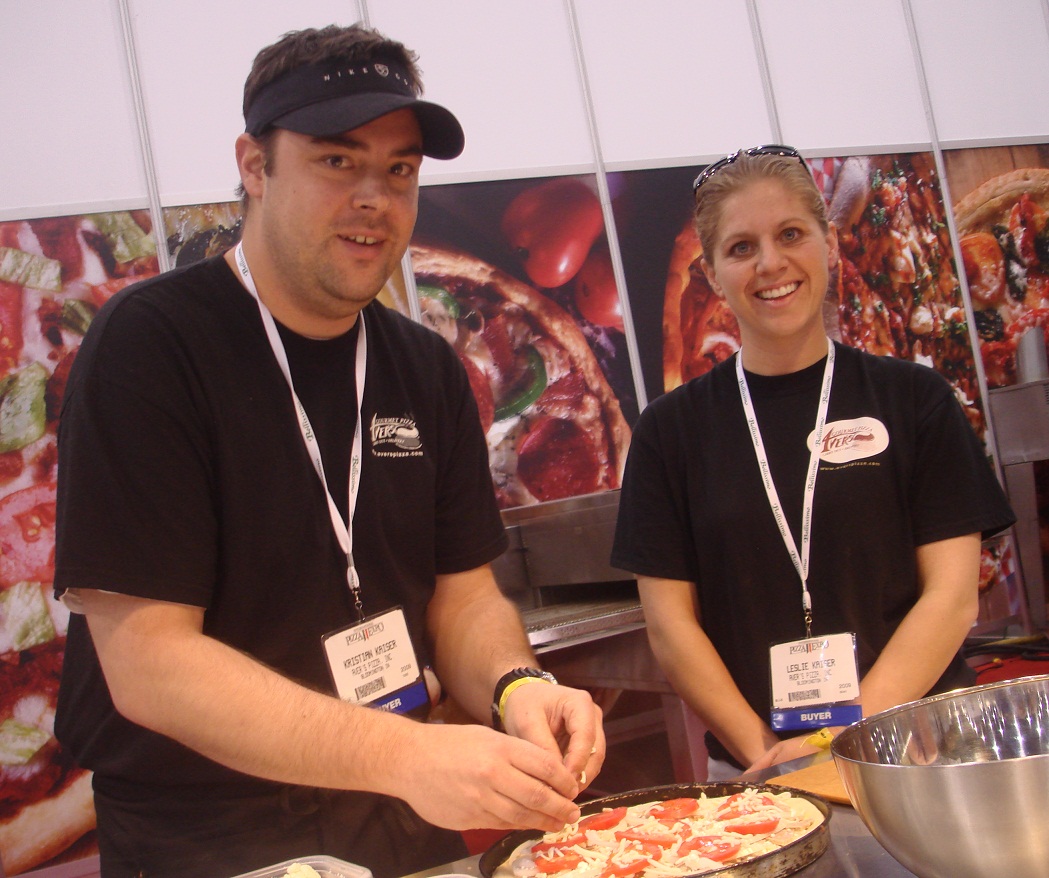 Kristian and Leslie Kaiser look nice and smiley enough, but will obliterate you in competition with their fabulous Avers Pies.
Masters of Pizza, Tony Gemignani (top) and Bruno di Fabio, are both winners of "Best Pizza in the U.S.A." at the World Pizza Championships. They're always a great sight to see at the Pizza Expo. (Tony was just featured in Saveur magazine's Top 100 culinary experts of the year.)
The culinary demonstrations from the likes of World Champion and Culinary Expert Tony Gemignani, Chef and Restuarant Critic Pat Bruno and Chef Jeff Frehof are fabulous because they let you ask questions as they cook. And the best part is that you can eat their great food after they are done. Yum.
Dave and Linda Winchester, owners of Black Rock Pizza always seem to win in Vegas (top). Jeremy from Romeo's Pizza constantly looks down on me and my also-ran guanciale and fig jam schiacciata.
I cannot forget the World Pizza Games that take place also. These will also knock your sock off. One of the best of the best is world champion Justin Wadstein. Here is Justin showing why he has won Best Pizza Acrobat in the World:

Akaogi Kazuya, always a great competitor at the World Pizza Championships in Italy, does his stuff to Mickey Mouse theme song:

To compete against the best pizza makers in the world is both exhilarating and humbling.  Just when you think you've got the best pizza in the world, a guy from Staten Island pulls out lobster and blueberries with a braided crust. Or you look up to see an amazing pizza that could, should and would kill your chances at fame and fortune.
Leo Spizzerri from Chicago is the master of the deep dish (top). The judges get particularly serious in Vegas. The head judge is Domenico Crolla from Scotland (other end of table) and he directs other judges consisting of chefs from all over the world.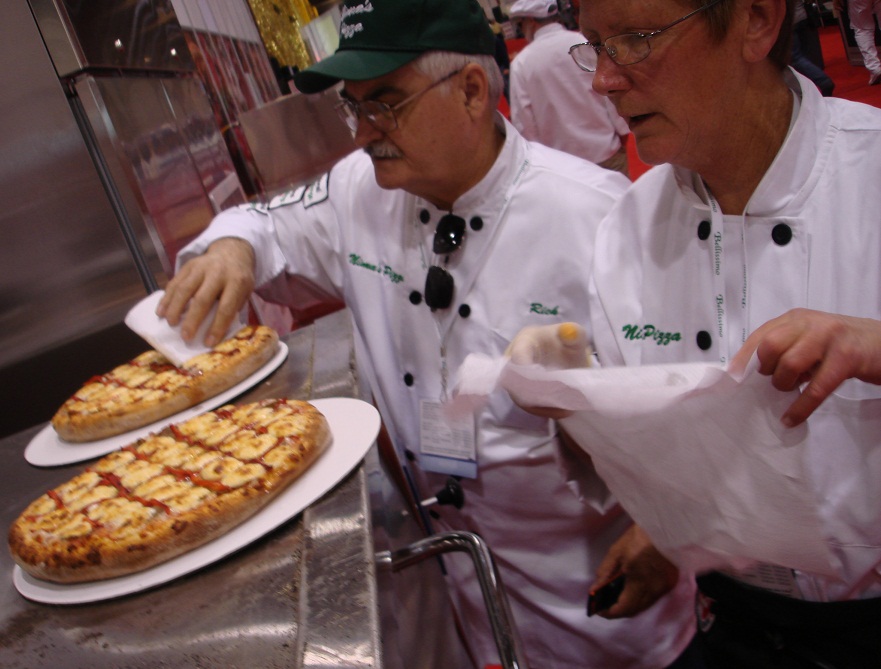 Rick and Jane Mines of Nima's Pizza killed all comers with their fabulous baking skills in 2010 and came in as finalists.
The Italians are tough to beat! Eddy Rossignoli of Venezia, Italy (top) won 2nd place in 2010 and Grazziano Bertuzzo of Pizzeria Brian in Lecce, Italy won Pizzaiola of the Year in 2009.
Bruno di Fabio, myself, and Willy O, who scored big with a non-gluten pie.
All in all, there's nothing like all the pizza friends I get to see in Vegas.. Well, $15 grand is a great substitute though. Below is Graziano making his top pizza in 2009.
See you there in March!