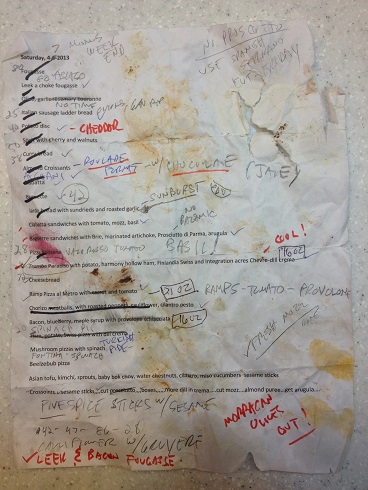 Mike Tyson really had that one right. It seems he might have owned a busy pizzeria or bakery because try as I might, I just can't seem to stay on track as indicated by my weekly menu above. Last week, I dumped all the photo's I have from my dough-encrusted iphone and realized I really have no plan and no clue. This is the reason why I am always experimenting with foods. Some are winners, some lose and some just weird. Here they are.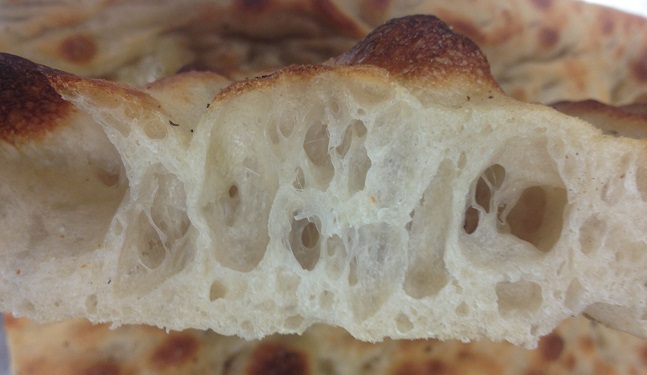 Much of the stuff that I bake hasn't gotten documented on this blog and usually gets gobbled up fast by my fabulous customers like the wonderfully hydrated pizza bianca crumb above!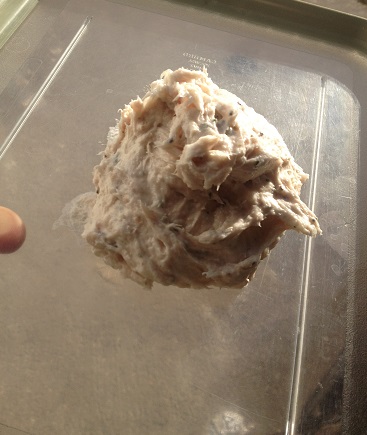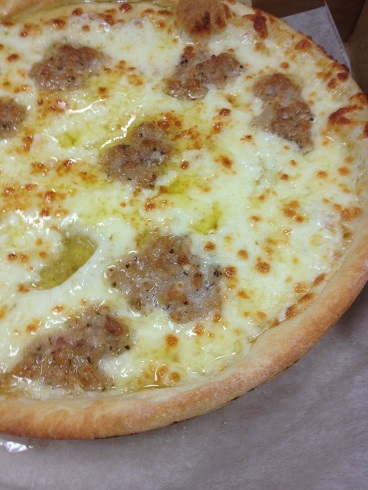 Then there is the Tuscan Crema Paradiso, a ground-up combination of pancetta, white wine vinegar, pepper, rosemary and garlic. Please go here to Pizza Today for the recipe. This little paste used in moderation is the bomb. That's TWO B's for Bacon Baby!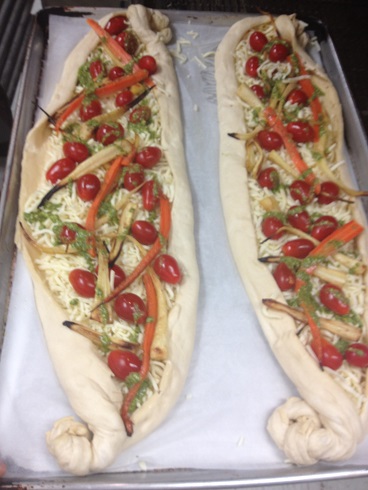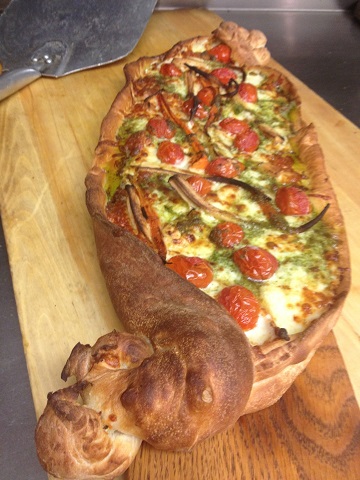 Now lets progress to the meter-long Turkish Pide, (PI-DAY). Here I have some fabulous parsnip and carrot pide's with aged provolone and basil pesto and cherry tomatoes.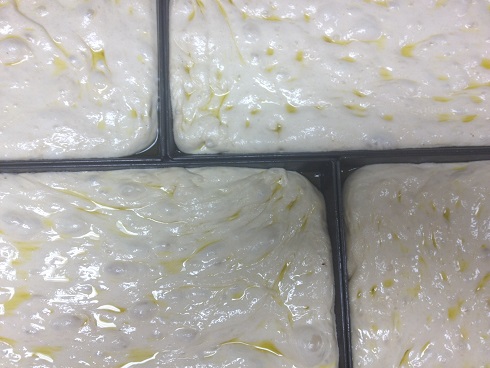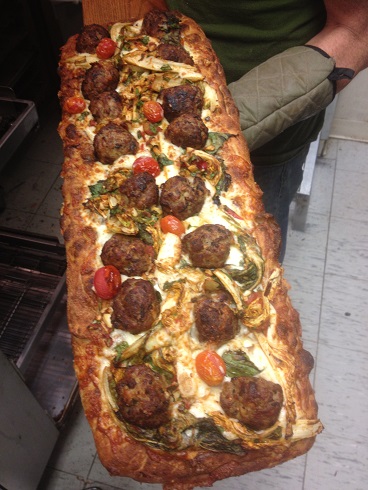 I believe this year marks number four into my obsession with highly hydrated doughs like the teglia, (pan) pizzas left. I love to proof them, par cook them, top them like this one on the right. I salt-cooked the local white raddichio then added finely chopped Calabrian Chilies, shaved turnip, spring onion and kohlrabi to it and tossed it with a smidge of white balsamico for an Italian-style kimchi that macerated for two days. At bake time, I topped the long pizza with mozzarella and some great aged Taleggio and some meatballs made from local King Family pork.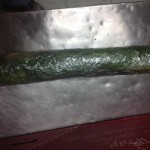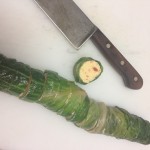 Speaking of white radicchio, my friend, Rick Vest of Vest berries grew this great "Pan di Zucchero", or sugar loaf radicchio that I wrapped around some local Shagbark Milling polenta that I cooked with ricotta, parmesan and sun-dried tomatoes. I cooled the logs and wrapped the polenta in some quick-shocked sugar loaf then I wrapped the logs tight and set overnight.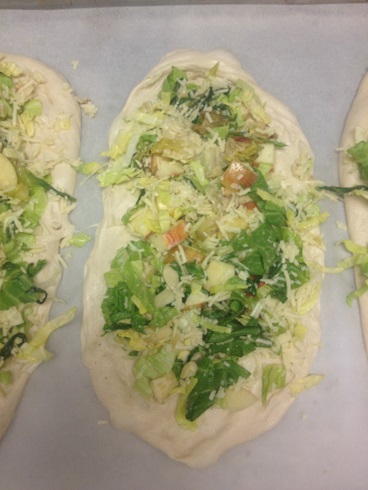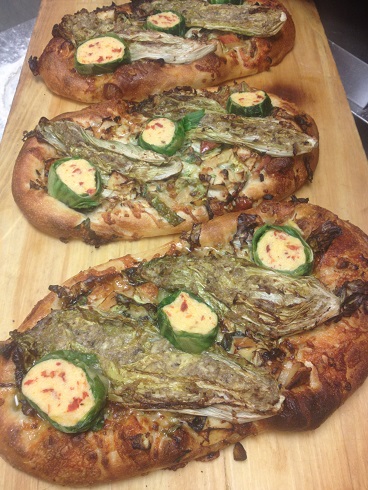 The next day, I took the inner core of each sugarloaf radicchio and tossed them with a slurry of anchovy and freshly ground garlic with blended with copious amounts of extra virgin olive oil and lots of lemon juice, (channel Bagna Caulda). I passed them into my pizza oven at 474 degrees until the smell made me cry in anticipation of eating this glorious crunchy heaven. Then I made some schiacciata with 70 percent hydrated dough that had been cold-fermented for three days topped with the tender outer leaves of the sugarloaf with sauteed local apples from Neil Cherry's orhard, and some freshly shredded Asiago cheese. When done, I placed the polenta roulade on each schiacciata.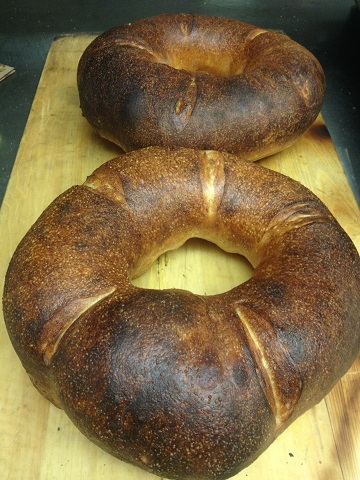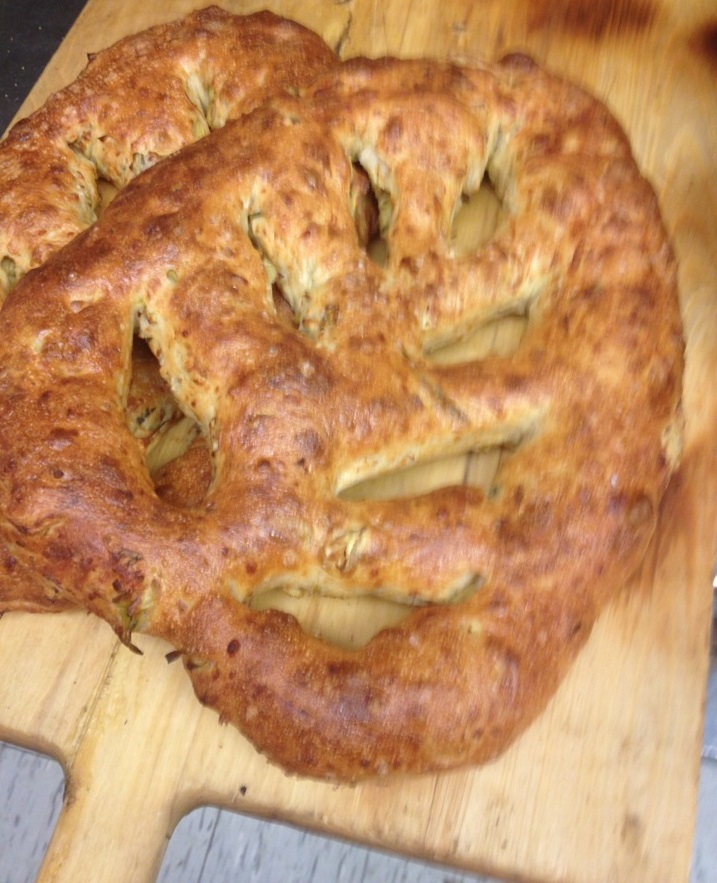 Speaking of my first love…it has to be my "Flinstone Wheel", I think of each loaf as a child of mine. Check out the bark on these…deep, dark and crunchy with a creamy crumb from high hydrated, 80-hour cold fermentation and blasted in a steamy 570 degrees…simply the best…well, except the "Leek a Choke" fougasse that I make with roasted leeks, artichoke and Parmesan cheese kneaded into a high protein flour and cold fermented also.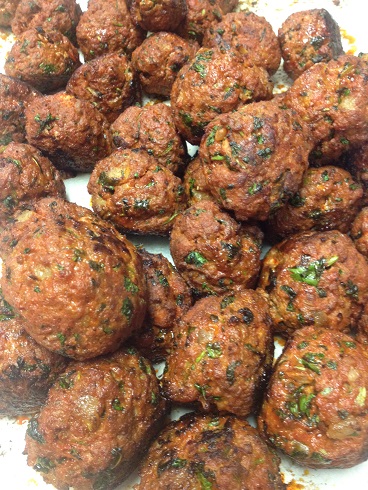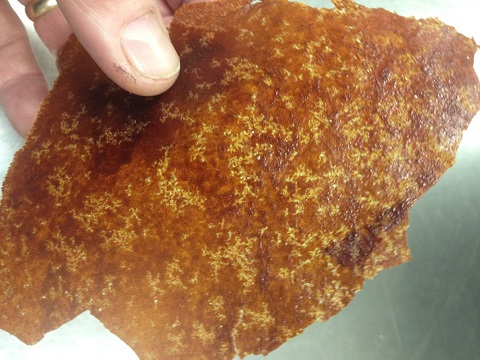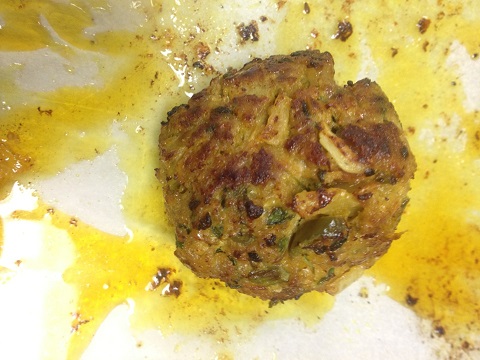 Speaking of meat that I have made this year; on the left are the chorizo meatballs that I just love. I use smoked paprika, cilantro, onion, egg, cooked cornicione, basil, garlic, pepper and local King Family Pork. In the middle is the crunchy orgasmic flavor bomb of a dried Prosciutto di Parma chip. Check out the veins of salt! This is my secret. On the right is a curry meatball that brings the flavors of India blasting onto a pizza! I usually use Gruyere cheese, curried cauliflower, spinach, onion, beans and paneer on a pizza with this meatball…(the secret here is a little bit of cinnamon.)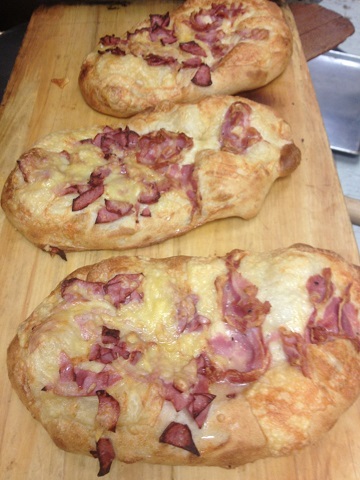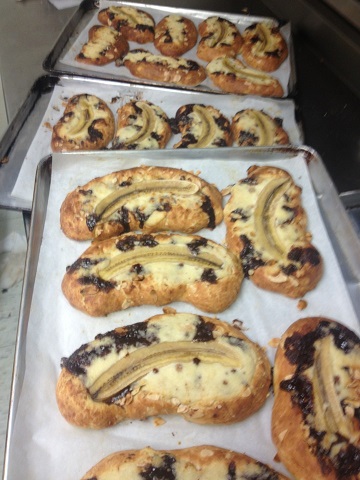 Don't forget the simple but fragrant Emmental and Local Harmony Hollow ham schiacciata or the brioche schiacciata with nutella, almond pudding and banana.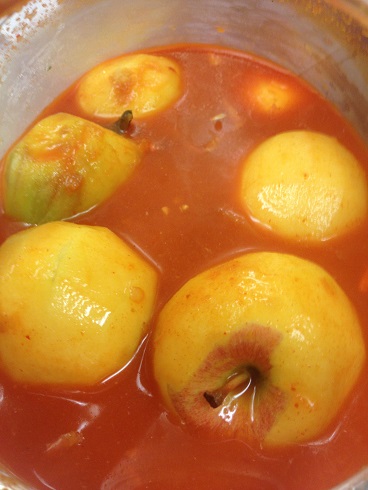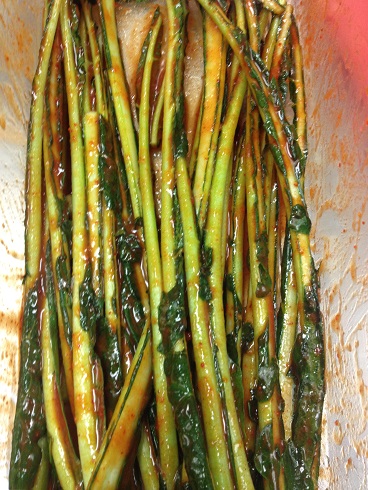 Two succsessful fermentation projects I undertook were the "kimchied" apples and pears at left and the kimchied kale stems. I held both for four months in a Kimchi brine. The apple made a great sweet/salty spice to salads and the kale stems was fab in a salsa with japapeno's and cilantro with a chiffonade of kholrabi and turnip.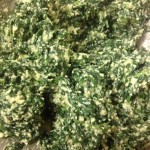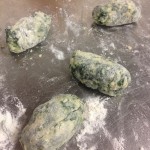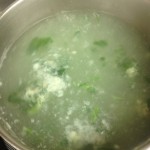 Feeling bored, I made some Gnudi that I once had in Florence. This mixture of blanched spinach, ricotta, parmesan and egg is simply balled up and boiled just like gnocchi till it is nice, warm and the egg has set.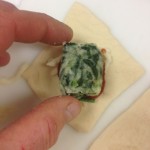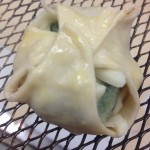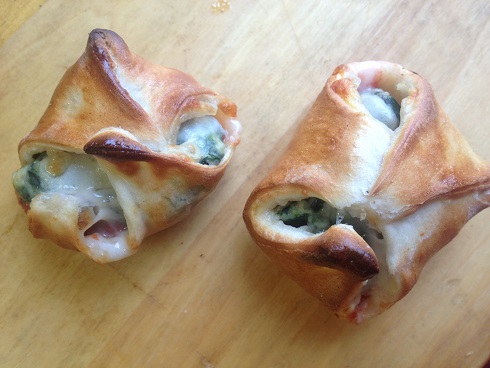 Then I took these delectable balls of power and wrapped them in high protein pizza dough with our sauce from Avalanche and some shredded provolone and mozzarella and baked at 475 degrees until browned.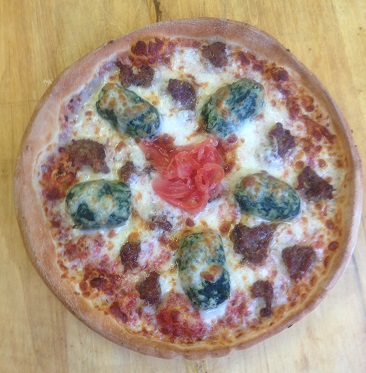 Then I put them on a pizza with some local King Family sausage for a fabulous combination of lumpliciousness.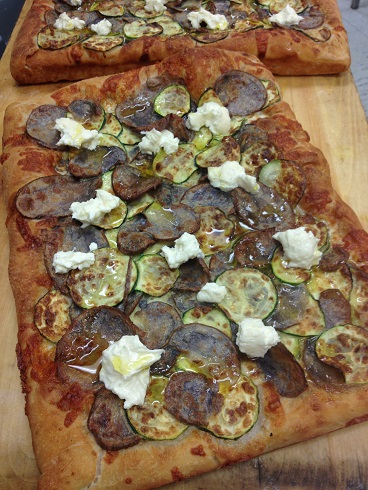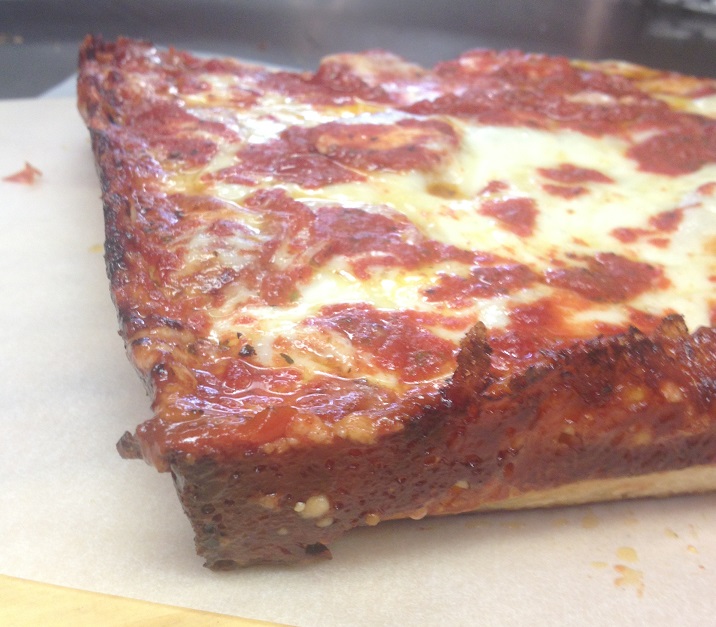 Speaking of pizzas, here are two that sit atop an airy, proofed crust. On the left is a large Campo di Fiore pizza and a variant on one I had in Rome. This one has Pecorino Sardo down first, then  mozzarella, Peruvian purple potato and zucchini that has been tossed in egg and more pecorino then baked at 500 degrees and finished with ricotta fresca. On the right we go back to the new world for a Detroit Red-Top pizza. When par-cooking the proofed raw dough, I took a handful of aged white cheddar around the edges of these awesome heavy-gauge pans to act like glue so the dough stays close to the pan. Then with the final bake, the toppings are hidden under the cheese which forms a jagged, razor bark of flavor around the red sauce that sits on top.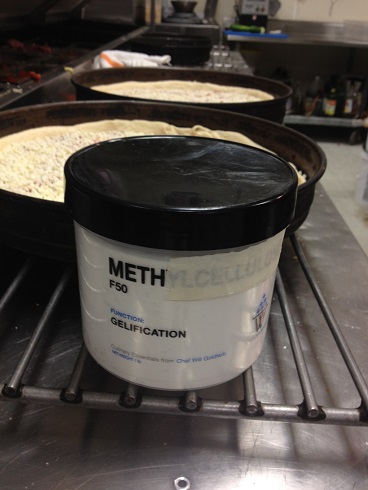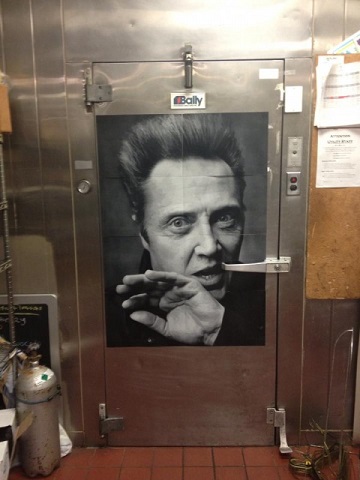 Of course, the fun never ends here. I've learned never to let a jar of methylcellulose sit around too long with my young staff before the name gets changed. And also to never underestimate the power of a Christopher Walk-in!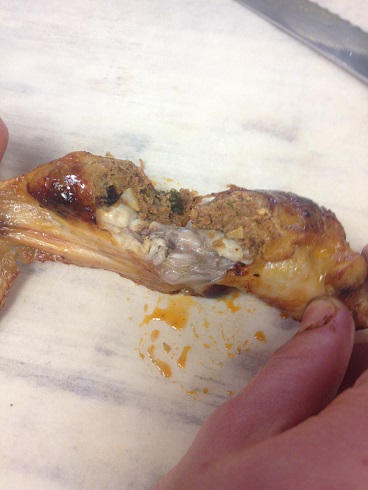 Because we get whole, local wings and raw ground pork, I decided to take the chorizo meatball filling and fill a chicken wing with it by lifting up the skin carefully, stuffing and baking the bird part until crisp. Yes, fairly high-maintenance but talk about juicy!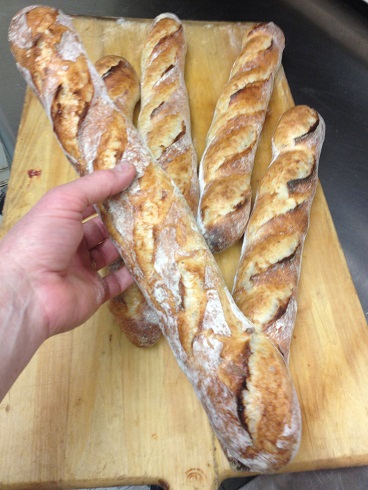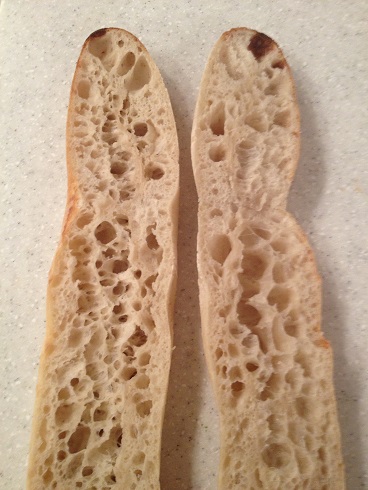 I cannot talk about obsession without the word "baguette" coming up. Enough said. Luckily I now have a great baker in Jacob Seidel that makes the best around.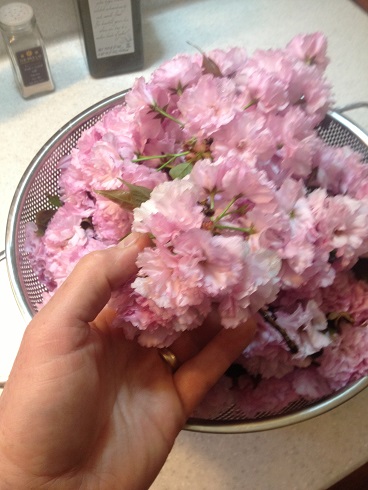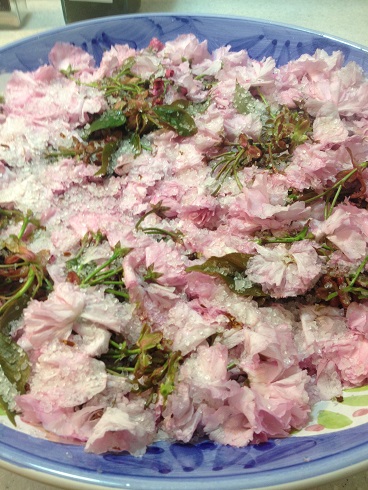 During the spring of this year, the Japanese cherry trees blasted giant pink puffballs around Athens. I decided to sneak into a neighbors yard and grab buds like the devil and run like hell. With these, I made "Sakura no Shiozake" or pickled cherry blossoms. I salted these until they sat in their own juice, then drained them and added rice wine vinegar and sugar. I then let them sit another week and a half until draining them and putting them into my dehydrator for a very light dry. When I needed them, I re-hydrated in water and popped 'em on pizza for a great "wow" garnish.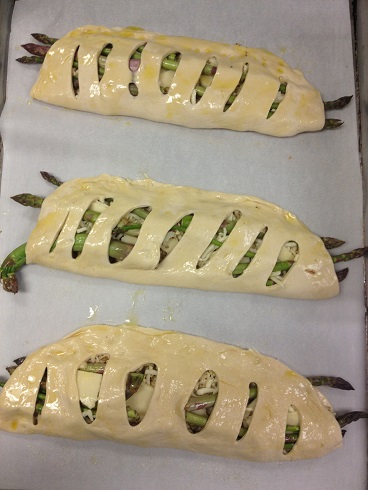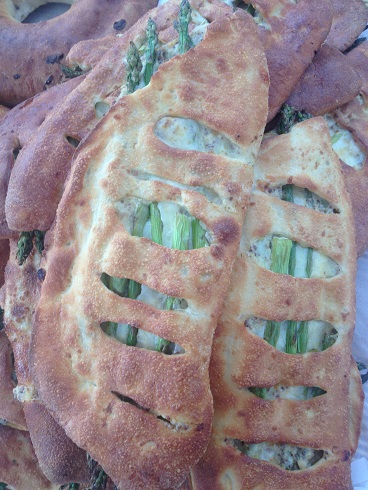 Spring also brings in buckets of asparagus for my ricotta-whole grain mustard-parm-pistachio-asparagus-cheddar stuffed fougasse. (Freight-train writing intrigues me.)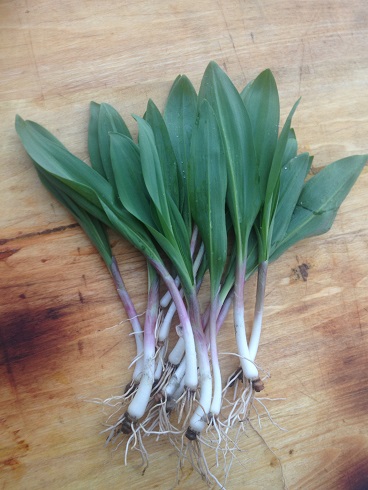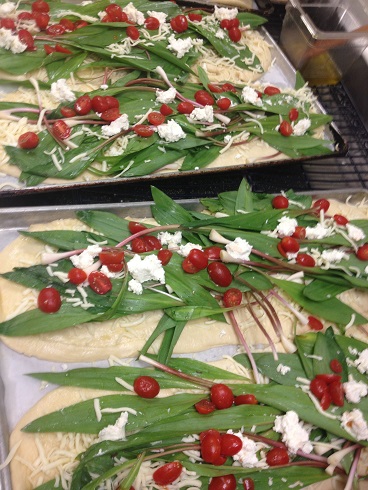 My fave this year was the massive amounts of ramps I was able to pair with morels, asparagus and pizza!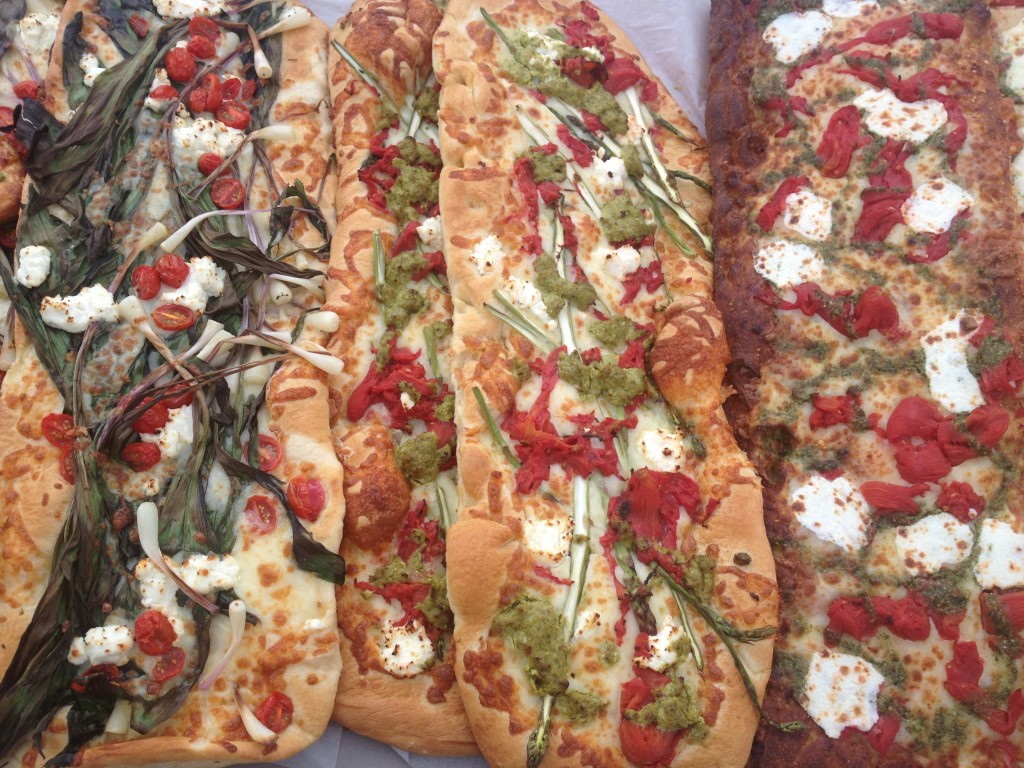 Left is ramp pizza al metro, middle is a ramp-almond pesto pizza al metro and pizza Siciliana on the right.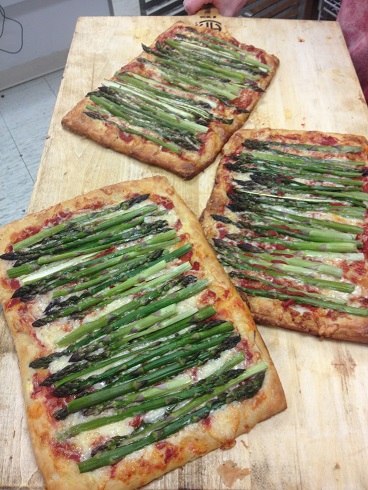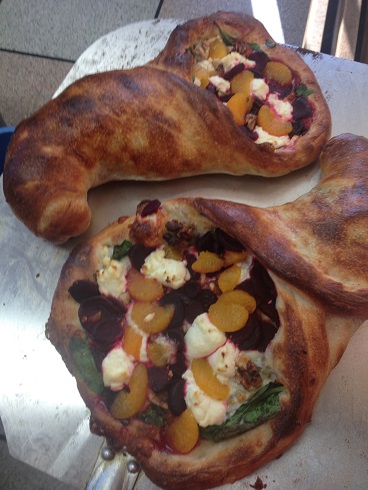 Asparagus is fabulous on a croissant tart like above but lets not forget those deeply colored roots like the beets in what I call a "Tromba Paradiso" with fresh chevre, mandarin orange, mozzarella, walnuts and spinach.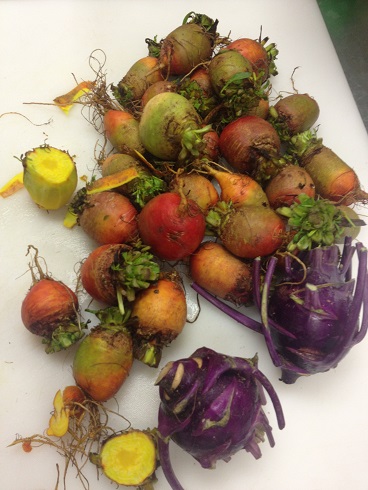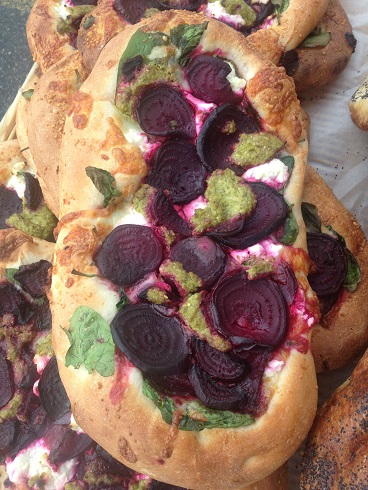 I don't want to beet this ingredient to death but because getting people to buy any food item is just like bass fishing, the colorful beetroot is to customers what the Texas-rigged plastic worm is to bass. Just look at the schiacciata I made with direct-method, (very young dough) and some local chevre, ramp pesto, spinach and those purple beauties!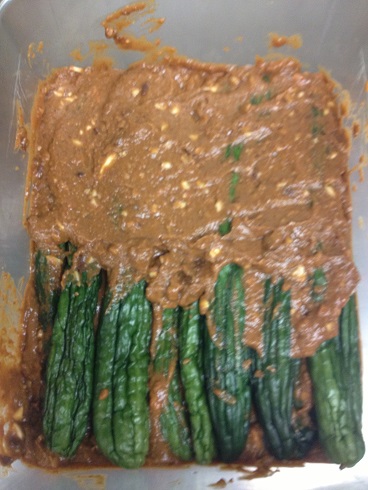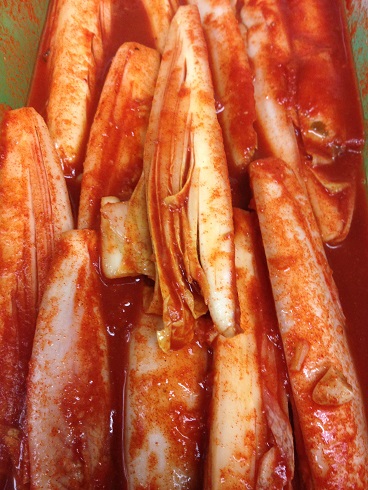 I cannot seem to keep away from the pickle jar. On the left is Shiozuke, or Japanese salt-cured pickles that I squeezed then put to sleep in a blanket of red and sweet miso with chopped garlic. On the right was a great project of kimchifying Belgium endive. Both were stellar!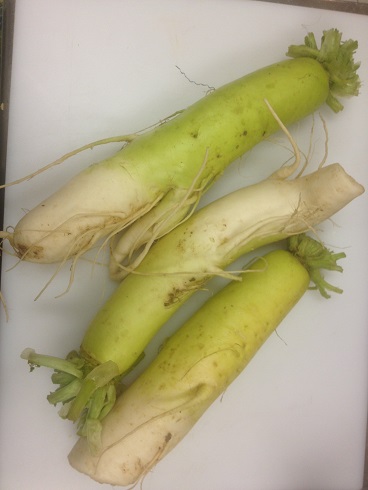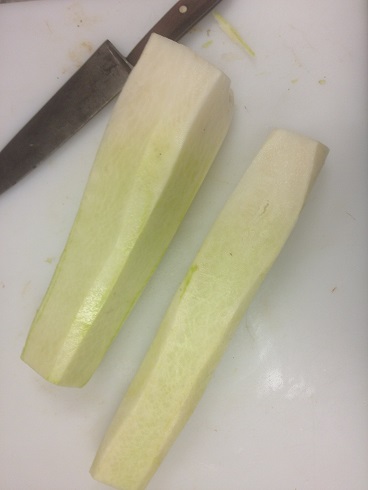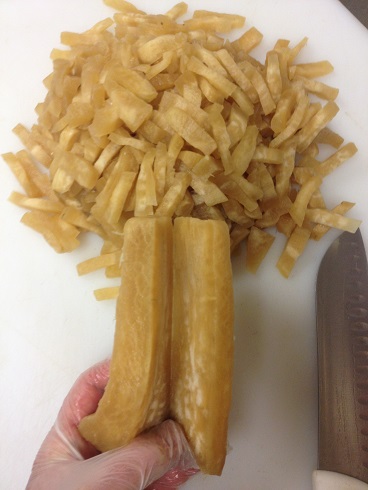 I also had four huge bags of daikon from the Amish in Chesterhill to pickle. Turned out nice also.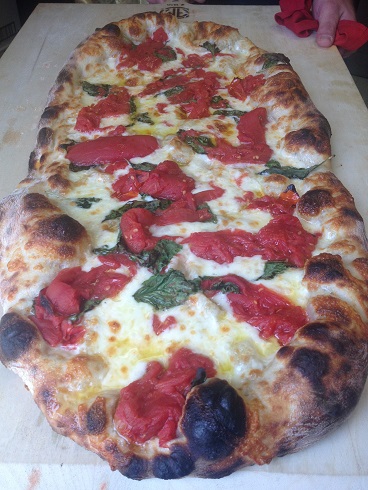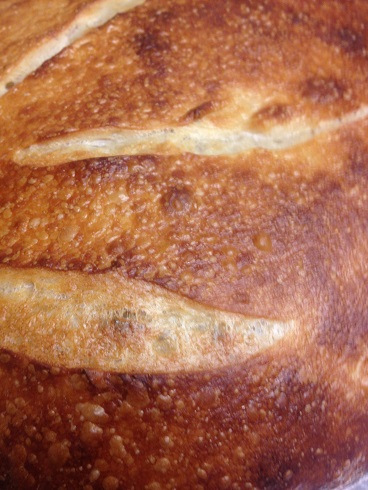 Finally, with my new oven, some steam and up to 670 degrees to work with, I baked into the sunset with my large Pizza al metro and the blistered heaven of a crusted boule. From there I left the States last summer for Europe…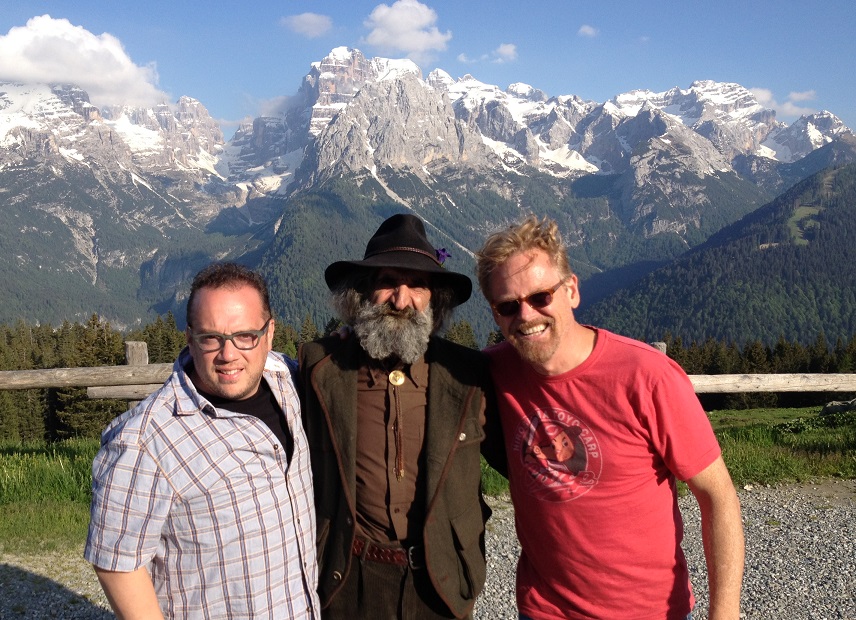 …where I had some great foraging adventures with my greatest friend, Bruno di Fabio and a Dolomite mountain man named Farro! But more on that later.