The trouble with eating Italian food is that five or six days later you're hungry again.  ~George Miller
So, what would you name a pizza with a crust stuffed with hot dogs and mustard, then slather mac and cheese all over as a sauce, then add cheddar, mozzarella, provolone, beef, bacon, onion, tomato, dill pickles, french fries and ketchup. I found that "Bride of Wonderboy" fit the bill nicely. The original "Wonderboy" just got a little old without the mac and cheese sauce. (I must give credit to Mark Mizer, the President of RDP Foodservice for first turning me on to a mac and cheese sauce.)
 When I first pulled a prototype of this monster pizza out of my oven, it smelled like every fast food joint I've ever been to. I smiled and said to my General Manager "This is disgustingly…attractive, but I don't think anyone is sick enough to order this."   I was wrong; not just a little wrong. I was as wrong as  Napoleon at Waterloo, or Davey Crockett at the Alamo, or anyone who thought Beta Max tapes were the wave of the future.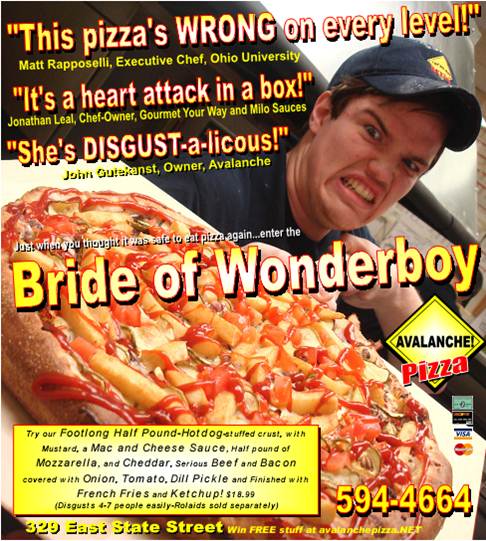 So, It's been almost 2 years now since the first culinary abomination appeared at my store. My General Manager, Joel Fair has become the Bride of Wonderboy expert, (especially after midnight-where a lot of the Wonderboy volume occurs.)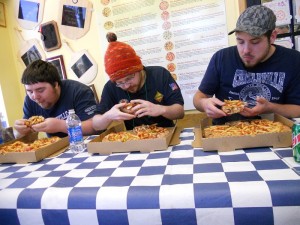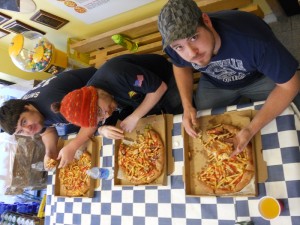 Corey, Elliott and Levi tried to devour the Bride here. Who do you think won?
It was with this in mind that we hosted a small Bride of Wonderboy eating contest with three employees to gauge what time anyone could eat this monster in. Elliot, Levi and Cory really slammed a lot of food but only one was victorious.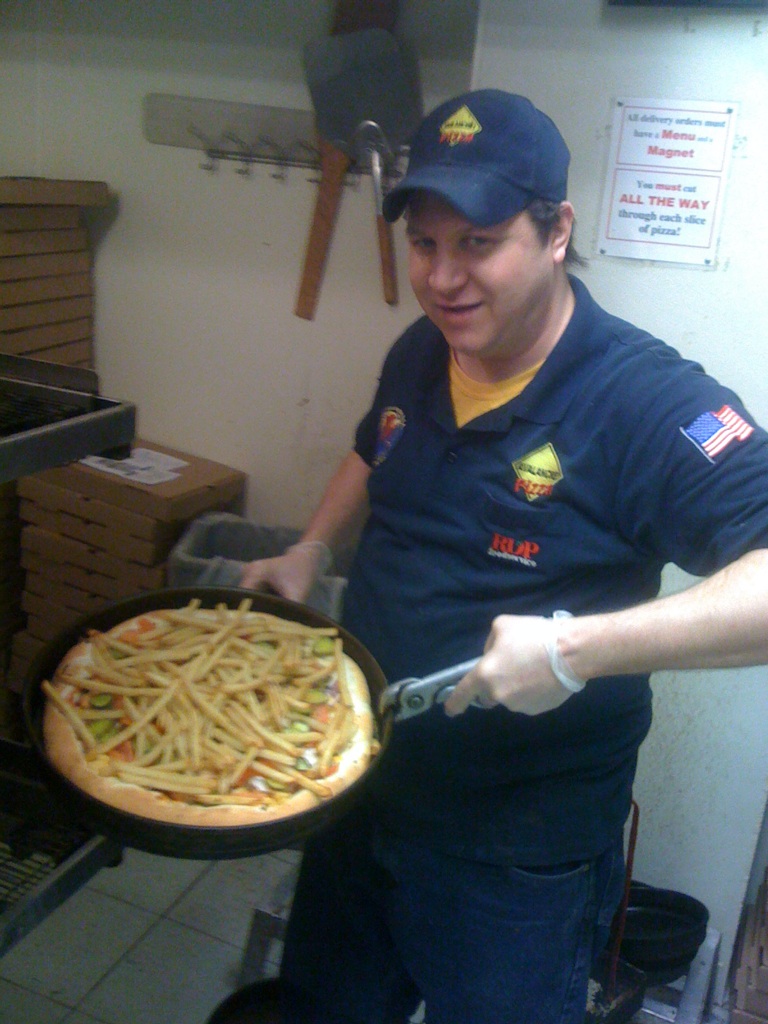 Do you trust this man to disgust you and your family properly with a four pound pizza? Joel Fair is the master of the 'Bride.'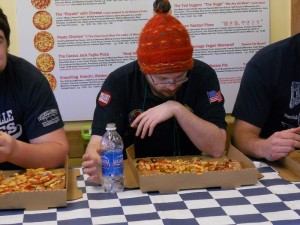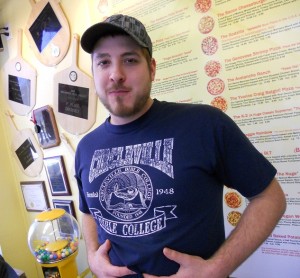 Here is the Video:                                  
Anyone squeemish about people eating massive amounts of nitrates, cheese, corporate meats and potatoes should NOT watch this video.
Levi Meyer won at a World Record time of 59 minutes and 47 seconds, (No kidding…Oh yea, you think you can do better? We'll supply the bucket.) Levi will now get his picture on our wall of Wonderboy for all his efforts.