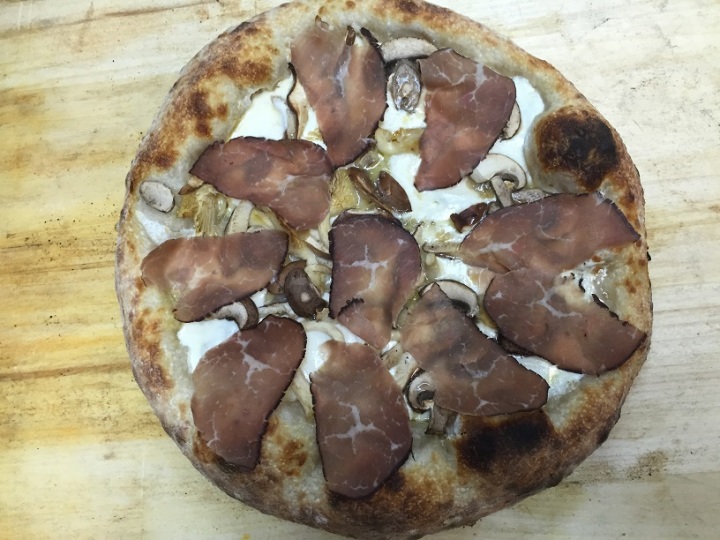 The Northern Italians in the Valtellina region of Lombardi have it good. They are lucky enough to imbibe in the foods that are reflective of the mountains around them which snake up though Lichtenstein, Switzerland and Austria. This area northeast of Milan is known for Pizzocheri, the wonderful buckwheat pasta dish, fresh fish from the deep lakes, its fine polenta dishes and Casera cheese but the most famous product that is traced back over 100 years ago is bresaola.  The small town of Chiavenna is ground zero for this dried beef because it offers a great, dry microclimate for air dying beef like bresaola and the smoked version, "Bresaola Affumicata."
I've been familiar with bresaola for many years. At the Primavera restaurant at the Fairmont hotel in Chicago, my friend Chef Giovanni di Negris served bresaola atop thinly shaved fennel salad, lemon and Parmigiano Reggiano and in Boston, we made a Bresaola Condita served with lemon, oregano and egg. Both were great dishes but its very rare to see pizzas finished with this fine, air dried beef and I think it's time to change that.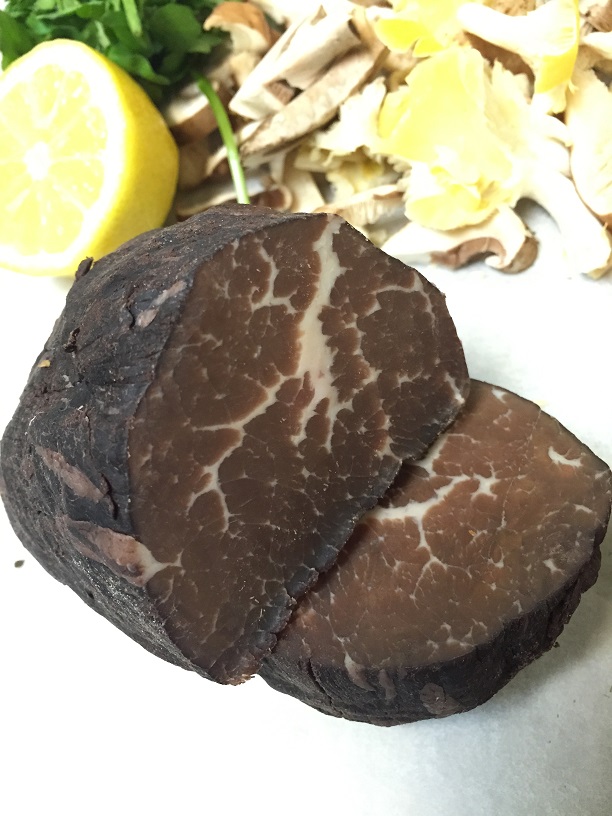 I've found that curing meats like Bresaola, guanciale, lardo, speck and salami bring a more personal aspect to pizza making. I make pizza everyday and the simple act of knowing that I created the dough, sauce, cheese and toppings is what craftsmanship is all about. The time it takes to plan, forage, cure and dry meats creates a fantastic sense of anticipation, ownership and even love when I pull that hot pizza from the oven. My bresaola starts as a cut from the raw rump or top round and is enhanced with spices, wine, vinegar and citrus and time that creates a complex beefy flavor when dried and sliced thin atop a piping hot pizza.
This is my go to recipe for a great Bresaola which appeared in Pizza Today Magazine in February 2015. Because I am a Pizzeria owner, I just don't have the time to cure and dry a larger cut of beef so I opt for smaller cuts which cuts the curing time down. You will need a curing cabinet to cure the meat. I've found a great one in any white wine cooler that can be had for 200 clams because it keeps a perfect temperature and if you put a bowl of salted water at the bottom, it produces enough moisture to not be too dry.
Ingredients:
Two pound eye of round roast, trimmed of all fat
One cup white wine
One cup red wine
Four cloves diced garlic
One teaspoon powdered cinnamon
Two tablespoons whole black peppercorns
Zest from one orange and one lemon
Three bay leaves crumbled
One teaspoon ground cloves
Two teaspoons dried chili flakes
Five, four-inch stalks of rosemary, stripped and rough chopped
Five ounces course sea salt
Process: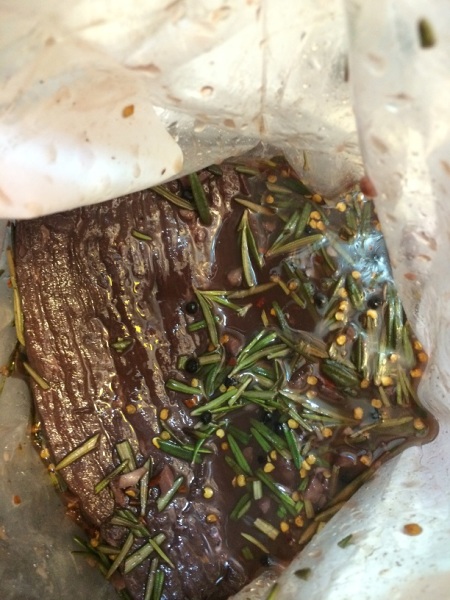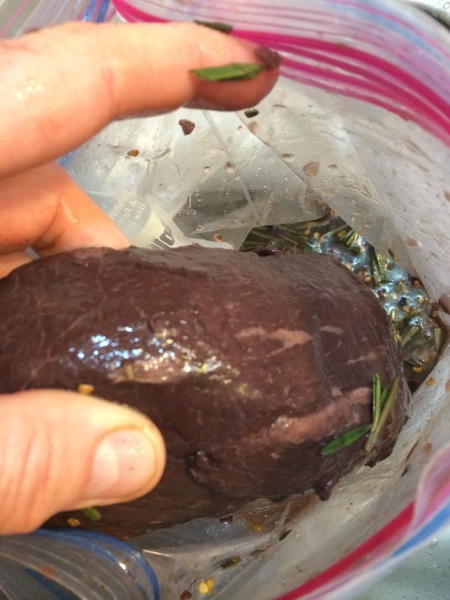 Place all ingredients in a heavy plastic bag and mix with your hand. Cut the eye of round lengthwise in half if you want. (I've found that this makes the meat area smaller and is only to expedite the cure.) Immerse the meat in the bag to marinate for seven days in the refrigerator or until the meat feels as if it has hardened.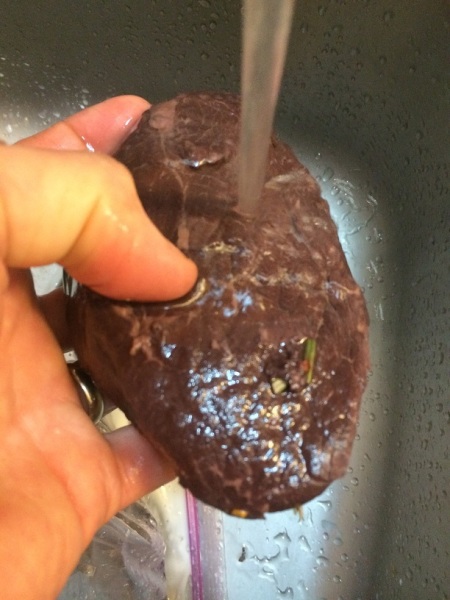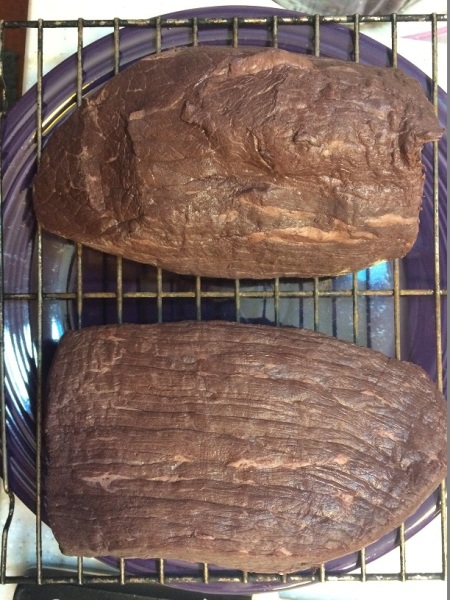 Remove from the marinade, rinse under cold water and wipe the meat dry let sit at room temperature for two hours to dry.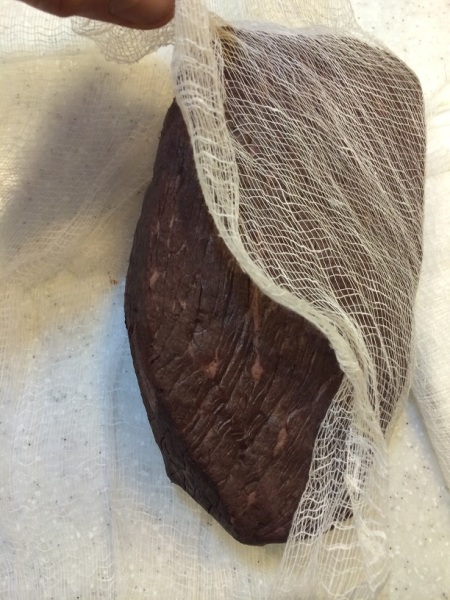 Place in a double wrap of cheesecloth tied with kitchen twine.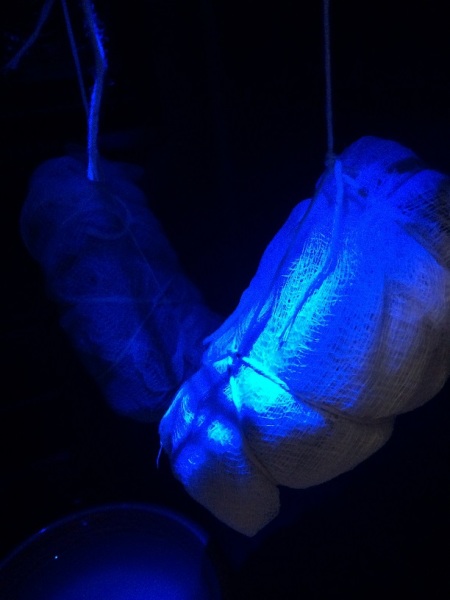 Hang the meat in a dry, airy place with a temperature of 55 to 58 degrees Fahrenheit to cure. A white wine cooler, (the best curing cabinets ever) is a great choice for this. Cure for two to three weeks for the meat to lose thirty percent of its bulk.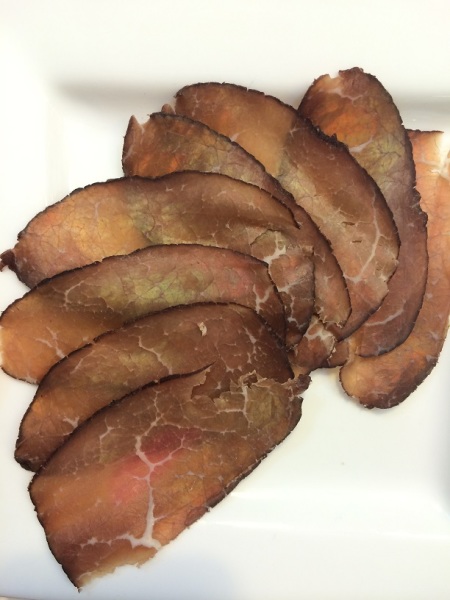 Slice thin and serve as you would Prosciutto di Parma with Parmigiano Reggiano, lemon, apples, arugula or with just a splash of olive oil and pepper or you can make a miraculously delicious pizza like I did in the next posting. Until then… Semper Pie!