Now that I have the chanterelles, I have decided to contact an award winning pizza expert to design a pizza for me. My expert in question is Domenico Crolla, one of the greatest Italian specialists in the world. Domenico's resume reads like the stories of restauranteurs of old-born into a restaurant family. He worked his way up and found his success through determination, smart business sense and a fundamental principle that great food is the best that life has to offer.
Without sounding like a kiss ass, I can truly say that Domenico has gained an international reputation as the best of the best because of his dogged pursuit of excellence through simplicity. This is the reason he has also come out a champion in many culinary arenas such as Italian Chef Wars and the International Pizza Challenge.
Chef Crolla has recieved many awards. Above with his daughter and right,with Gena, his wife and partner.
"So," you're saying to yourself, "Big deal, you called a guy in Italy to design a pizza…" No, I contacted a guy in Scotland! Yes, Domenico owns and operates, with his wife Gena, two of the most successful restuarants in the UK: Bella Napoli and Pizza Corture.
Domenico has recieved the United Kingdom Gold Award for pizza in 2007 and 2008 and for Italian Best Restaurant in 2007 and 2008. He is the head judge for the Pizza Expo, the largest pizza convention and competition in the world and (get this) has won THRICE (that's 3 times) as Pizza Designer of the Year for the UK, in 2006, 2008, and 2009.
My first reccolection of Chef Domenico Crolla was at the Pizza Festiva at the International Pizza Expo in Las Vegas, Nevada in 2008. The four finalists included me and my pesto chicken pizza. One of the other contestants, a long-time restuaranteur, motioned me over to the curtain separating the judging area from the prep area.
"Hey John, see that guy?" He asked, pointing at Chef Crolla.
"Yeah."
"Watch out for him. I know he's the judge who screwed me out of the finals."
"Why?" I asked.
"He kept up with all these incessant questions. Like 'How old is your dough?' and 'What kind of tomatoes did you put into your sauce?' and 'What kind of pre-ferment is in your crust?'" The guy paused and let out a breath. "I didn't know what to say, I just froze. What the !$#*@*% is a pre-ferment anyway? All I'm saying is look out for him, he's trouble."
"So, was he mean to you?" I asked.
"No, he was pretty cool, said that my pizza looked real good." The contestant said.
"So what makes you think he voted you off?" I asked again, feeling like a detective now.
"That damn accent dude. He sounds like Sean Connery, damned unnerving when you're trying to present a pie!"
That year I was introduced to Domenico Crolla's cultured inquisitiveness. He does sound like the original 007, and it did feel like he was pointing a loaded Walther PPK at my crotch when I got up to the judges' table. But as soon as I heard his questions, I knew he's getting to the heart of the matter: great pizza!
Now, hold on. You think I'm a sicko for putting paw-paws on pizza? Dominico holds the world record for the most expensive pizza in the world.. Just a measly $4200. It's a little ditty with lobster marinated in Cognac, champagne-soaked caviar and 24-carat gold shavings. Here it is: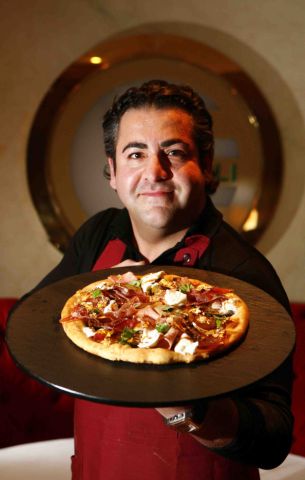 Well, enough about Domenico Crolla. Let's get to the heart of his recipe and those beautiful chanterelles. He sent me this recipe and I really hope I don't screw it up.
Use one dough ball from the Easy Dough Recipe on this blog. Preheat the oven to 475 degrees and put an upturned cookie tray or your favorite pizza stone in to pre-heat.
For the mushrooms:
1 tablespoon extra virgin olive oil
1 cup chanterelle mushrooms cut vertically down the center. (larger ones can be vertically center-cut in quarters)
1 tablespoon finely chopped shallot
1 teaspoon finely chopped garlic
1/2 cup white wine
1/2 tablespoon finely chopped parsley
Heat the olive oil in a saute pan over medium high heat. When hot, place the chanterelles in the pan and saute for 2 minutes. Add the shallots and stir. Saute for another minute. Add the garlic and saute for an additional minute. Add wine and reduce for 2-3 minutes until almost all liquid is gone. Turn off the heat and add the chopped parsley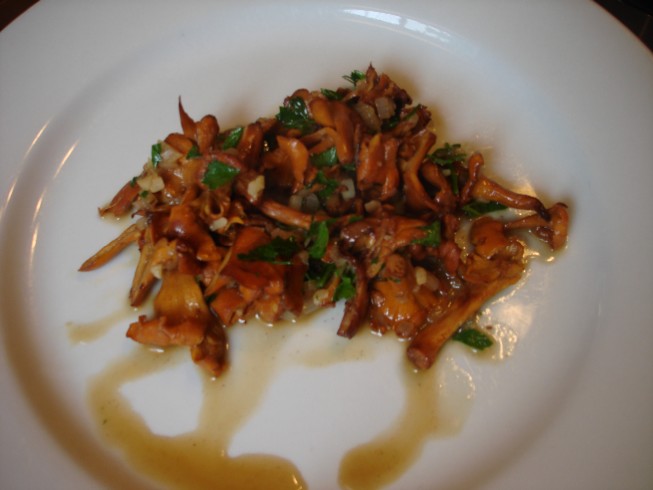 For the Pizza:
2 Bosc pears, sliced thinly on a mandoline or by hand
3/4 cup Bel Paese cheese or creamy cheese like soft havarti (Bel Paese is best)
Shaved Parmesano Reggiano
Reserved sauteed chanterelles
Form the 7-ounce dough ball into a pizza following the instructions in the easy dough method. Place it on parchment paper. Add the cheese. Place the pear around the pizza in a fan on top of the cheese. Place the sauteed mushrooms on the pears. Sprinkle some shaved Parmesan on top.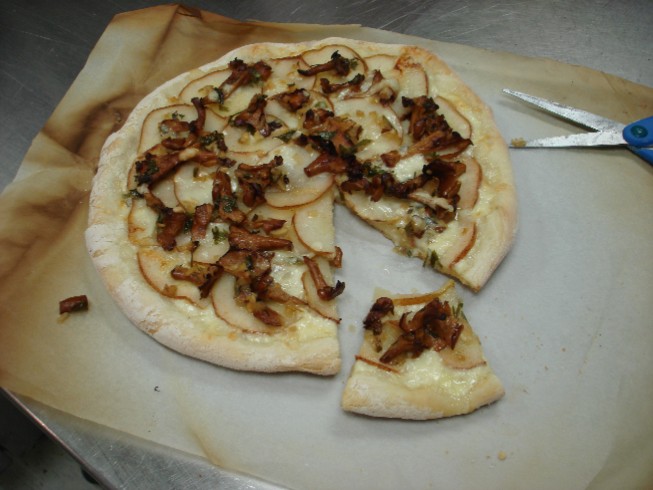 Place in preheated oven for 10-14 minutes, until the crust is golden brown. This pie was fabulous. Thanks Domenico!