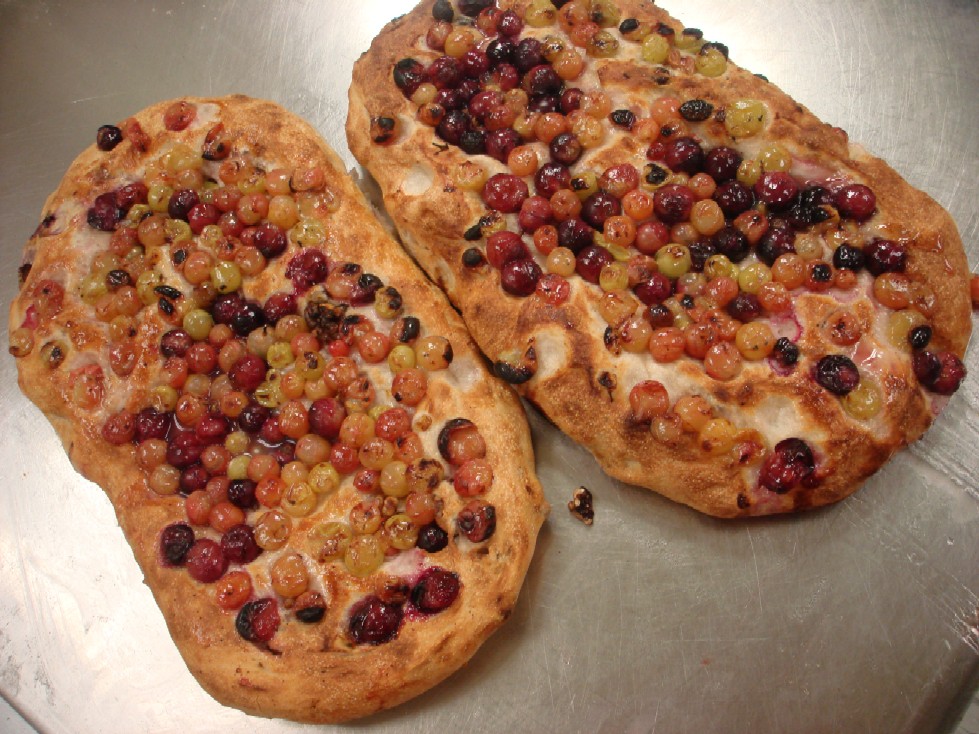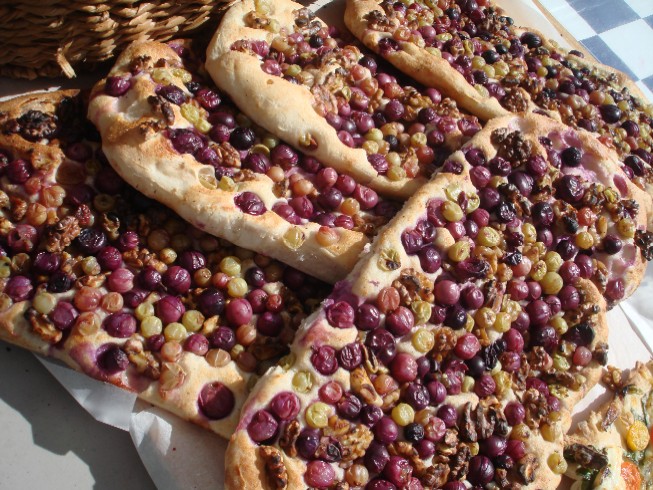 The crispness in the air brings thoughts of Halloween and jumping in mountains of leaves, while the waining days of summer take their toll on tomatoes, cucumber, sunflowers, summer squash and basil here in Appalachian Ohio.
In Athens, the 30,000 some-odd students are back and one of my ovens is broken so I am beside myself. My managers look at me like the chefs of the Titanic probably looked at the captain of the ship. "Like, uh, John, so how we supposed to pump out the usual 250 pies tonight with one oven?" they ask. Luckily, I'm skilled enough at evasion to issue a forceful and concise directive. "Do the best you can, guys." The parts will not get here until next week, and this weekend will be hell. Fortunately, I am blessed with a great staff that would take a bullet for me. (Well, maybe a taser. Naw, a wedgy. No, probably a spitball.)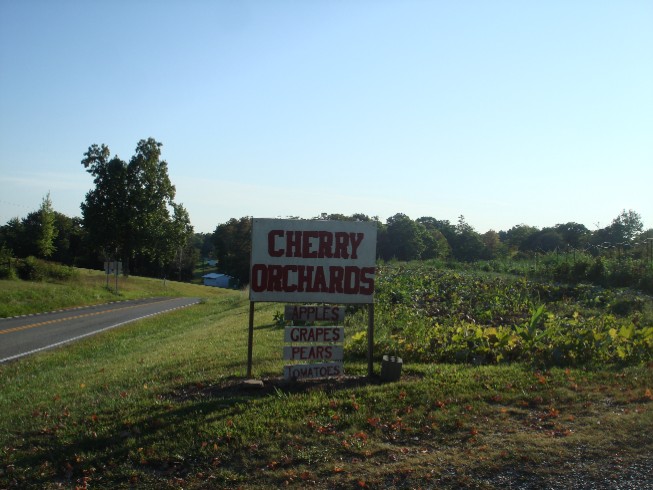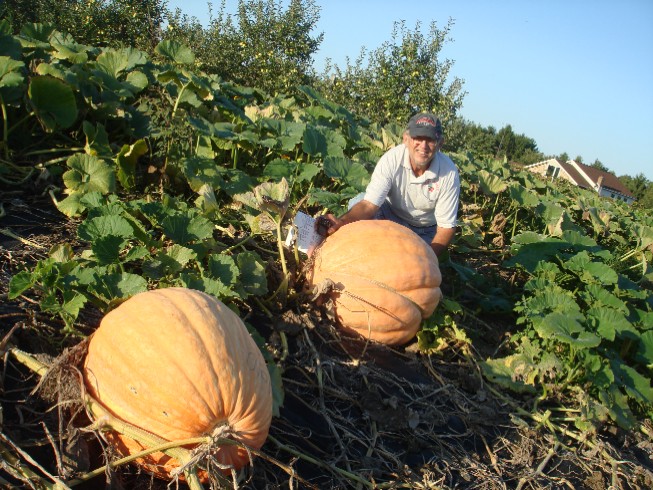 Cherry Orchards and Neils' huge pumpkin patch.
I took some time out of my freak-out and jumped in the first life-boat to go to Neil Cherry at his orchards 3 miles east of Deavertown Ohio. Neil grows peaches, pears, apples and the most beautiful grapes I've ever eaten. In fact, years ago, when I first started selling breads at the Athens Farmer's Market, I was amazed at the taste of  locally grown grapes. They may have thick skins and some have seeds, but the taste is far superior to supermarket grapes that have been modified and/or genetically engineered to have soft skins and a bland sugary taste.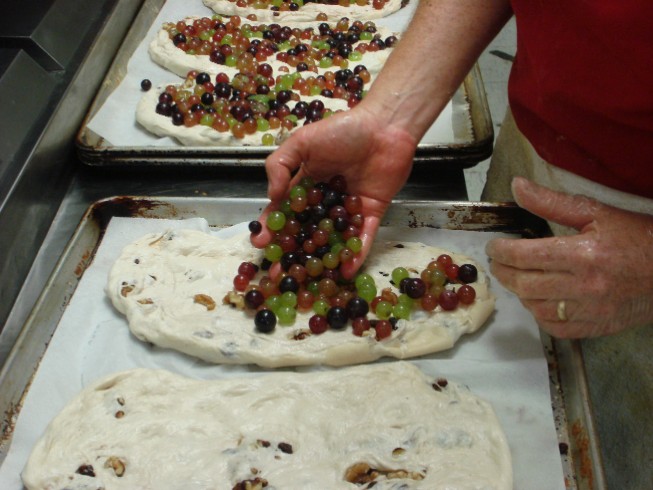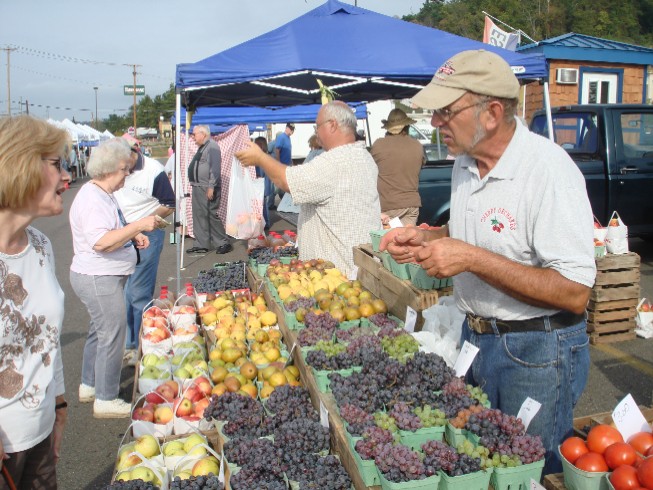 The Schiacciata in the making (If I could just stop popping the grapes in my mouth). Neil at the Athens Farmers Market.
This day, I've come to score some great seedless grapes for my Schiacciata Con l'uva, or Etruscan (Tuscan) Grape Bread. As with most schiacciata, the recipe ususally depends upon the baker. Traditionalists bank upon using lard, fennel seed and honey, and most modern recipes rely upon sugar, baking powder, eggs or even milk. I like it my (the easy) way. I use my schiacciata recipe for pizza and bread dough, knead it with raisins and walnuts,  pull it into the traditional football shape, topped with seedless grapes and honey. Done and deliciously sticky.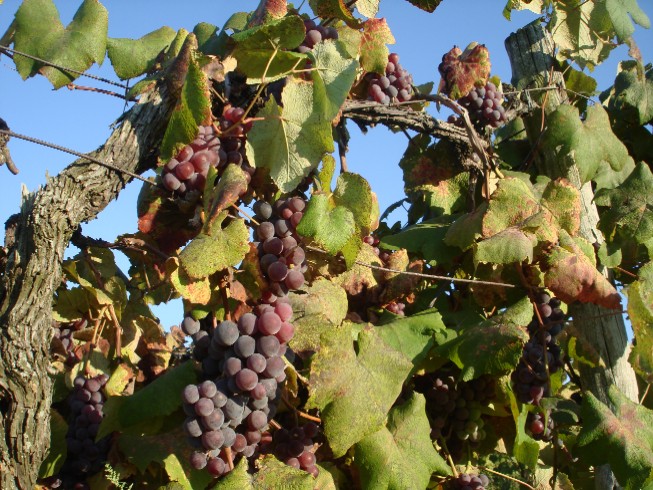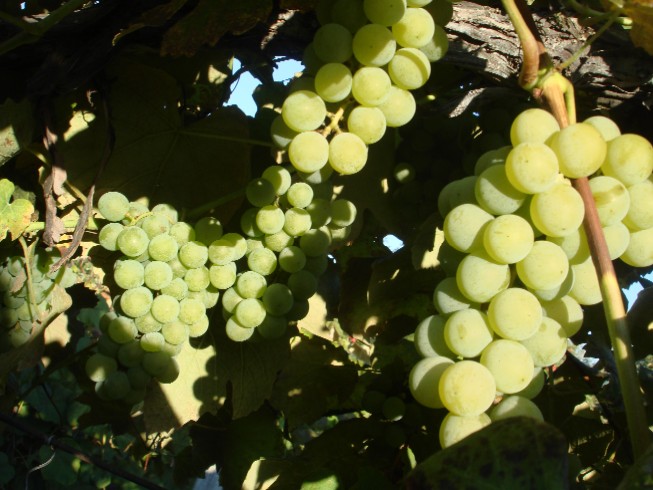 After arriving at Cherry vineyards, the first thing I notice is the smell. It's the scent of autumn, bursting ripeness at its zenith, followed by the natural slow rot on a cool breeze. Being the agricultural moron that I am, I hold back on the stupid statement, "So Neil, where are all the freakin' grapes?" Neil brushes back the big sail-like green leaves and boom: more grapes than you can shake a bottle of 1945 Chateau Lafite-Rothschild at. He rattles off the numerous names of the grapes and where they came from, while I envision not remembering even one name. (A self-fullfilling prophecy as you can see.)
Neil Cherry 's intoduction to his grapes:

Neil and his family have been growing fruit for over 50 years. The thing you can always count on with Neil is that he always has a smile. Sometimes, as he sells his awesome apple cider in the depths of winter, it's a frozen smile, but a smile nonetheless. He, his wife Faye and his family work hard to maintain their farm and compete with the all-too-cruel seasons for a bounty of great local fruit. We all benefit here from his labor, even me, the lowly pizza freak making an old Italian bread during the grape harvest.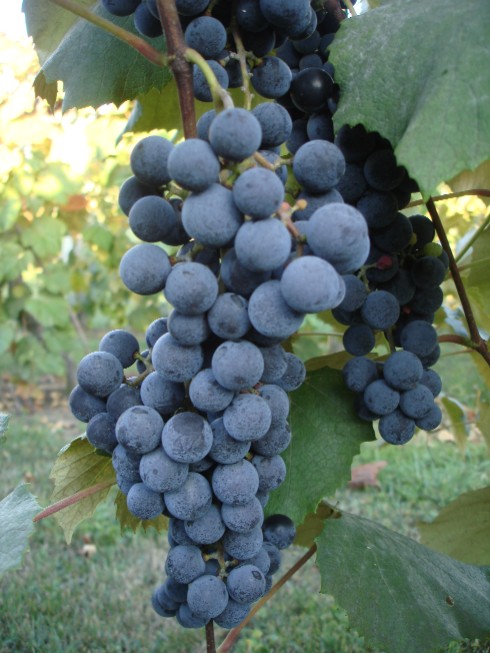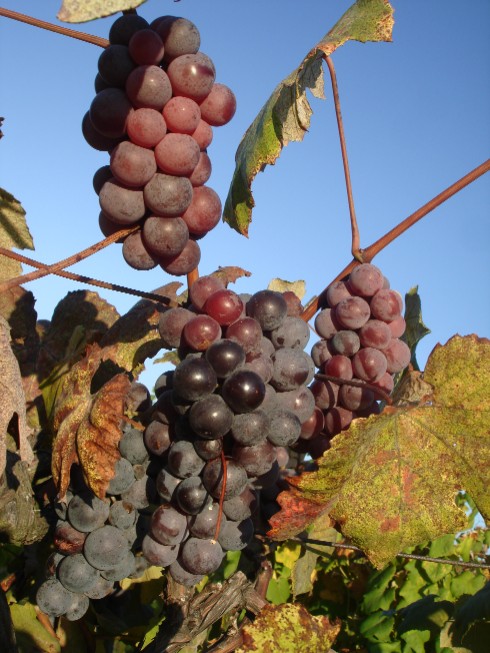 1 dough from my schiacciata recipe
1.5 ounces chopped walnuts
1.5 ounces raisins
1 -1 3/4 cups seedless grapes
3 tablespoons honey
Preheat oven with upside-down cookie sheet or pizza stone on middle rack to 425 degrees.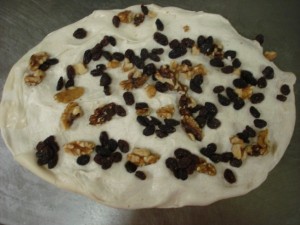 Make dough and form into a football shape. Distribute the raisins and walnuts on top of the dough. Press into the dough.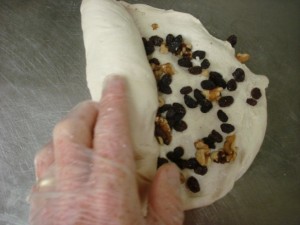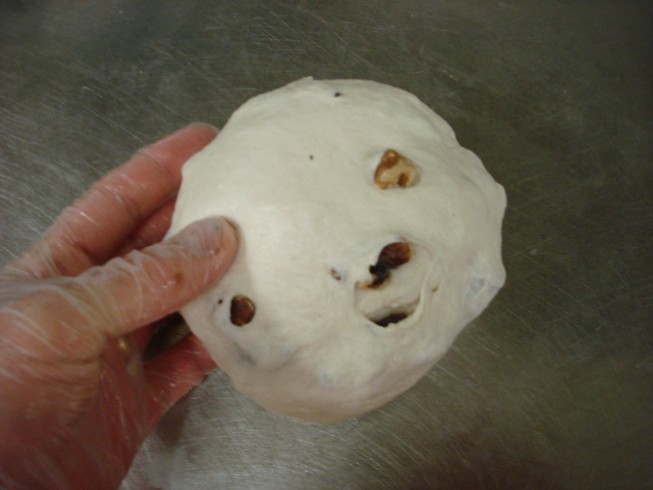 Roll the dough up and knead it  gently, evenly distributing the interloping raisons and walnuts within. Do not overknead. Form into another ball and let sit to proof for 30 minutes to an hour in a warm place. The gluten strands will accept the nuts and fruit better then.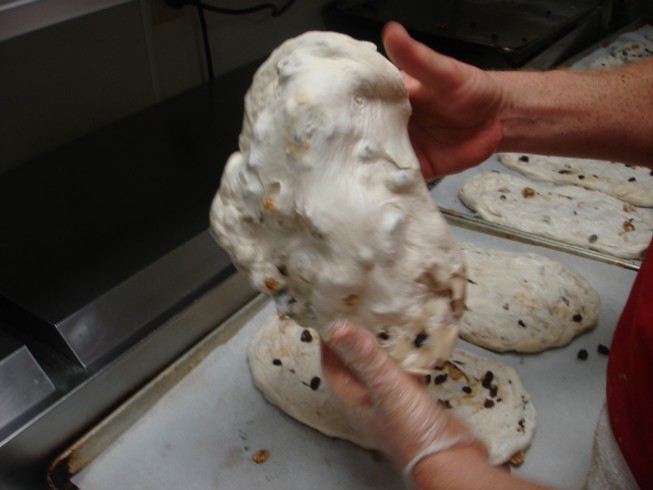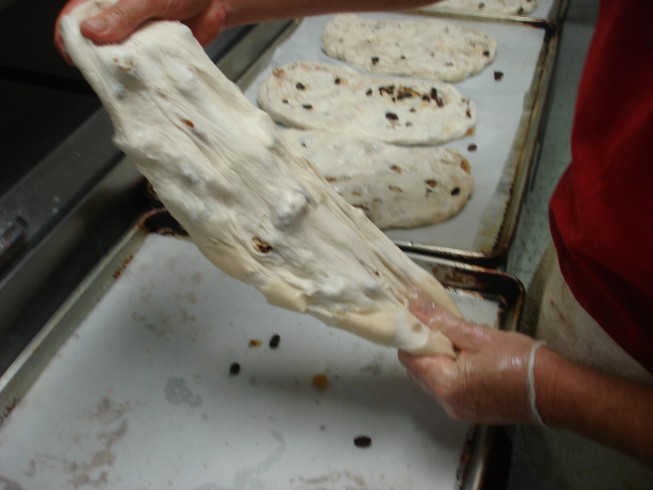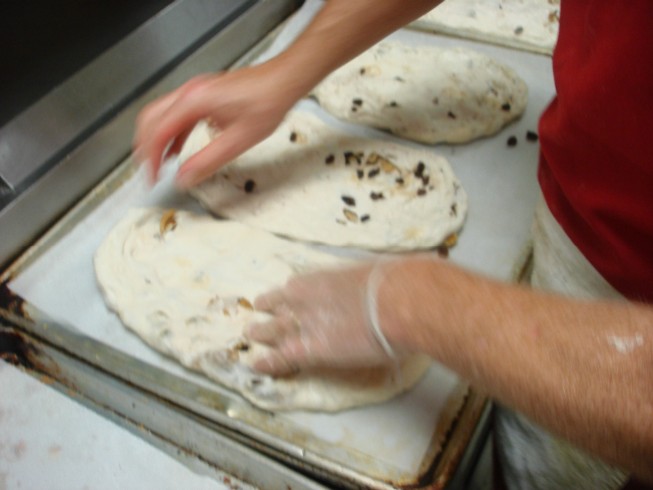 Pull the dough apart using both hands. Using your thumb and fingers, press the dough as you move it counterclockwise in both hands, making an even thickness all around. Form into a football shape while on a tray covered with parchment paper.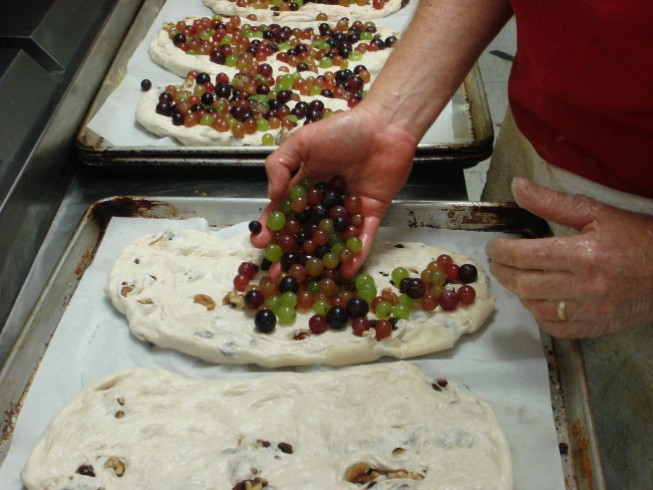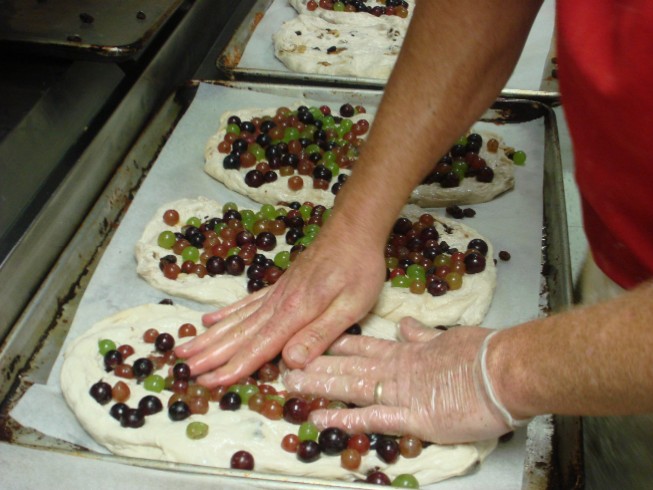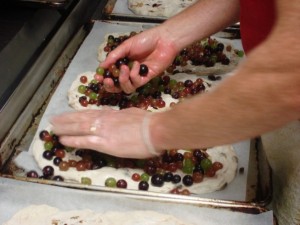 Press the grapes into the dough and let the gluten surround the grapes. Place the pressed grape dough in a warm place for more proofing. By doing so, the grapes will stay in the dough when cooking. Take time to press the grapes down into the dough again and again.
Drizzle with a three tablespoons of honey. Don't let the drops fall off of the crust. This will not bode well for your oven tray or pizza stone.
Bake in oven for 10 to 15 minutes. Please remember, the grapes may 'pop' to the surface and roll off. Use a spatula at regular intervals to gently press the grapes down into the dough. The grapes will also release liquid along with the honey, requiring extra cooking. Check the top interior of the schiacciata for uncooked dough.