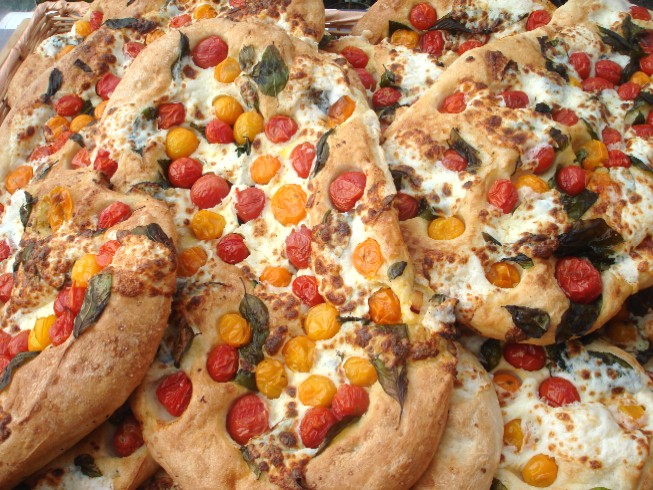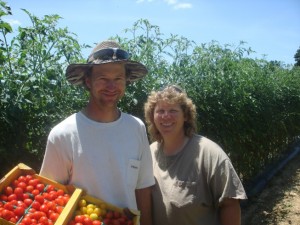 Cowdery Farms sits on a  fertile sloping bench above the Ohio River. Once you stop by and take in all it has to offer, it brings one word to mind: Impressive. Today I marvel at the many kinds of vegetables and the sincere kindness of owners Larry and Kim Cowdery, proud fifth generation stewards of the land. The passion with which they describe the food they grow shows they truly love what they do.
So, what's here that a pizza fanatic like me hasn't seen already? Plenty.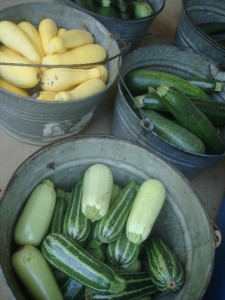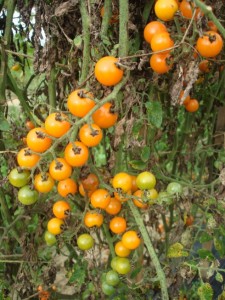 An assortment of squashes.  Golden cherry tomatoes. The movable greenhouse and river vista beyond.
Larry and Kim  have been selling produce at the Athens Farmers Market for 12 years. I've seen practically every restaurant owner in the area buy from this productive and hard-working couple. Their huge assortment of bok choy, napa cabbage, Thai eggplant and bitter melon makes them a destination for local Chinese restaurant owners. Chefs gravitate to their red tent as if pulled by some magnet, drawn in addition to beautiful kholrabi, beets, yellow squash, zucchini, melon and Mediterranian striped squash.
I am particularly keen on the purple potatoes, acorn, delicata, butternut and pumpkin squash in the fall; and the pimento, padron, habenero, jalepeno, cayenne, hot banana and sweet Italian peppers in late summer.  I call Larry the "Godfather of Heat" because I use his full compliment of capsicum to produce such hellish culinary firestorms as my cumin-laced Guatalajaran Pepper Bread with roasted cayenne, padron, hot yellow and jalepeno peppers. I add them to  fresh corn, black beans, roasted garlic, oven-dried tomato, carmelized onion and cilantro. I also use his peppers in my Beelzebub pizza, with  roasted tomato and habenro sauce, fresh oregano, mozzarella and garlic. This year I am buying all my Roma tomatoes, purple potatoes and green peppers from the Cowdry's for my in-store menu mix, as well as some of the most awesome pattypan squash I've ever seen.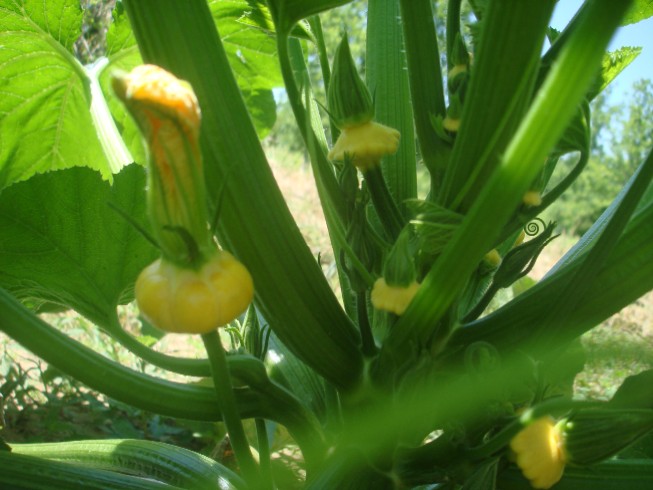 Tender pattypan squash in bloom looks like a Dr. Seuss creation.
Back in the field, I squint at a big hedgerow, pointing to a 12-foot wall of green. "Why is that in the middle of your garden?" I ask with a pompous air of a business consultant.
"John, those are are tomato plants," Larry answers politely.  I tried to catch a glimmer of an "eye-roll" behind his sungasses, knowing full well I deserve the Stupid Comment of the Week prize.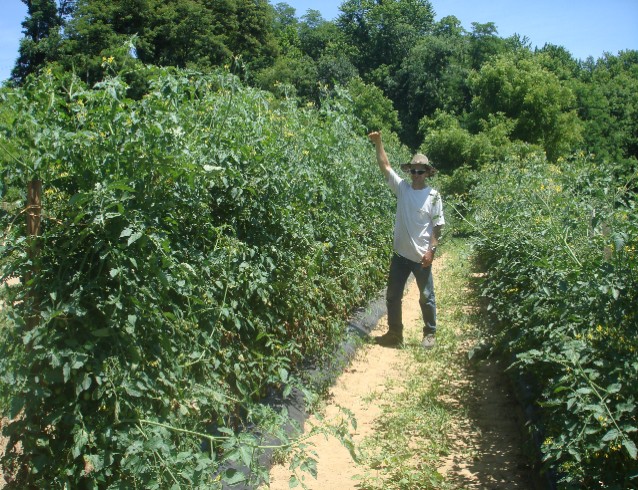 Larry and his crop of "Tomato-zilla" plants.
Now that I'm looking at the hedgerow more closely, I see little orbs of yellows, purples and reds speckling the green leaves. The tomatoes don't stop as I follow the vines above my head. I try to distract Larry while I grab a few. They taste candy sweet.  Now I know which pizza to make: my  Schiacciata Margherita.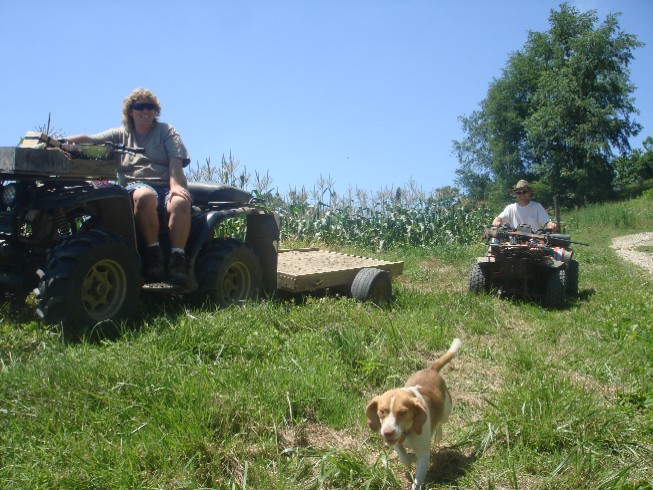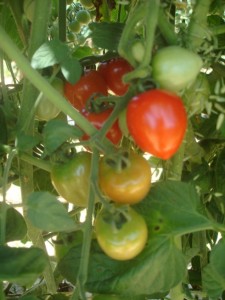 Note: Never get a 4-wheel ride from Kim up a mountain. She belongs in Nascar. Awesome teardrop tomatoes.
Kim tells me to hop on the trailer hitched onto the back of her 4-wheeler. As we drive up the slope from their farm shed to the eggplant and pepper field, I  find myself floating in space. Kim hollers, "Are you holding on?"  I crash down. "Now I am!" I wish for just a few less bumps just as we pass the tall corn and okra fields. At the top, the view of the mighty Ohio is stunning. Across the river, the mountains of West Virginia seem just a stone's throw away. As Larry points to his bottom vegetable fields, you can see why the first settlers called this flat and productive land Long Bottom.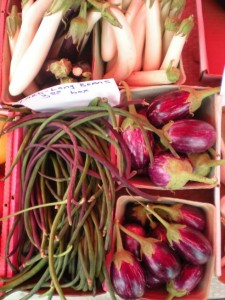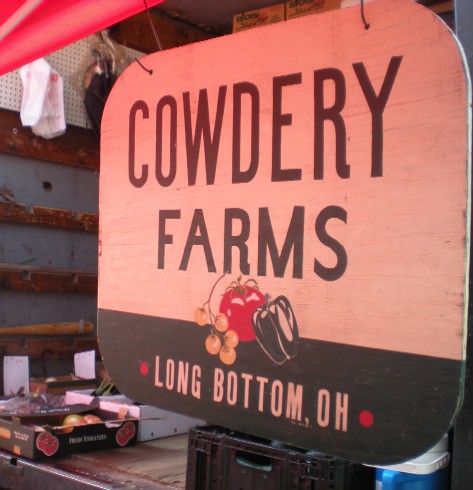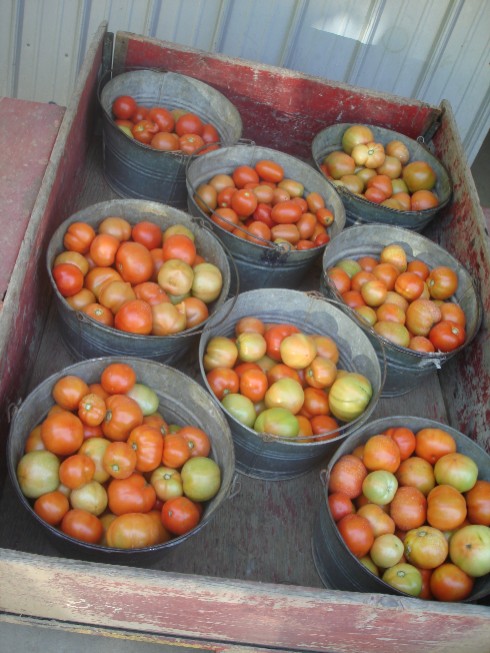 Chinese long beans, white and Thai eggplant. Athens Farmers Market sign.    Early tomatoes for pickling.
The upper fields are just as productive and meticulously kept, containing all sorts of the previously mentioned peppers along with Japanese eggplant, acorn squash and pumpkins, which are blooming and beautiful. The rolling hills stretch out into the north, leading me to my pizza oven. I must go, but not before buying a copious amount of all sorts of small tomatoes for my Schicciata.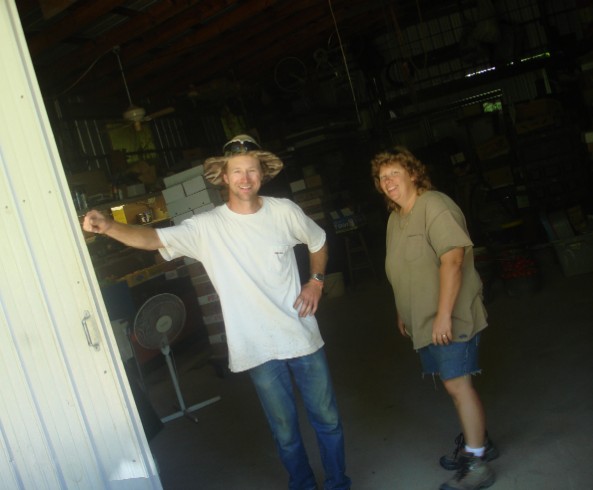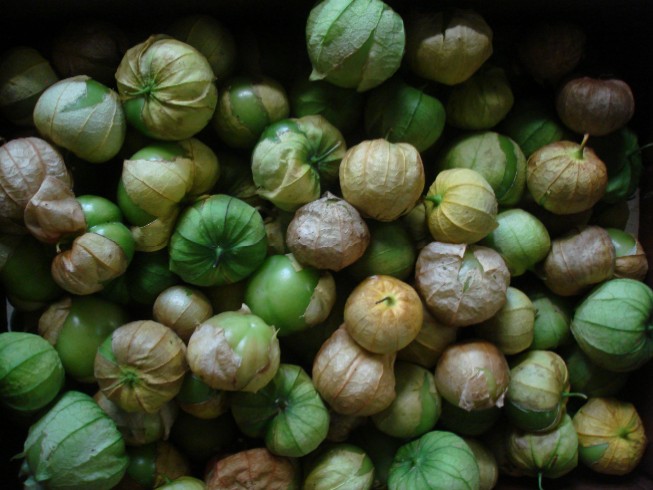 Larry and Kim take a break to laugh at the pizza freak.   The most beautiful tomatillos are grown here.
Cowdery Farms Schiacciata Margherita
Schiacciata dough
1 – 2 ounces fresh basil leaves (probably 20 to 30 leaves depending on size and your tastes)
30 – 40 cherry or grape tomatoes, in different colors for a prettier presentation
8 – 10 ounces fresh mozzarella, sliced thinly (you will tear these up according to your own taste)
1 teaspoon sea salt
1-2 tablespoons extra virgin olive oil
Using the Schiacciata dough recipe, cut a 19 ounce dough ball and set in an oiled bowl for about 30 minutes. Form a football shape, 10 – 12 inches long by 6 – 8 inches wide. Transfer to an upside down cookie sheet that has been dusted with cornmeal. (This will be your pizza peel or large spatula to put on the pizza stone or upturned and pre-heated cookie pan in the oven) Be sure not to push down too hard or you will knock out the gas bubbles that create a bread-like rise.
Scatter the fresh basil leaves over the dough. Do not push them into the dough. Place the cherry tomatoes on top and press down gently.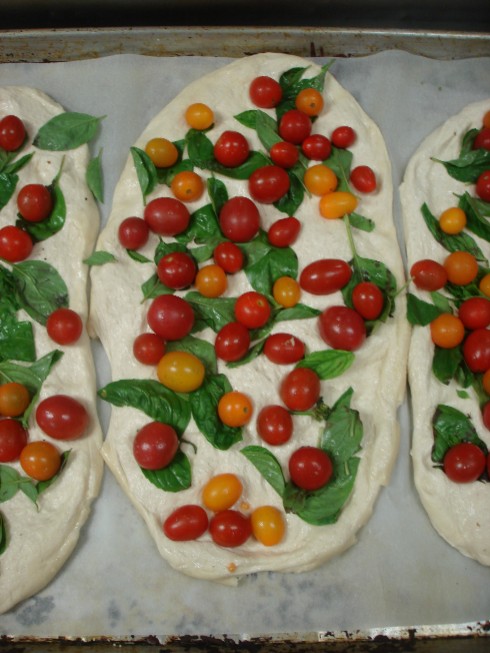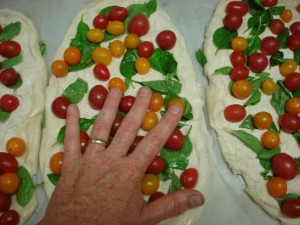 Tear the mozzarella into pieces to get a good "spread" and scatter around the schiacciata. Try to place the mozzarella on top of the largest leaves of basil. This will ensure that the leaves won't burn, and gives the mozzarella a better flavor. Sprinkle sea salt on top and drizzle all over with olive oil.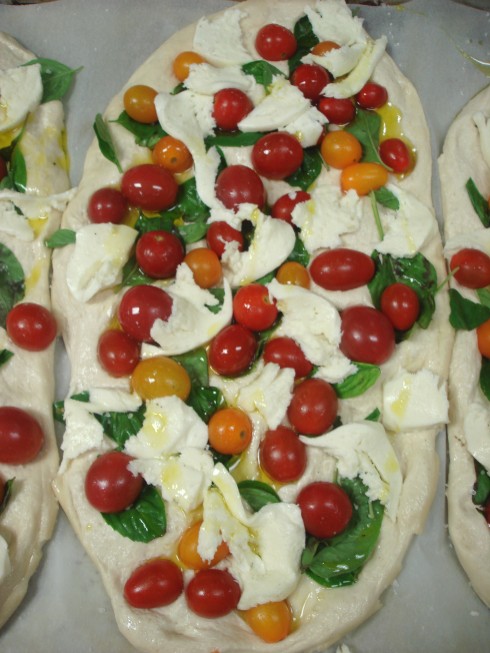 Transfer to a warm place for the dough to proof for 15 -20 minutes. Proofing is the final rise where the dough literally "cooks" in the warm air giving a chance for the yeast to eat more sugars and thus create more gas or "rise." It is especially important with this recipe, as the dough will literally gobble up the tomatoes so they don't roll off the schiacciata.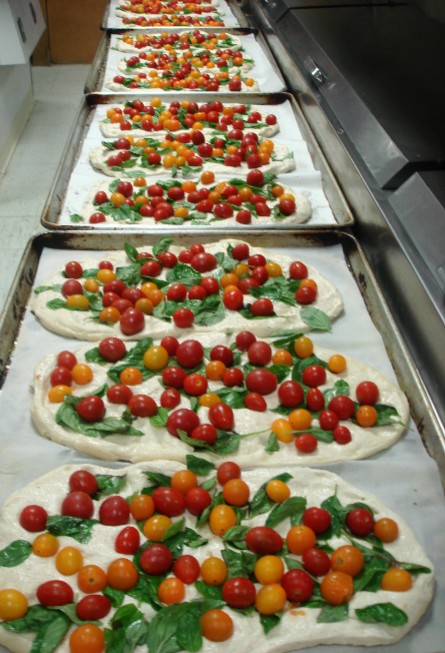 I cook alot of Schiacciata Margheritas, all in one shot. Beautiful, Tasty and an awesome summer sight!
Gently push the tomatoes down again with the flat of your hand before putting in the oven. Slide the schiacciata into the oven onto the pizza stone or tray and cook for 10 to 15 minutes depending upon oven cooking. When golden brown, check the tomatoes and push down if it looks as though they want to "jump ship". Look at the bottom of the schiacciata for doneness which will be a dark brown. Pull from oven and enjoy the results of this fresh mozzarella pizza recipe.