I don't know who'd throw me off of the cliff first: the Italian pizzaiola I told of a Spanish Pizza, or the Catalonian Baker to whom I uttered "Italian-style flatbread." Both dudes would probably be justified in introducing me to Acapulco-style cliff diving, because both these breads are different, yet familiar.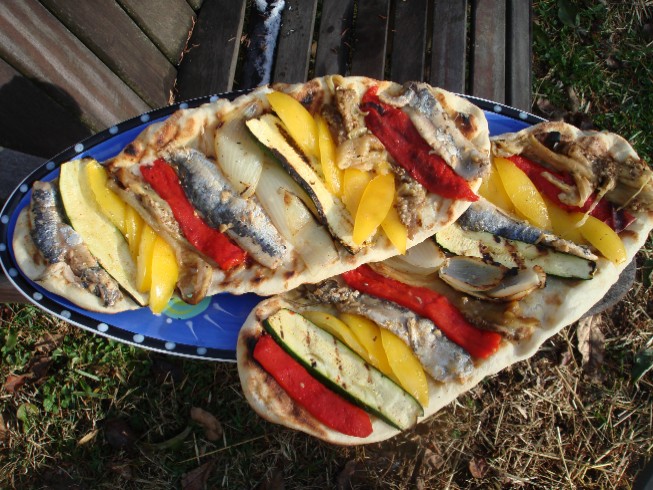 The small towns in the Catalan region of Spain had a fixed time where people could use the bakery's wood-fired oven to make their flatbreads. The townsfolk went from house to house to gather ingredients to put on this wood-fired flatbread, called Coca De Recapete. Some Cocas are sweet and some savory, some square and some football shaped, some thin and some thick. Some use egg and milk in the dough, some don't. Does this sound familiar, like pizza everywhere these days?
One of my favorites uses a mix of wood-fired and charred vegetables called Escalivada. It might include onion, eggplant, sweet peppers and tomato to which townspeople add sausage, sardine or anchovy at the height of summer.
On this snowy December day, I've got some fresh sardines and a plan: It's Coca De Recapte on the grill, featuring eggplant, yellow hothouse tomatoes, zucchini, yellow onion and marinated sardines in a vinegar and paprika pickling liquid.
EEEEWWWWWWW, GROSS. WHAT'S THAT?  There, I printed it before you said it! Now I dare you to view this video on cleaning sardines.
Before we get started, here's little personal ditty about fresh sardines. Sardines always get a bad rap but if you can get them fresh, the taste is amazing. My most favorite way to prepare them is to grill or saute them with extra virgin olive oil, garlic. Then I dump tomato, capers, butter, anchovy paste, Italian flat leaf parsley, lemon and canned white beans on them and dig in. They taste so much like tuna and are packed with Omega 3.  The sardines' lives are short so they do not get exposed to our toxic oceans where climbing the food chain has become a killer. Here's a cool way to avoid mercury-saturated tuna, shark, dolphin and swordfish.
Escabetx de Sardines
This is a traditional paprika-garlic pickling brine that adds a bright, lemony note to the strong flavored and oily sardines. Because the fish literally cooks in the brine, it soaks up the variety of flavors from garlic, pepper, bay, paprika and lemon and makes the sardine a perfect companion to the charred notes of the vegetables and pizza from the grill.
Makes 2 topped flatbreads
Brine for sardines
1/4 cup olive oil
3 cloves garlic
3 small bay leaves
1 teaspoon black peppercorns
1/4 cup rice wine or white wine vinegar
1 1/2 teaspoon paprika
1 tablespoon sugar
1 teaspoon lemon zest
6 sardines, cleaned and filleted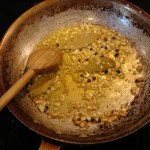 Start the brine by heating up the oil, garlic, bay leaves and peppercorns over medium heat in a small saute pan. Simmer for 5 minutes until the garlic is translucent and just turning golden.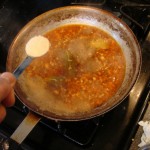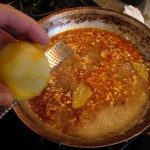 Add the white wine vinegar, paprika, lemon zest and sugar and turn the heat up to high. Simmer for 8 to 10 minutes or until reduced by half.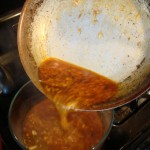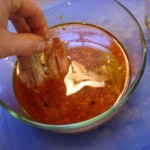 Turn the heat off and transfer to a non-reactive, preferably tempered glass bowl. Leave on the kitchen counter until it cools to room temperature. When cooled, add the sardines and put in the refrigerator for 12 to 24 hours.
For the flatbread dough, make the Easy dough recipe. Form each dough ball into football shapes. Dimple the dough by pressing your fingertips into the dough gently and stretch out to a 10-inch length. Oil both sides with 1 teaspoon extra virgin olive oil on each side, using a paper towel or brush. Set both in a small cookie sheet.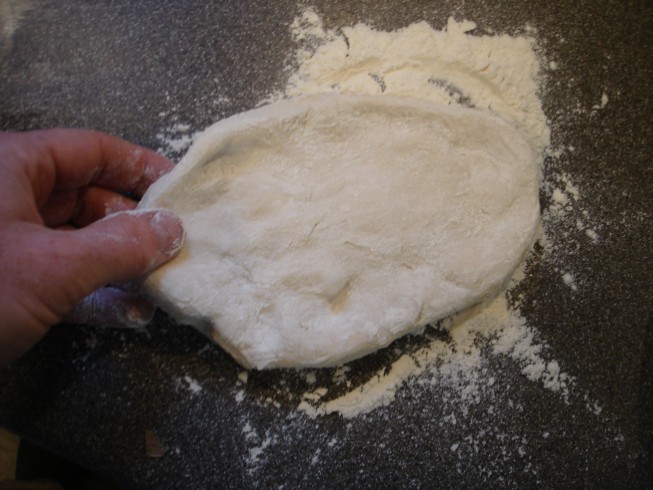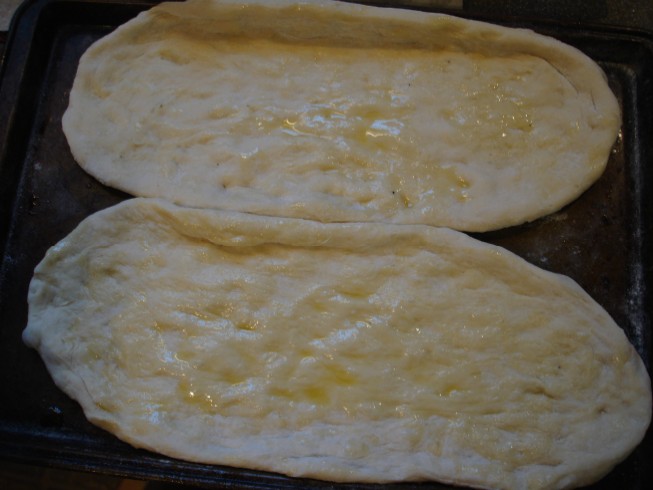 Toppings
1 yellow onion
1/2 or 3/4 red pepper (if you like roasted red pepper please use a whole one)
1 medium  eggplant
2 small zucchini
2 tablespoons extra virgin olive oil for brushing vegetables
3 yellow tomatoes
Manchego cheese
Lemon juice and more olive oil for garnish
Turn your grill on high and wait for the temperature to reach 45o to 475 degrees.
Cut the onion in half lengthwise and using a metal skewer, skewer both halves.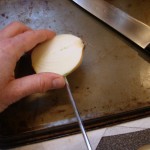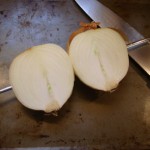 Cut off the ends of the zucchini. Using a mandoline or knife, cut the zucchini into strips of 1/16th of an inch-(fairly thin but thick enough to withstand ahot grill.)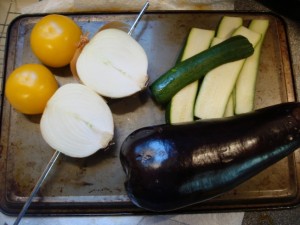 Brush all the vegetables with the olive oil and place on the grill.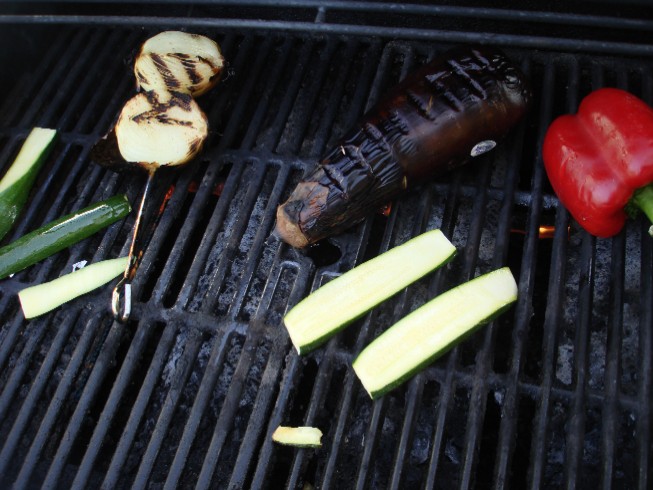 The zucchini will cook first. Remove them from the grill when limp and grill marked. Close the lid of the grill after turning the other vegetables. Grill covered, turning frequently until the red pepper is charred, the onion is moist and limp, and the eggplant looks like a deflated balloon with a soft center. Place all in a cool place for at least 10 minutes.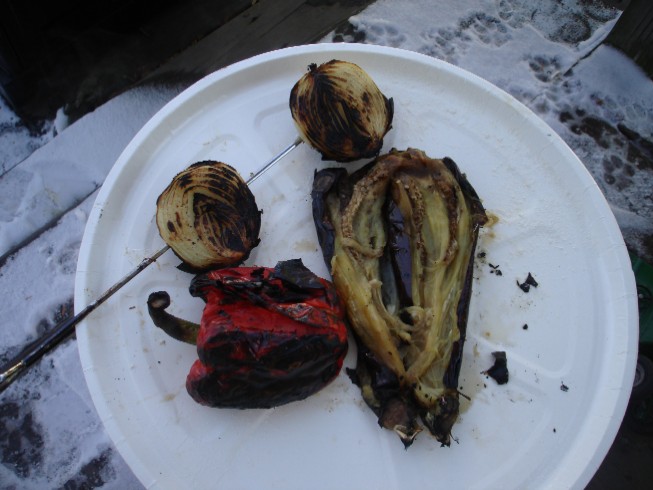 Cut the end of the eggplant and peel the skin back, revealing the warm flesh. Keep pulling the skin back and pull the flesh out in strips.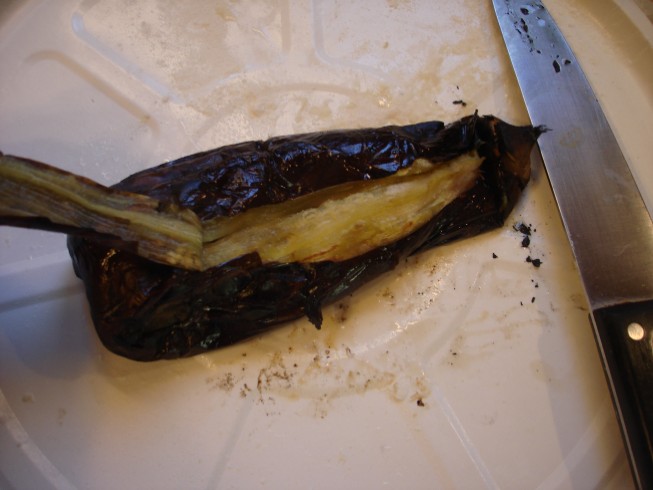 Peel off the red pepper's black skin and discard any seeds and the top. Cut the flesh into 1/2 inch strips.
Cut the tomatoes in quarters, then cut the inside flesh out and save for salads.
Cut the grilled onion into 1/2 inch petals after cutting off the ends.
Reserve all these vegetables next to the grill.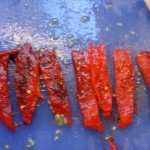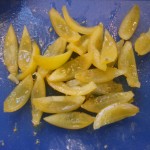 Grate 2 cups Manchego Cheese if using a microplane like I did here (a dumb idea because this cheese is semi-soft). You'll only need 1 cup  if using a convetional grater. Bring the grated Manchego, brined sardines, and oiled dough to the grill also. You are now ready to grill the Cocas.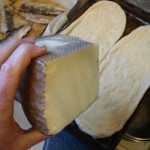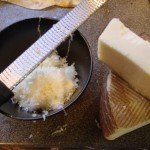 Making sure that the grill is medium hot or 450 degrees, quickly brush oil onto the grill, using a paper towel. Place both elongated doughs on the grill and wait only 2 to 3 minutes before checking the bottom. By now, the dough will have hardened enough to move. Check the underside and move according to your grill marks. Wait another minute and turn over.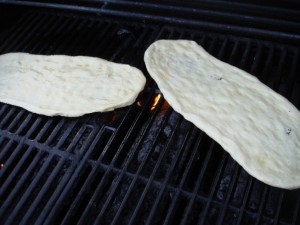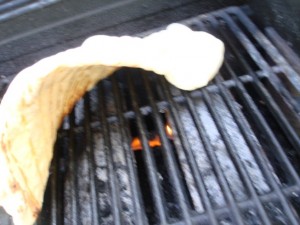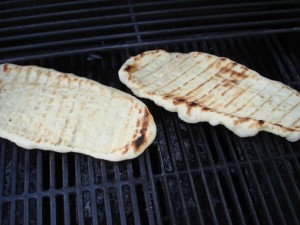 Immediately top with the cheese and the vegetables. Here, I made one coca with cheese (Goon version) and a traditional non-cheese coca.
Close the lid to get heat to the top of the cocas but BEWARE. WATCH THE BOTTOM OF THE DOUGH AS IT WILL BURN VERY QUICKLY. (Yes, I know, capitalization is the sign of a weak mind and shallow spirit, but I've burnt these before and it's not fun!)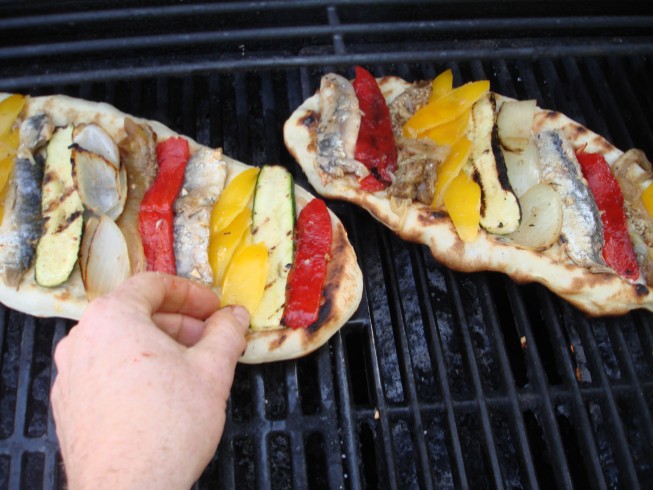 When the bottom cannot take any more cooking and is browning nicely, take the cocas off and serve immediatly. I topped mine with a spritz of lemon and another squirt of unfiltered (Spanish) olive oil called Zoe.