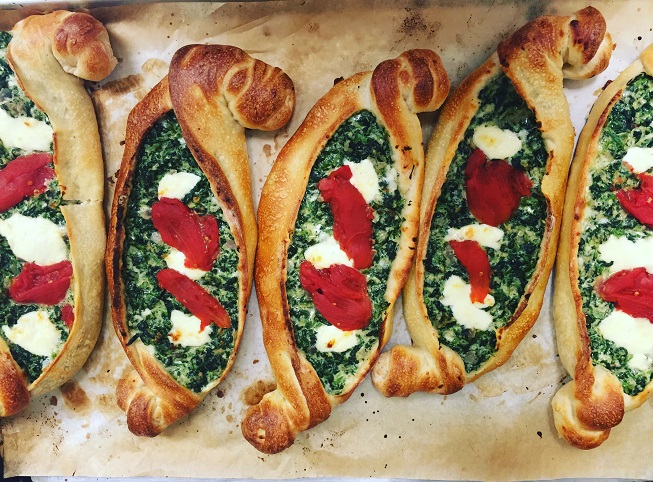 I make my living making pizzas and it's been a busy year. Here are some of the pizzas and breads I've been involved with in 2016.
Above are a bunch of Turkish style Pide (Pee-DAY) with spinach, ricotta and Parmigiano Reggiano with Fior di Latte and Valorosso tomatoes.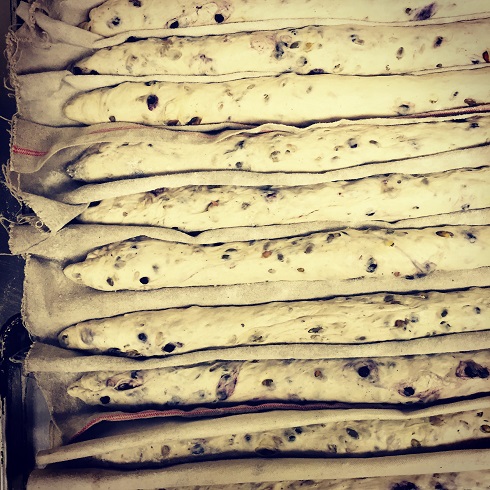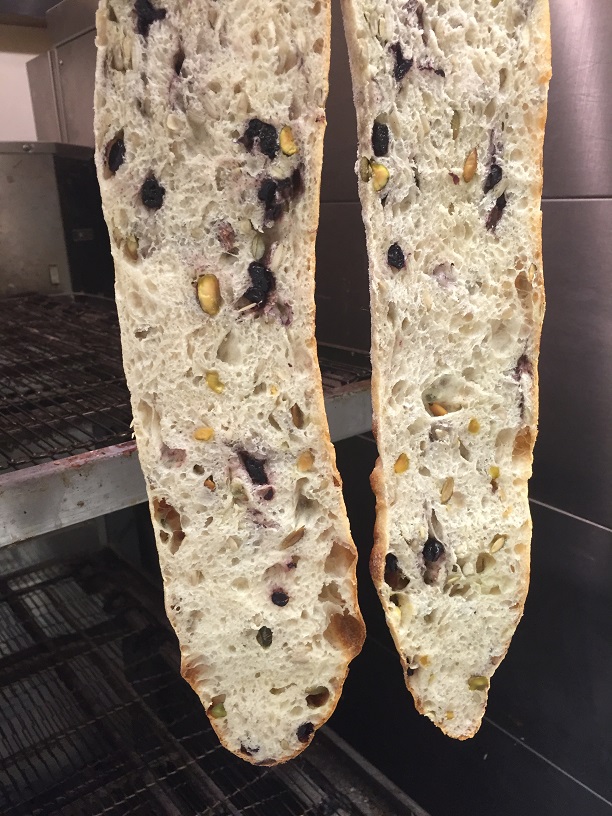 These wonderful, (and expensive) pistachio and blueberry baguettes were a big hit.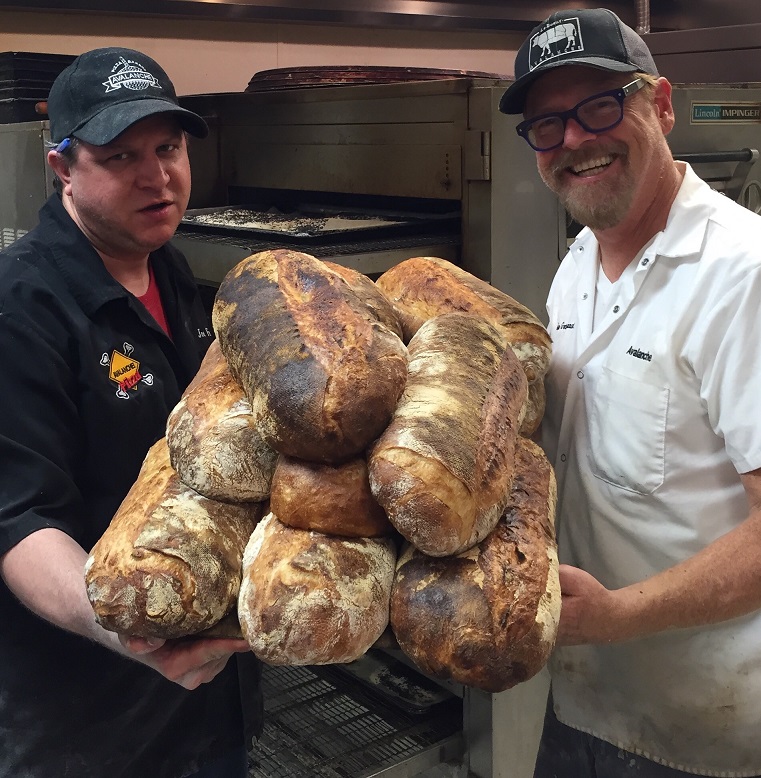 My Managing Partner Joel Fair and I in the wee hours baking some killer sourdough loaves that I call "Bread Zeppelin"  These babies rock and I had the honor of taking  a mid-cut and soaking it with FIVE eggs, sauteing it in my largest saute' pan for the best damn French toast ever!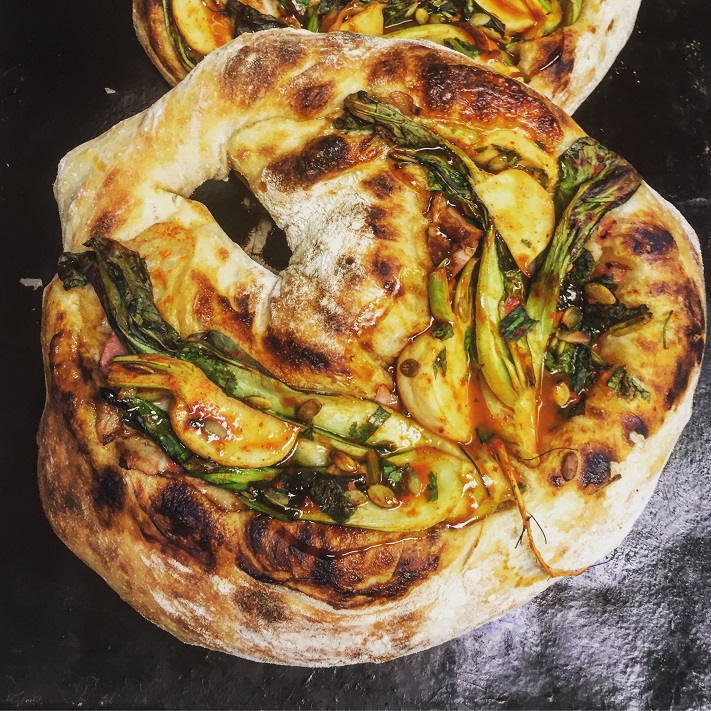 This year I've really ramped up my asian flavors in pizzas. Above is a wonderful kimchi wing, "O" face pizza I made on 30 hour, naturally fermented Manitoba wheat with local baby bok choy from Green Edge Gardens, salt pickled Japanese turnip that I took for a nice swim for 12 hours in my kimchi ferment. I contrasted these bold flavors with my favorite cheese for kimchi- aged provolone and some local Romano Caprino made by Integration Acres and pumpkin seeds. I made a quick sauce of miso pudding and teriyaki. (Both tend to burn a little.)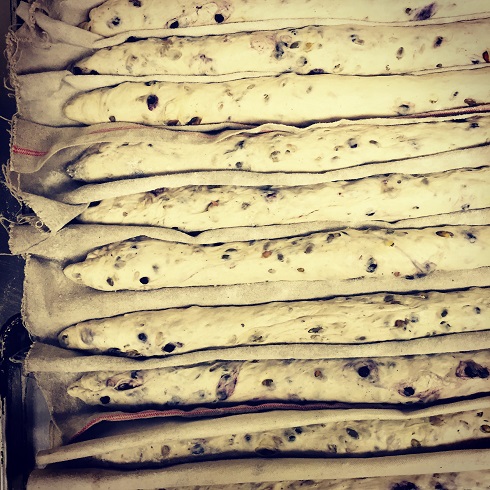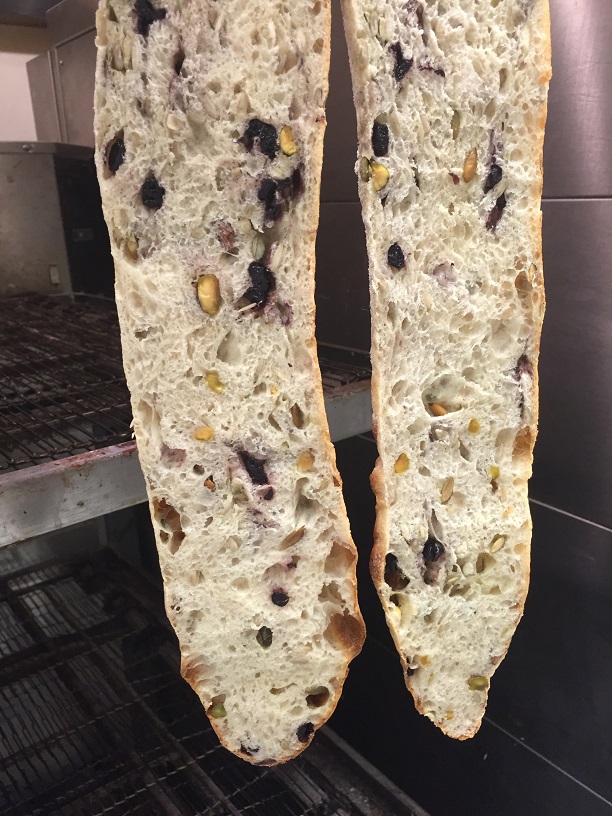 I love the crunch of a nice baguette and made these beauties with blueberry and pistachio.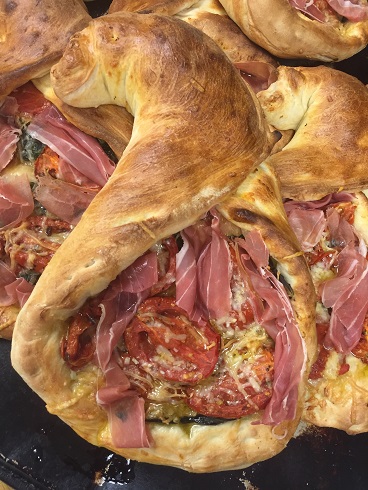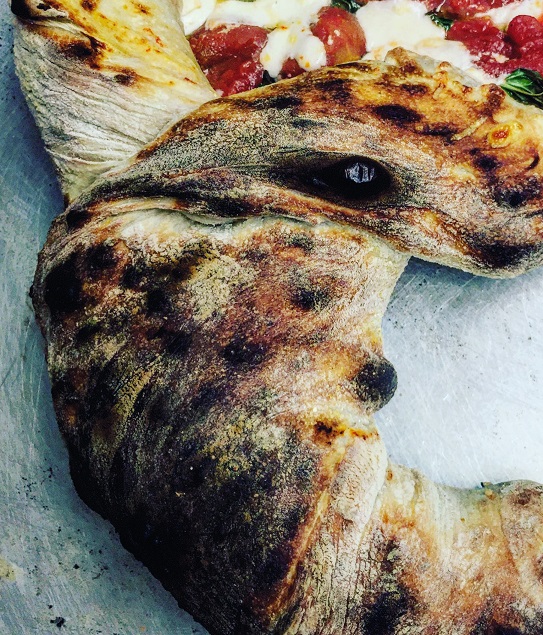 My customers out here in the wilds of Ohio are wild about the folded and horn shaped "Cornetta's" that I frequently bake. My favorite this late summer were these oven-dried, late season Roma tomatoes with spinach, local Gouda from Integration Acres, Fiore di Latte Mozzarella, fresh basil and finished with Serrano Ham. This beaut on the left, (above) was made with Bay State "00" milled flour held for 12 hours in slow, chilled fermentation. The older dough I made with high gluten flour on this cornetta, right, (above) was baked with a much higher heat and exhibited a really cool crust.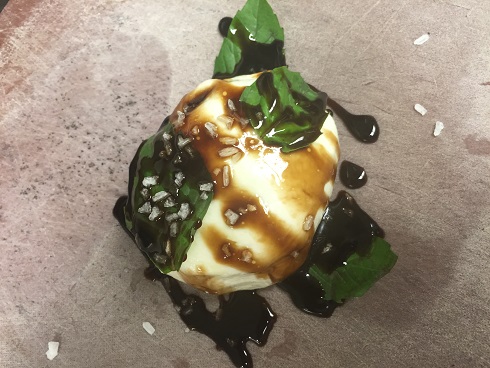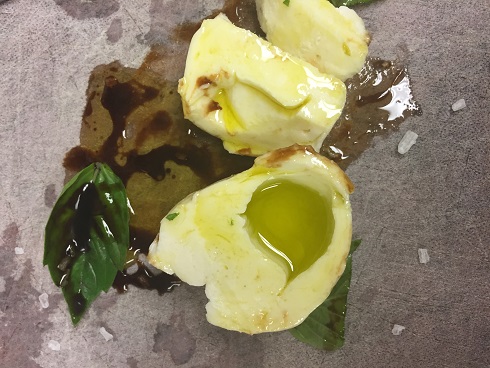 I had an amazing trip to Corto Olive Oil Company and was able to see the whole harvest to oil process of a fantastic extra virgin oil. I got back and experimented by making a burrata-type ball filled with this fantastic oil. It was delicious.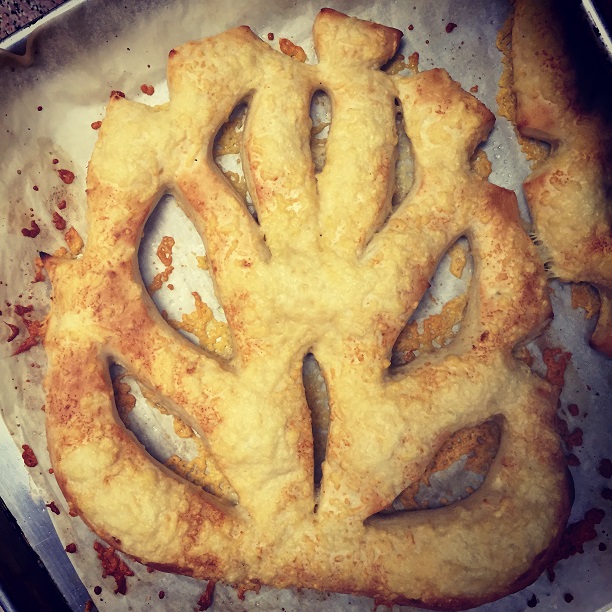 I can't do a visual of 2016 without a sample of the thousands upon thousands of Asiago Fougasse we sold this last year. Thanks to my team lead by Managing Partner Joel Fair.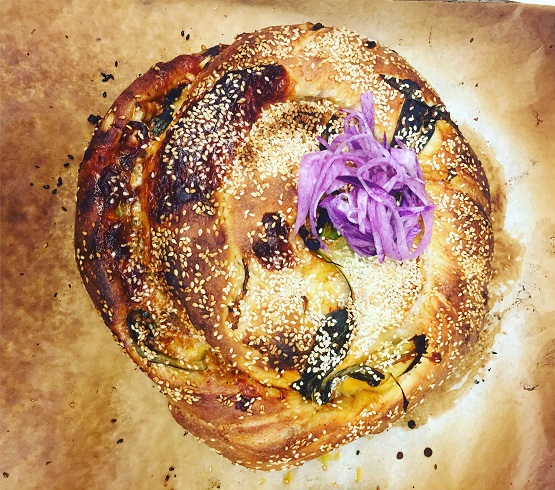 When I get so many Asian vegetables from my farmer friends, I live making stuff like this Kimchi-bacon roulade. I used a 90 percent sourdough mix and filled a rectangular dough with sesame, sesame oil, kimchi, King Family bacon ends and cilantro. I cooked this in some Ethiopian Barbari spice that my friend Michael Gillespe turned me on to. The flower on this wonderful beast is some purple daikon grown by my friend Star at Shade River Organics.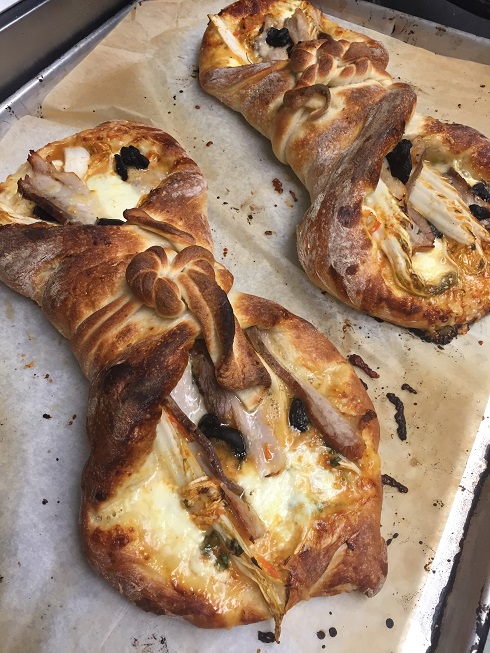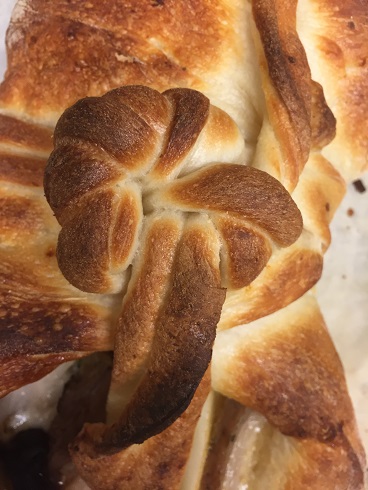 Speaking of Kimchi and Pork!  Here is a killer pizza variant and what I call a Pain Sablier, or Hourglass Bread. Here I have pineapple-sesame-Gochujang kimchi wings with my cured and roasted pork belly, Parmigiano Reggiano, cilantro, Black garlic and mozzarella curd. On the right is a close up of a high gluten knot.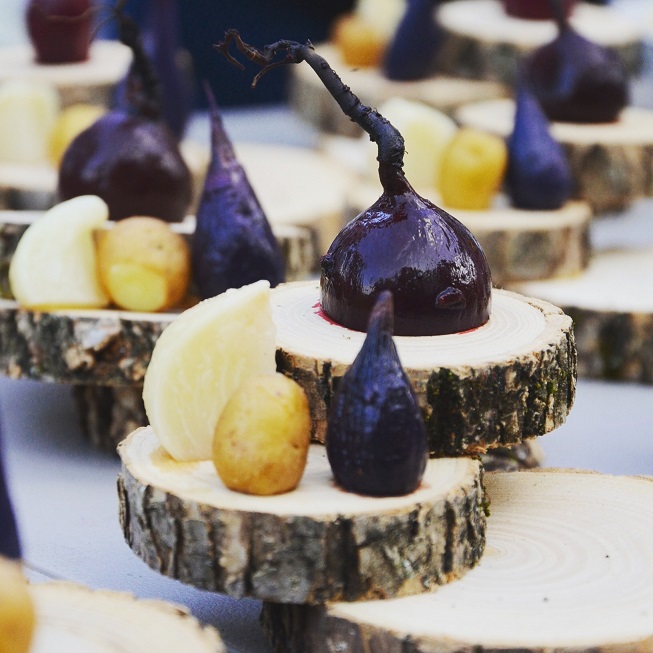 This year we also did Beyond Bounty on the Bricks, a wonderful charity dinner that benefits the food bank. We worked with Keith Wilde, an inspirational local artist in hundred-degree heat. Our dinner was at Rich Gardens and our hosts, Rich and Anne Tomsu were very welcoming. Above is a trio of really cool vegetables.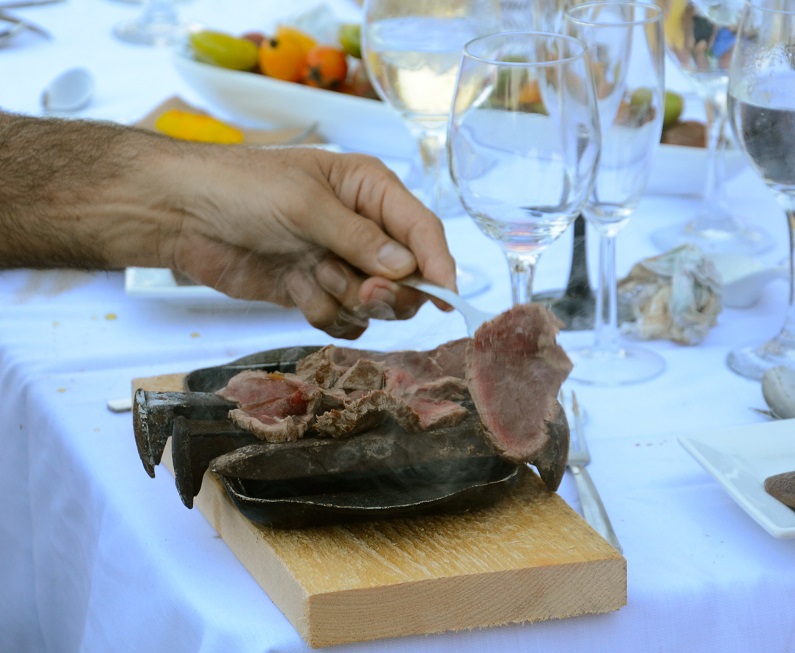 This was the 10th course of the dinner. We cleaned and fired hundreds of old railroad spikes from Athens, Ohio and our guests were able to cook some seared beef tenderloin on them with an Asian dipping sauce. Thanks Keith for the fotos and the dinner.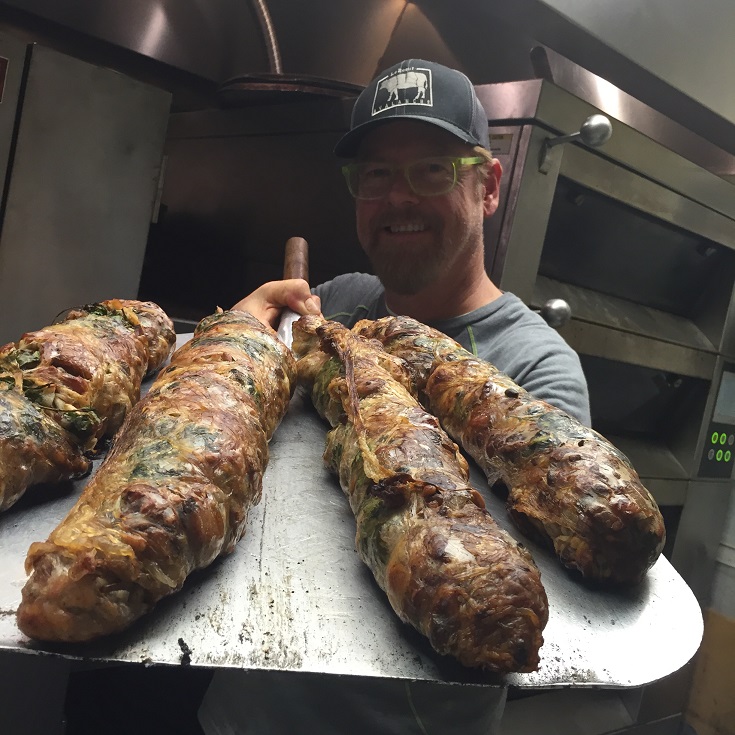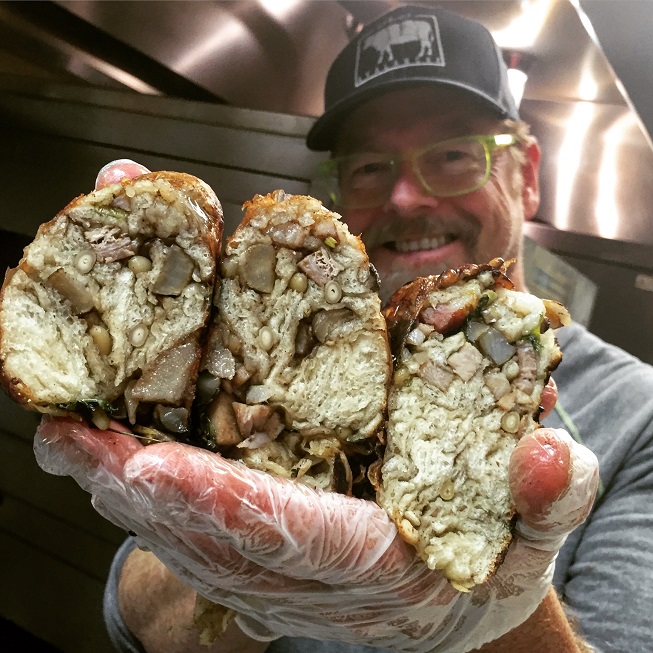 Speaking of weird, I love making these Pane Groviglio! This bread crosses every line from bread to pasta then to sausage. I made some Baharat-roasted pork belly and mixed it with Jerusalem artichokes, cilantro, lemon zest and pine nuts- this is all tossed with old slices of bread dough and wrapped in caul fat with fresh herbs and bacon.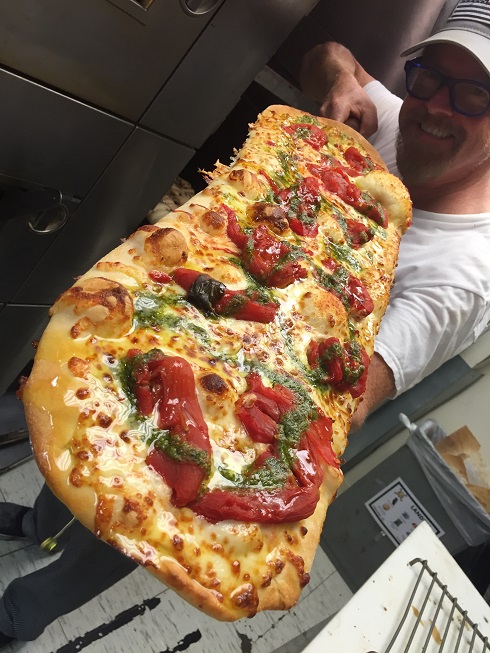 Here is one large Pizza al Metro with Stanislaus Valorosso Tomato, fresh basil pesto, Corto olive oil atop aged mozzarella and provolone.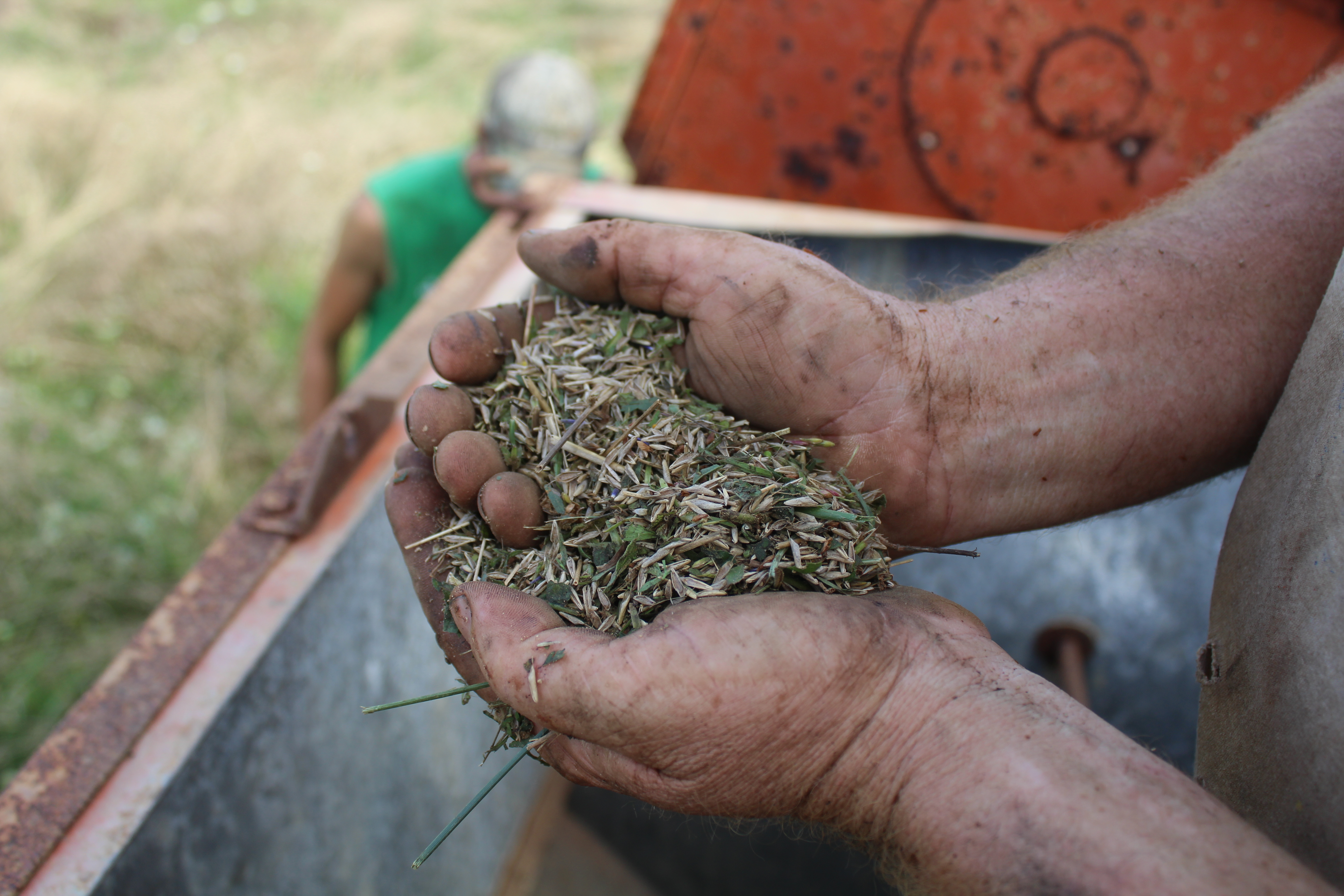 Of all the things I've done last year, I have to say that working with Seth Lutton and Matt Starline to get this perennial grain called Kernza in the ground here in Athens County. Unfortunately, the weather had other ideas and we didn't get much from this crop. We won't stop until we can get some kernza in my menu mix.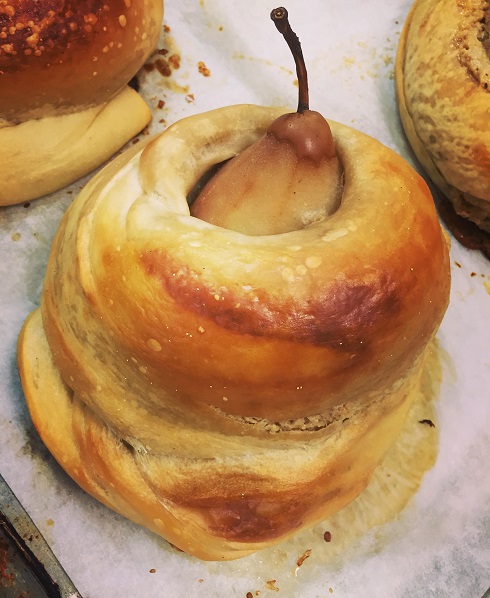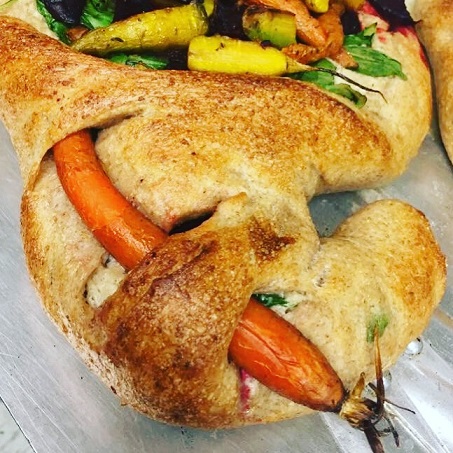 I'll leave you here with two cool pics. On the left is my Lebanese style Sukkar bi Tahin with sweetened tahini and on the right is a spelt Cornetto with a local baby carrot blanketed by local spelt flour.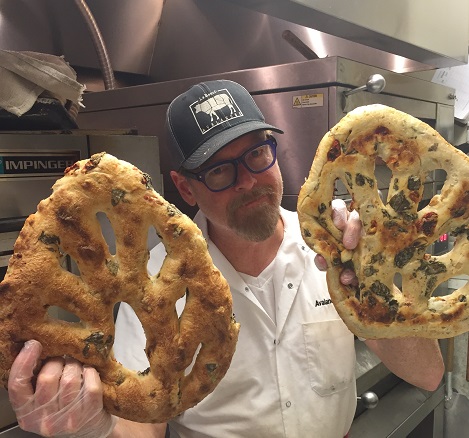 Thanks or everything readers. I have alot more photo's and videos of pizzas and breads to come soon. I hope you will hang in there for more post to come in 2017! In the meantime, sit down and have a bite of this Corsican basil fougasse.
Semper Pie.